Kevin Drum asked why no one is bragging about the drop in ACA premiums:
Obamacare premiums are down this year — but no one knows it https://t.co/lkay5YpGsI pic.twitter.com/s9iBlnc9vf

— Kevin Drum (@kdrum) November 21, 2019

There are two sets of inter-related answers. First is a political answer: ACA premiums are not particularly salient right now. Republicans are trying to kill the law in court and Democrats don't want to give credit to HHS or Trump for spiking premiums in 2018, front loading several years of increases into a single year and getting flat rates for the next two years.
The other is pragmatic. For most people who stay in the same plan (major caveat), premiums are not decreasing by a noticable amount.  There are a couple of reasons for this:
Unsubsidized buyers may see a fixed age premium decrease get eaten up by age rating
Subsidized buyers often see incomes change
Subsidized buyers who have the same income as a function of FPL and who purchase the benchmark silver plan in both years won't see more than nominal price changes
Subsidized buyers who have the same income as a function of FPL and who purchase plans priced below the benchmark will see smaller spreads.
I have performed a premium spread analysis since 2016. I've used the landscape public use file and build my spreads on the basis of a single, non-smoking 40 year old. This is an arbitary choice. It allows for a consistent analysis over time. But as my ankle continues to remind me, 2019 Dave is several years older and significantly creakier than 2016 Dave. Age rating comes into play.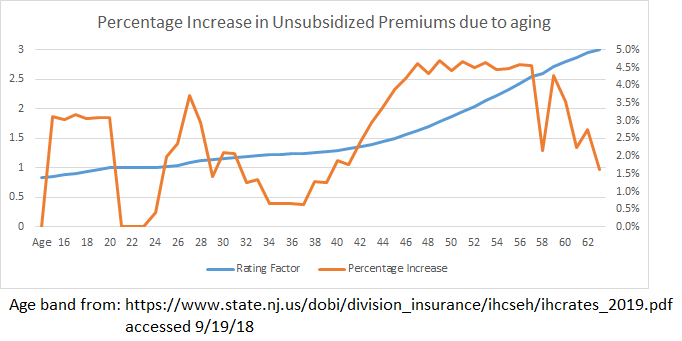 Almost every year after your mid-20s, there is a 1% to 4% increase in an unsubsidized buyer's premiums just because they had a birthday. It is not a smooth curve with a constant increase. There are peaks and valleys with some hard spikes.

So when we use the language that premiums are increasing by 3% for a standardized population, we are assuming that everyone who buys insurance is a vampire who does not age.
Anyone who is not receiving subsidies is seeing a premium increase year over year in a year when all the analysts, wonks and press are proclaiming flat or tiny premium decreases.
So that is why most non-subsidized buyers will see premiums slightly increase. Let's move onto subsidized buyers now.
The premium that a subsidized buyer pays is disconnected from the price level. The net of subsidy premium is related to the difference between the chosen plan and the benchmark plan. The benchmark plan is the second cheapest silver plan premium in an area available to the buyer at the time of purchase. The subsidy is a gap filler between the benchmark premium level and the buyer's expected personal contribution. If the buyer chooses something less expensive than the benchmark, they pocket all the incremental savings down to a zero premium plan. If they choose a plan more expensive than benchmark, the buyer pays the entire incremental cost in additional to their expected family contribution.
Excluding tiny changes to the contribution level formula, someone who buys a benchmark plan in both years will see no change in premiums that they pay even if their is a 30% drop in premium or a 30% rise in premiums. Everyone else will see different premiums. If there is a uniform percentage drop in premiums, everyone who bought a plan priced less than the benchmark in the first year will pay more in the second year while those who bought plans more expensive than benchmark in the first year will pay a little bit less in the second year. Billy Wynne and I looked at this when we examined the public option proposal in Colorado:

Our analysis suggests that introduction of a single public option plan in each rating area of Colorado would reduce the contribution a sample subsidized consumer would need to make to the premium of the lowest-cost plan in each metallic tier by 40.0 percent to 73.4 percent. Introduction of multiple public option plans in each rating area would, by contrast, decrease net premium contributions by 6.5 percent for the lowest-cost gold plan while increasing the contribution required for bronze and silver plans by 15.7 and 0.7 percent, respectively.
Once we assume that the benchmark drops more than all the other plans, the spread compresses fast, so the cheapest plans are now relatively more expensive in the second year than they would have been in a uniform percentage decrease universe.
I think that most people on the ACA individual market won't be aware of the lower premium levels as aging effects and benchmark spread changes dominate the change in the baseline premium levels. Now I am curious if there is a state based marketplace with up to date data that is available to test this hypothesis out.