The Secretary of the Navy, Richard Spencer, has accepted being terminated (no one told me you could ignore that sort of thing, but what do I know…). His resignation letter is below.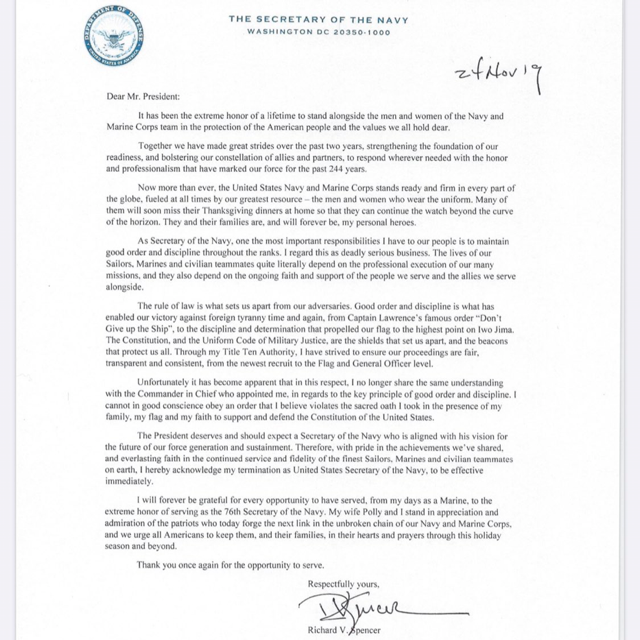 At this point it is unclear what actually has transpired with Secretary Spencer's termination. The initial reporting was that he'd made an end run around Secretary of Defense Esper, which led Secretary Esper to ask the President to fire him. In this recounting of events, Secretary Spencer is accused of going to the President and ensuring him that if the President let the Naval Special Warfare review board convened by Rear Admiral (RADM) Green, commanding admiral of Naval Special Warfare, play out, then Secretary Spencer would ensure that Eddie Gallagher would retire shortly at the rank of E7, as a member of the SEAL community/with his trident, and with his full benefits.
All of this occurred after several days of reporting that Secretary Spencer and RADM Green had made it clear that if the review process regarding Gallagher remaining a SEAL, as well as three officers in his chain of command at the time of the crimes he's alleged to have committed, was not allowed to play out, then they'd both resign. This was quickly followed by Secretary Spencer stating he'd never made this ultimatum. So if you're confused, that isn't surprising. Until the all too predictable leaks occur over the next several days to fill out the narrative, we won't really know how this all went down.
We do, however, know that a major problem here is that the President is, as usual, not listening to the people he actually hires and/or promotes into the positions to advise him on issues and manage those issues for him. This leaves the President susceptible to influence by those with their own agendas. In this case Gallagher himself, as well as weekend Fox & Friends host Pete Hegseth. Hegseth hosted Gallagher this morning on the Sunday weekend edition of A Blonde with Two Boobs on a Sofa, D/B/A Fox & Friends Weekend. Hegseth honorably served in the US Army National Guard for 11 years, served in Iraq and Afghanistan, earned the rank of major (O4), and has basically been influencing the President's views on the US military and the VA from both his weekend perch at Fox, in private meetings, and on calls with the President on the President's unsecured cell phone (Estonia, if you're listening, and we know you are…) since the President began his campaign. During his appearance with Hegseth this morning, Gallagher publicly went after his chain of command, especially RADM Green, accusing him of being derelict in his duty by trying to suborn the clear orders and guidance of the President, as Commander in Chief of the US military, regarding Gallagher's case.
I cannot express not only how irregular what I've just recounted is, but how BATSHIT FUCKING INSANE it is as well! Serving US military personnel, and to a lesser extent DOD and the Service civilians (civil servants) do not speak to and/or engage with the news media unless it has been approved by the Public Affairs Officer at their command. And they certainly don't go on a cable news talk show program and publicly accuse their commanding officers of being derelict in their duty and insubordinate. If you were wondering if Gallagher was a disciplinary problem waiting to happen and a real impediment to good order and discipline, wonder no more. What he did this morning should dispel any doubt. And if you were Gallagher and trying to show the review board and the commanding admiral that you weren't either or both of these things, going on Fox & Friends Weekend and making these statements is a really stupid way to demonstrate that you're not a problem child and a shitbird.
Even before Gallagher made himself the poster boy for an out of control culture within the SEAL and Naval Special Warfare community, Rear Admiral Green had already begun a commander's strategic initiative to try to understand the problems that have developed within the Naval Special Warfare community's culture and develop specific ways and means to address and correct them. His initiative is inline with those of GEN Clarke, the Commanding General of US Special Operations Command, who has instituted a similar strategic review. GEN Clarke, as well as RADM Green and GEN Clarke's other subordinates at the Army, Air Force, and Marine special operations commands are rightly concerned that the corrosive nature of war, especially a war in it's 18th year, that is poorly defined at the strategic level, and that is overly reliant on Special Operations at the tactical and operational levels, has done major harm to America's Special Operations Forces. And the effects of the corrosion that this ongoing war has caused on US Special Operations culture and those within that culture needs to be assessed, analyzed, and understood so that corrective measures can be developed and put in place.
What we've seen with the way Gallagher behaves, obviously empowered because he feels that his advocates like Hegseth have the President's ear and, therefore, the President has his back, is a very public example of the cultural corrosion that GEN Clarke, RADM Green, and their peers in the Special Operations community are concerned with. Just for his actions today, Gallagher should be facing an Article 15 hearing, popularly known as a captain's or admiral's mast, first thing tomorrow to answer for his public insubordination. What he did today on Fox & Friends should make whether he keeps his trident the least of his worries.
At this point, however,  I have no idea what is going to happen. RADM Green, GEN Clarke, ADM Gilday the Chief of Naval Operations, GEN Milley the Chairman of the Joint Chiefs of Staff, Secretary Esper, and RADM (ret) Braithwaite, the announced nominee to be the next Secretary of the Navy all know by now they have both a good order and discipline problem and that the public face of that problem's name is Gallagher, who thinks he's untouchable. The President's undue command interference in Gallagher's trial and the post conviction handling of him as a personnel matter, as well as several other military prosecutions and disciplinary matters all involving accusations of or convictions for war crimes, has created a good order and discipline problem within the ranks. Leadership knows that if they don't make an example of Gallagher, then any Soldier, Sailor, Airman, or Marine who gets in trouble and can get to Hegseth or anyone else who has the President's ear, has the ability to short circuit the military justice system. And unless that notion is quickly disabused, then good order and discipline is going to become nothing more than a hollow slogan. And this problem is as dangerous as the message the President's interference in military justice for Gallagher and others sends both our allies and adversaries about the behavior that will be tolerated by the US military because it will be tolerated by the President of the United States. That makes our allies uncomfortable and provides aid and comfort to our adversaries by giving them seeming approval to conduct war however they like, regardless of the Law of Armed Conflict, the Uniform Code of Military Justice, and the Rules of Engagement for any specific operation.
Open thread!
Full disclosure: I served as a Senior Special Operations Fellow at SOCOM's Joint Special Operations University from May through August 2015.