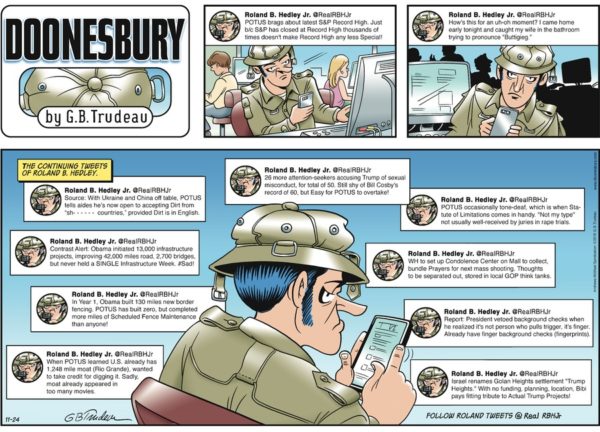 Donald Trump has taken to "working" from his private quarters in the White House rather than the Oval Office because he distrusts the staff around him. https://t.co/TbogjsPREs pic.twitter.com/CyFvdjLSem

— Jim Roberts (@nycjim) November 24, 2019
This maaay sound familiar to those of us old enough to remember Nixon during the Watergate investigation. Per Politico:
… President Donald Trump is increasingly morphing the White House residence into a second Oval. It's become the place where Trump feels most productive, where he avoids meddling by his staff and where he speed-dials his network of confidantes, GOP lawmakers and TV pundits.

The residence was where Trump made the infamous July 25 phone call to the Ukrainian president that's now at the center of impeachment proceedings. It's where Trump often meets his personal attorneys to plot legal strategy or campaign advisers to shape 2020 campaign moves. And last week it became the location for a Trump meeting that's as official as any, hosting Federal Reserve chair Jerome Powell — the target of countless Trump twitter attacks — along with Treasury Secretary Steven Mnuchin for a Monday morning discussion of monetary policy.

Maintaining a sanctuary to work and think has taken on greater importance for the president as he increasingly feels under siege by the Democratic impeachment inquiry. Frustrated by the whistleblower complaint and a parade of administration officials testifying on Capitol Hill, Trump is as wary as ever of the staffers around him and distrustful of the traditional White House infrastructure. Working from his private quarters gives him space away from what he perceives as prying eyes and guards against his omnipresent fear of leaks to the media.

It also gives Trump a greater sense of control as he faces the dual challenges of impeachment and his reelection, according to interviews with a half dozen current and former senior administration officials…

The president sometimes prefers to interview candidates for high-profile positions from his private quarters, so staff and White House journalists cannot monitor comings and goings. Acting White House chief of staff Mick Mulvaney landed his current job during a late Friday afternoon meeting in the private space of the residence…

He also uses it during working hours as a place to watch TV freely, tweet and serve as own his one-man communications director and political strategist. The residence serves like a bunker for his impeachment response and his real-time reaction to testimony, witnesses and public hearings…

A third former senior administration official insisted Trump's heavy use of the residence was "not an attempt on the president's part to hide things. He is a workaholic, so he wakes up early and works out of the residence. It's just the way his internal work clock has been for decades," the official said…
Those halcyon early days when Trump was busy wasting his inheritance, bankrupting casinos, cheating everyone who worked with him, and first getting to know the Russian mob up close & personal. Well, *that's* reassuring!
And at the end, Nixon walked thru White House halls talking to himself.

— Nancy Jackson (@catlover_nancy) November 24, 2019
Not to worry, though — Trump and his handlers have brought today's GOP firmly to their knees his service: