I was recently speaking with Juicer who is shopping for an ACA plan.  They are Cost Sharing Reduction (CSR) eligible and their projected income for 2020 is literally a point or two above a major CSR cut-off point where the benefit value changes dramatically.  CSR benefits for people who are not American Indian/Alaskan Natives come in three bands.
| | | |
| --- | --- | --- |
| Start Income (FPL) | End Income (FPL) | Silver Actuarial Value |
|             100% |                  149% | 94 |
|   150% |      199% |      87 |
|     200% |      250% |      73 |
|             250% |          infinite | 70 |
I converted those actuarial values into a real world example of how one Silver plan spreads out its cost sharing variants.  Data is from the 2020 Landscape Public Use File: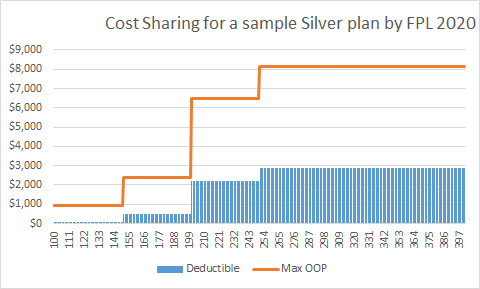 We see significant discontinuities as income passes the CSR thresholds.  CSR 94 has a $100 deductible while CSR 87 has a $500 deductible.  The out of pocket maxes have bigger jumps.
Researchers have found that people have engineered their income to qualify for subsidies at 100% FPL and 399% FPL.
Financial engineering via tax records to keep income below 400%FPLhttps://t.co/raS4GZ7RP9

Spike of ppl making 100% FPL in non Expansion states https://t.co/0XMzr21wj6

— David Anderson (@bjdickmayhew) December 21, 2017
If someone knows that they are likely to have significant claims during the course of a year and they know that their unengineered reported/estimated income is really close to a threshold that triggers a significant reduction in cost sharing expenses, I would be surprised if there is not some financial engineering going on. There are a number of ways to legally reduce the income that is counted for ACA subsidies. One of the simplest is to increase any IRA contributions as Louise Norris explains:
If you're not already contributing the maximum allowable amount to an individual retirement account (IRA), doing so would lower your MAGI (it has to be a traditional IRA; contributions to a Roth IRA are not tax deductible). You and your spouse can each contribute to an IRA, further lowering your total household MAGI.

[Note that the general MAGI calculations require you to add back traditional IRA contributions, but ACA-specific MAGI rules are different–your deductible traditional IRA contributions do lower your ACA-related MAGI.]
The exposure jump from 87% AV Silver plans at 199% FPL and 73% AV Silver plans at 201% FPL is huge. I would like to imagine that people are figuring out how to find ways to stay in higher actuarial value coverage without touching their quality of life or net of medical expenses available cash flow.