Here's a juvenile ibis hunting along the waterline (with bonus glossy ibis ass right behind its head):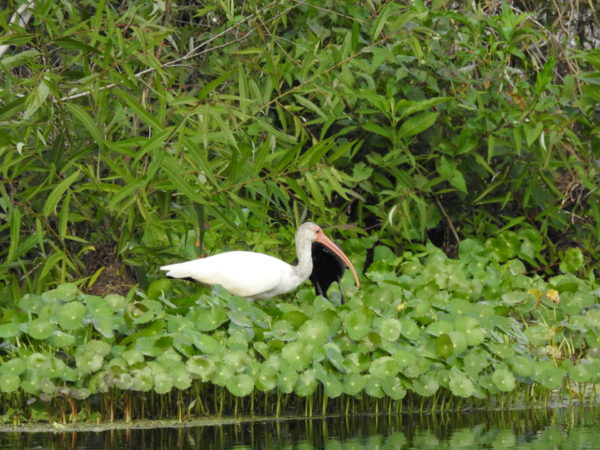 I'm scrambling around to get last-minute work stuff done before overnight guests arrive this evening and we're completely overrun with family on Thanksgiving itself, which we are hosting. I don't think we have enough wine (there will be Trumpers!), but we will remedy that.
How is your Thanksgiving prep coming along, if applicable? I feel much calmer than I usually do when I have to host a bunch of people. One of the upsides to getting older (for me, anyway) is that the prospect of public humiliation isn't as frightening as it used to be.
This benefit first occurred to me shortly after my 40th birthday when I was at a fancy restaurant in South Florida, waiting alone at a table for a friend to arrive. I was in town for a business trip, and we were meeting in the elegant dining room of the hoity-toitiest hotel my then-corporate overlord would accept as expensable lodging.
I had a real paper newspaper with me because this was before there was reliable WiFi on planes, so you couldn't just stare at your phone to deter strangers who might want to talk for the entire flight. I was reading the paper at the restaurant table, and when my friend arrived, I lowered it while waving — lowered it right onto a candle in the center of the table.
The newspaper burst into flames! Everyone in the restaurant turned as one to gape at the spectacle! I laughed and extinguished the flames with my water glass and smothered it with my linen napkin, then ordered another cocktail when the waiter came to clean up the mess.
If that had happened 20 years before, I would have definitely perished on the spot of humiliation. Anyhoo. Open thread.