Iowa is a foreign country to me, and I don't really understand the Democratic primary electorate very well, so I'm asking, can this sort of thing work? Are there boiling pools of resentment against hogwash that can be tapped to motivate pro-Biden caucus-goers?
Fired up and ready to go for the #NoMalarkey barnstorm! pic.twitter.com/4lpU7waqzh

— Joe Biden (@JoeBiden) November 30, 2019
Here's a person who understands the Democratic electorate even less than I do: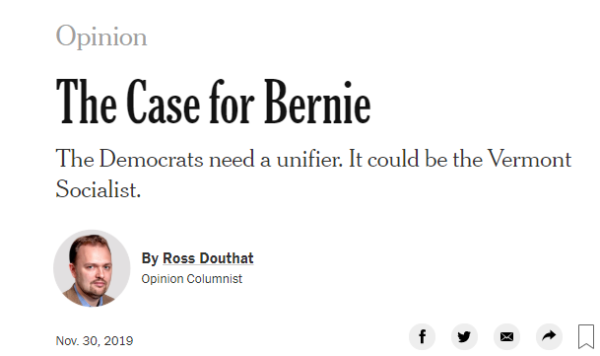 Excerpt:
The state of the Democratic field reflects the weaknesses of the individual candidates, but it also reflects the heterogenous nature of the Democratic coalition, whose electorate has many more demographic divisions than the mostly white and middle-class and aging G.O.P., and therefore occasionally resembles the 19th-century Hapsburg empire in the challenge it poses to aspiring leaders.
Douthat's take is wrong in that he attributes all divisions within the Democratic Party to identity politics while glossing over the male-dominated, enthno-nationalist bent of Republicans, who are the current champions of the most salient example of identity politics in America since forever. But he's correct to describe Democrats as "heterogenous," just not entirely for the reasons he thinks.
In comments in a recent morning thread, I argued that the GOP's open embrace of demagoguery in service of oligarchy (mirroring Putin's strategy) has resulted in an untenable situation. Only one of the two parties in a two-party system is interested in civil rights or sound governance. Good-faith policy debates about the size of government, taxation, human rights, etc., only take place in one party.
There's your heterogeneity. And yes, it may pose a "branding" challenge when only one party feels an obligation to represent all Americans. I don't know how we address that, but my feeling is either the Republican Party gets utterly obliterated and rises from the ashes (perhaps with some milquetoast nonentity like Marco Rubio bleating platitudes at its head) or everything simply falls apart.
Douthat again:
But for the kind of American who is mostly with the Democrats on economics but wary of progressivism's zest for culture war, Sanders's socialism might be strangely reassuring — as a signal of what he actually cares about, and what battles he might eschew for the sake of his anti-plutocratic goals. (At the very least he's no more radical on an issue like abortion than a studied moderate like Mayor Pete.)

This is why, despite technically preferring a moderate like Biden or Amy Klobuchar, I keep coming back to the conservative's case for Bernie — which rests on the perhaps-wrong but still attractive supposition that he's the liberal most likely to spend all his time trying to tax the rich and leave cultural conservatives alone.
Douthat isn't the only person who suspects Sanders doesn't really give a shit about anything but economics, which has been and remains a huge obstacle to Sanders winning the Democratic Party nomination. Douthat either underestimates the opposition to Sanders' democratic socialist approach from moderate Dems and/or — even more stupidly — believes a Sanders candidacy would peel off enough Rust Belt whites who voted for Trump to make up for the loss of those moderate Dems and other constituencies within the party (women, people of color) that would recoil from a Sanders candidacy. With the nuances shaded another way, the same might be true of Biden or anyone else.
IMO, the bottom line is this: Republicans broke the two-party system. We can't fix it for them. Indeed, we're struggling to keep the country afloat long enough for the Republican fever dream to break and the GOP or some other organization to rise, fill the vacuum and restore the two-party system. I'm not optimistic that will happen. The course of least resistance is this: things fall apart.