This morning I will be one of the featured speakers at the Health Affairs Rural Health briefing.
I will be presenting a paper: The  Rural-Urban Differences in Individual Market Health Plan Affordability after Subsidy Payment Cuts
I co-wrote this with Jean Abraham, Ph.D, University of Minnesota and Coleman Drake, Ph.D, University of Pittsburgh.  We found that CSR cuts led to significantly cheaper plans for subsidized enrollees when there was silver loading and silver switching of CSR obligations.  Non-subsidized enrollees paid more no matter what strategy a state adopted.  Rural subsidized enrollees saw bigger affordability gains than urban subsidized enrollees.
This is our key exhibit where the subsidized individual is a single 50 year old non-smoker earning 400% FPL, and the unsubsidized individual is the same except that they earn 401% FPL.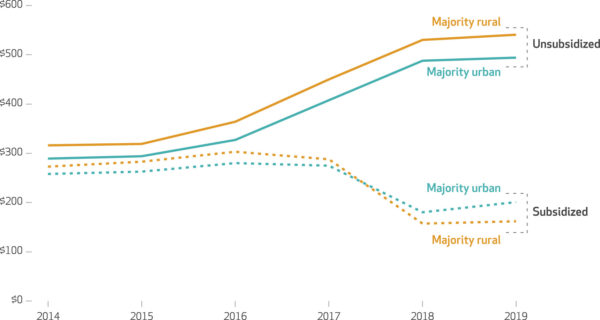 I will be speaking at 11:00 EST.