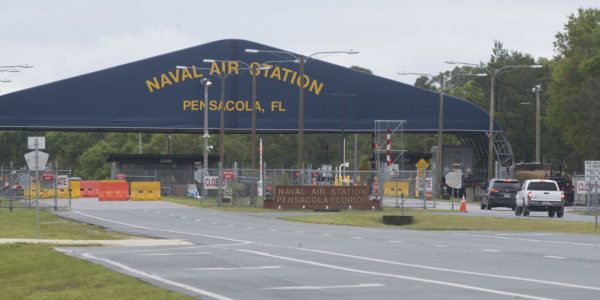 NBC/MSNBC is now reporting that the shooter at Naval Air Station (NAS) Pensacola is a Saudi national. Which will, of course, turn a tragedy into an absolute shitshow.
I wanted to just take a moment and provide some context here for our readers and commenters who don't have a lot of exposure to the US military education system. The US military education system, referred to as Professional Military Education (PME), governs how we prepare the force across all three cohorts (officer, enlisted, and warrant) and across the scope of one's career in the military. At the Joint level – encompassing all four services – the controlling instructions can be found in Chairman of the Joint Chiefs of Staff Instruction (CJCSI) 1800.01E, better known as the OPMEP (Officers Professional Military Education Policy and CJCSI 1805.0B, the Enlisted Professional Military Education Policy referred to as the EPMEP. Each Service has their own Service specific guidelines and policies, which are further broken down by branch, military occupation specialty, and/or functional area and are supposed to be nested within the Joint policies. US military personnel spend significant parts of their careers, no matter how long or short, in the schoolhouse or training center. A significant part of generating the force is educating them, training them, and running them through exercises as experiential learning. We're also supposed to be encouraging them to do individual self development, but that usually gets lip service rather than incentivized. Overall, PME is something the military really does well – it invests in educating and training and then continuing to educate and train the Soldiers, Sailors, Airmen, and Marines throughout the course of their career arcs. This is largely a function of scale as the force, across all the Services, is large enough to have significant portions in the schoolhouse or in training without compromising readiness or operational capability.
Part of US PME includes multinational training. There are several reasons for this. One is that the US military is intended to operate within a JIIM – Joint, Interagency, Intergovernmental, and Multinational – environment. So we want our Soldiers, Sailors, Airmen, and Marines exposed to our allies and partners through PME, as well as operationally. But we also want our allies and partners military personnel to be exposed to how we prepare our forces and how we operate. And this means that large numbers of foreign nation military personnel are in the US attending PME programs alongside our own forces. Another reason for doing this, especially at the higher education levels (Senior Leader Colleges/War College, strategist schools, Command & General Staff Schools, and, in some cases even at the Service academies), is to try to socialize these foreign military personnel to US Civil-Military (CIV-MIL) norms. It is also to have personnel from opposing sides of conflicts have to learn and socialize together across their careers. The goals here are aspirational. That these foreign officers, especially from states without strong, or even any, liberal democratic systems will internalize some of our CIV-MIL norms, take them home, and when they're senior enough actually put them into effect if the opportunity presents itself. It is also to create and foster relationships and friendships that survive the course of study, so that if a conflict looks like it will break out, potential adversaries might call their former classmates and try to deescalate. Like I said, very aspirational. Also, somewhat quintessentially American.
Almost all of these foreign military personnel attending US military PME are covered under the International Military Engagement and Training (IMET) Program. The who, what, and why of IMET are:
Purpose:

The goals of IMET are to:

Train future leaders

Create a better understanding of the United States

Establish a rapport between the U.S. military and the country's military to build alliances for the future

Enhance interoperability and capabilities for joint operation

Focus on professional military education

Allow countries to use their national funds to receive a reduced cost for other DoD education and training

Provide English Language Training assistance

Who:

Secretary of State determines which countries will have programs.  Secretary of Defense executes the program.

Funding:

Annual appropriation
The now identified shooter at NAS-Pensacola as a Saudi national was most likely in training there under the IMET program as a pilot. And that's how a Saudi national would most likely be assigned to Naval Air Station Pensacola. The foreign nationals in the IMET program are usually selected by their own countries and there are usually no significant problems as they're vetted by both their own governments and by the US military. But like everything else involving humans, you do get the occasional issue, though usually nothing like what happened this morning. Sometimes a coup or other change of government will happen and we'll have foreign military personnel as students that can't really go home because they were sent by the previous regime and they and their families' lives are at risk. Sometimes you just get a knucklehead. My second year at USAWC, one of the foreign officers in the resident course got himself into a serious gambling problem, went AWOL trying to run for the Canadian border, got picked up by law enforcement, and ultimately wound up escorted back to his own country by two senior law enforcement officials sent by his government to babysit him. The point here is that these aren't really problems with the IMET program itself, they're individual problems that arise because the people in the program are humans. And humans do all sorts of stupid things.
I expect that regardless of the actual motivations of the shooter in Pensacola this morning, this will provide further fodder for the neo-nationalists and neo-fascists that have been able to capture the US's immigration system under the current administration. What is most likely a tragedy in human terms will be capitalized on by a bunch of xenophobic, racist, white supremacists to push their agenda of whitening America as quickly as possible. And, like everything else that gets in the way of achieving their goals, the IMET program is likely to be in for a rough time as a result of this morning's shooting. Which is a shame, because it is an excellent program that, while aspirational in a lot of its goals, provides real value for the US, its allies, and its partners.
Two final notes:
Firearms are not authorized on Naval Air Station-Pensacola, or any other base, with a couple of exceptions. Military Police, Shore Patrol, and DOD and Service Police are armed as part of their duty assignments. All other Service issued arms are secured in an arms room/armory and can only be checked out for a legitimate training reason and under the supervision of an Armory Officer/Armorer. Those personnel residing on post are allowed to register their personal arms with the Provost Marshal on post. Those arms are also secured in an arms room/armory and can only be checked out under the supervision of an Armory Officer/Armorer. They must be unloaded and secured in locked containers when this is done. We don't know how the shooter got his firearm on to post this morning, so beware of speculation about how this happened. I have some thoughts, but I'm not going to speculate at this time.

There is always a spike in homicides, especially domestic/familial/intimate partner and workplace homicides, as well as suicides during the holiday season between Thanksgiving and New Years. This happens every year. There is a robust criminological, sociological, and psychological literature trying to understand and explain it. But it is a very real effect. So expect to see increased incidences of violence between now and the first week of January 2020.
Open thread!
Full disclosure: During my four years assigned as the Cultural Advisor at USAWC I directly supervised as the faculty advisor (frontline supervisor) five foreign officers. I also directly supervised as the research advisor (equivalent to a thesis advisor) ten foreign officers. And I served as the faculty sponsor of two foreign officers. These officers ranged in rank from lieutenant colonel to major general.