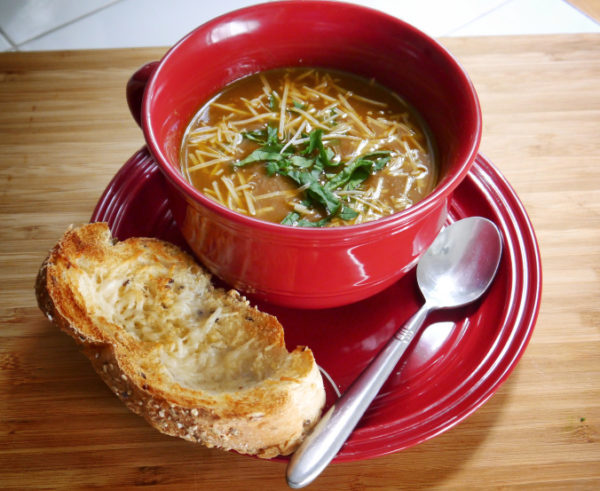 Getting my parents Christmas gifts is impossible. They really don't want more stuff and if I give them cash, they give it back. ?
This year, since I was traveling home last week, I decided the best thing I could do was cook for them. So that's what I did. I made twelve meals for two.
This included:
Spinach Tomato Soup (recipe here)
Spinach Lasagna (recipe here)
Chicken Tortilla Soup (recipe here)
Shredded Chicken – I shredded two pounds of chicken that I cooked with garlic, sage, rosemary and basil in the Multi-Pot/Instant Pot. They can then use it for chicken salad or BBQ chicken.
Chicken Noodle Soup
1 lb chicken, diced
2 tsp olive oil
32 ounces low-sodium chicken broth
32 ounces of veggie broth ( I use my vitamix to blend carrots, celery, garlic, onion to make a quick, nutritious vegetable broth)
12-ounce sliced carrots (I use frozen)
12-ounce green beans (I use frozen)
3 stalks of celery, diced
1/2 onion diced (optional, my parents love onions)
10 oz of small bowtie pasta or egg noodles.
Multi-Pot/Instant Pot
In the instant pot, add oil and use the saute feature to quickly brown the chicken until it's golden. Add remaining ingredients and pressurize for 15 minutes.
And finally…
Minestrone (with tiny meatballs)
Tiny meatball recipe is here and make bite-sized balls – I halved the recipe, using 1 lb beef.
1 tbsp olive oil
1 medium yellow onion, chopped
10 oz sliced carrots (I use frozen)
2 medium ribs celery, chopped
1/4 cup tomato paste
2 cups chopped seasonal vegetables (potatoes, yellow squash, zucchini, butternut
squash, green beans or peas all work) Again, using frozen is easy
4 cloves garlic, crushed
½ teaspoon dried oregano
½ teaspoon dried thyme
1 large can (28 ounces) diced tomatoes, with their liquid
32 ounces vegetable broth (see instructions above)
3 cups water
1 tsp salt
2 bay leaves
Pinch of red pepper flakes
Freshly ground black pepper
10 oz orecchiette, elbow or small shell pasta
15 ounce-can Great Northern beans or cannellini beans, rinsed and drained
2 cups baby spinach, chopped kale or chopped collard greens
2 teaspoons lemon juice
Garnish: Freshly grated Parmesan cheese
Multi-Pot/Instant Pot
On the sauté setting on the Instant Pot, heat oil. Once the oil is shimmering, add the chopped onion, carrot, celery, tomato paste and a pinch of salt. Cook, stirring often, until the vegetables have softened and the onions are turning translucent – about 7 to 10 minutes.
Add remaining ingredients (except parmesan), cover and using the soup setting, cook for 15 minutes. Let depressurize and then for added flavor, using the sauté setting, cook an additional 5 minutes with lid removed. Add more water if needed.
=================================
I'm busy baking today. I'm almost done with my gift box treats. But I made a double batch of spritz cookies – half butter, half citrus drop, so I'm taking several days to bake TWELVE dozen cookies. LOL. I'm also thinking I'll make a batch homemade Poppycock mix.  Then all that's left is boxing them up and delivering them.  Need more holiday gift food ideas, click here.
How are your holiday plans going? Favorite recipes to share? What's on the menu for Christmas dinner? Other holiday meals? Solistice, Hannukkah, Festivus, Kwanzaa and Boxing day are all ahead of us…and let's not forget National Pepper Pot Day
Consider this your Sunday afternoon open thread…