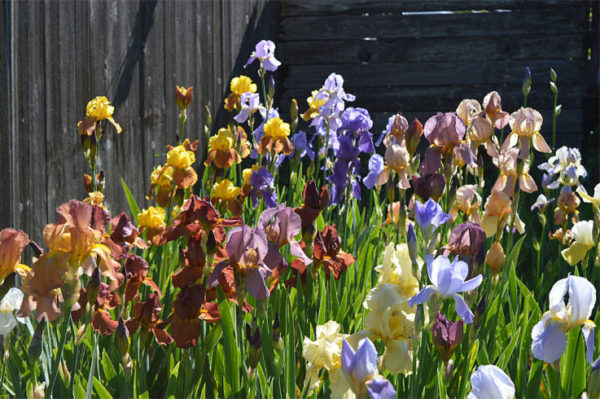 Thanks to Mike in Oly for today's spirit-lifters:
I collect historic irises – that is, iris varieties more than 30 years old, altho the bulk of my collection is over 60 years old. I've been collecting for almost 25 years and currently have 150 varieties, down from a peak of about 700 at a previous garden with more room.


I am particularly fond of varieties created by Dr. Rudolph Kleinsorge of Silverton, Oregon, who introduced irises from 1929 to 1961. I have the largest collection of his irises anywhere – 46 varieties. There are 8 more of his out there I need to add to my collection to be as complete as it can be.


I love photographing them just as much as collecting and growing them. I really enjoy watching the light play thru the blooms over the day.


Irises are one of the few species of flowers where brown is one of the options and I am very fond of brown irises. Here are some shots from last spring.


Close up of a crab spider with a bee she caught for lunch. They love to hide in the flowers and wait for bees. I have seen them in a variety of pastel tones often matching the blooms they are hiding in. They are fascinating creatures.
***********
One of my goals for next spring is to finally set up a 'proper' iris bed. Before the ground froze, I managed to dig up (most of) an overcrowded plot of unconquerable species iris; I planted out a bunch of named species from last summer's Iris Society tent sale, but I'm not sure they had enough time to establish themselves. So, of course, I've got some catalogs marked up already. Hope springs eternal, but at least I know that irises are generally tough, forgiving plants…
What's going on in your garden (plans), this week?