Gerald and his wife are at a work Christmas party, so I got to play Uncle Buck tonight and I took to this dive spaghetti bar in Steubenville called Naples. They all got hoagies that were the largest most ridiculous things I have ever seen: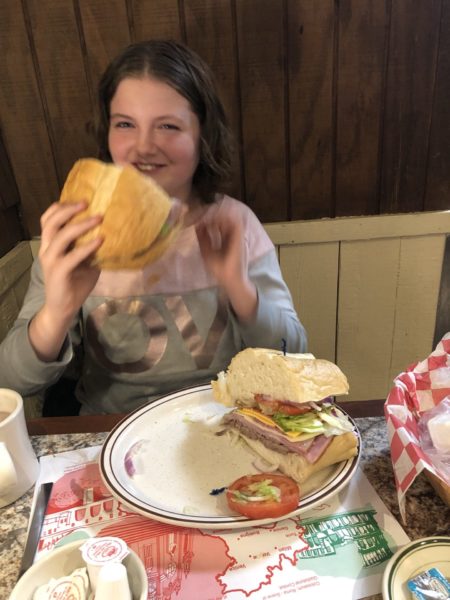 Her order was the "half" hoagie- what she is holding is a quarter. It's just absurd. I got physically ill watching the boys eat their entire dinner. I would be full for two days and I am a fatbody.
***
At any rate, if you haven't been able to tell by my lack of posting and my diminished wit, I have been in a funk the last few months. I get depressed in the winter every year, but this year has been particularly bad. It's just so harsh- you go from everything being green and lush to just damp, dark, and depressing. Even my house plants look like shit. Then you add in the rest of the usual shit we go through, work, worrying about money, the health of your parents, etc., and I just go into a funk. And then there is the website.
On top of all this is just the never-ending barrage of shit in the political sector. It's just overfuckingwhelming. Every god damned day it's something new and worse than the day before. It just never fucking ends. It wears you down.
I'll be fine, of course. But I do worry about some of you out there who may be going through the same thing but aren't willing or able to get help. Please do so. Talk to someone- talk to a professional. I don't have anything else more helpful than that other than to stay hydrated and get some exercise, but definitely talk to someone.
Harumph.