On the Road is a weekday feature spotlighting reader photo submissions.
From the exotic to the familiar, whether you're traveling or in your own backyard, we would love to see the world through your eyes.
Good Morning Everybody,
And yet another day of history. I hope you find this morning feature a respite from the storm, as I do. A rock of peace in a maelstrom of crap is a good thing.
Have a great day!
I've mentioned that we got two new puppies this fall. Born last February, they are 2 of a litter of 9 born on our friend's goat dairy farm nearby. Our friends are retired now, have been keeping and breeding dairy goats for decades, and monetize their goats by selling offspring. They keep meticulous records and people come hundreds of miles to pick up a baby goat. Not so for the dogs!

The "sire" is half Great Pyrenees and half Lab. Mom looks like an Australian Cattle Dog, but is a WV country mutt so no telling her actual genetic background.

The puppies are nearly twins, black sleek coat, tall and rangy with a white blaze on CooCoo's breast and speckled front legs and belly on BooBoo, the girl. BooBoo spends most nights outside, appears to not care a bit about rain and cold in spite of her sleek short coat, loves to prowl the ghostly hillsides late at night. CooCoo would rather sack out in our bedroom on one of the many dog beds, he is pretty much the image of a lazy hound.

Another dog is our white Lab mix Alice, who was a little plump before Puppies happened, but is now mostly muscle. Still big, though. And one picture of the late great Happy Dog, whom we lost last January. Happy came from our Vet clinic, which runs an underground adoption agency for hard to place dogs. Happy came to them from a client who rescued her off a chain at 3 am, and had a roaring infection of heartworm. She spent 9 months in their kennel recovering, and the next 10 or 12 years Happily running on our wooded hillsides.

After we suddenly lost Happy, we were keeping an eye out for another pup to keep Alice company. We have close neighbors with dogs, but that isn't quite the same. So when Goat Dairy neighbors adopted the pregnant next door bitch, we volunteered to take one, or a couple, whatever.

These pictures are just cute pix of cute puppies, and a little dash of kitty.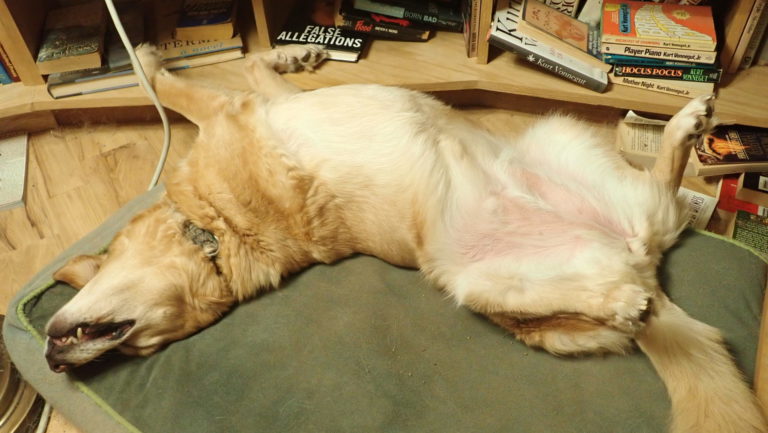 The library, beside my playstation, a dog bed with Happy...
September 30, 2018
Happy loved to hang with her people, and here she is hanging with me as I keep in touch with Balloon Juice and the rest of the WWW. As you can see, she is busy being very happy, which is how she got her name.
The Vet who cared for her those 9 months knew she was raring to go, a potentially hyperactive puppy who needed room to romp. She also knew we had the room, and allowed our dogs to run free and wild, so it worked out well.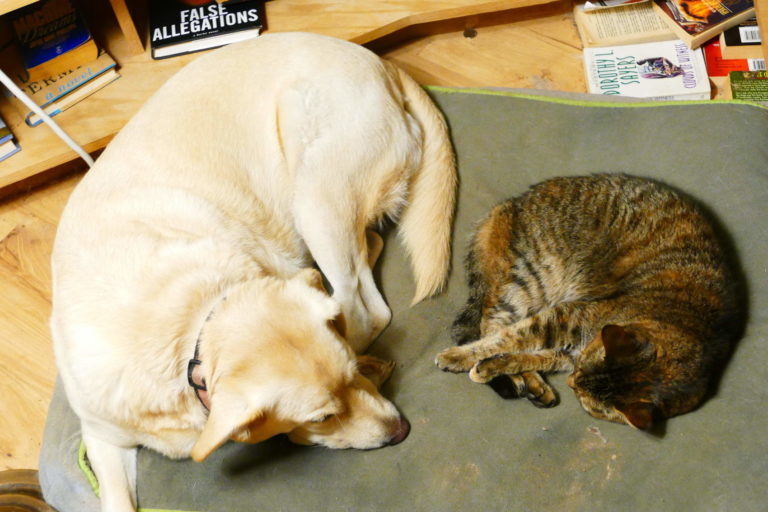 Kitchen Dog Bed in the solarium
November 11, 2019
This is bog ole Alice the white Lab mix, napping with kitty Spike, who is named for her sharpness. This dog bed is really popular as it's out in the solarium with great views of the wooded hillsides, moss covered boulders, free range deer and squirrel. So there are occasional outbursts of barking, intended to mean "Let me OUT RIGHT NOW!!!"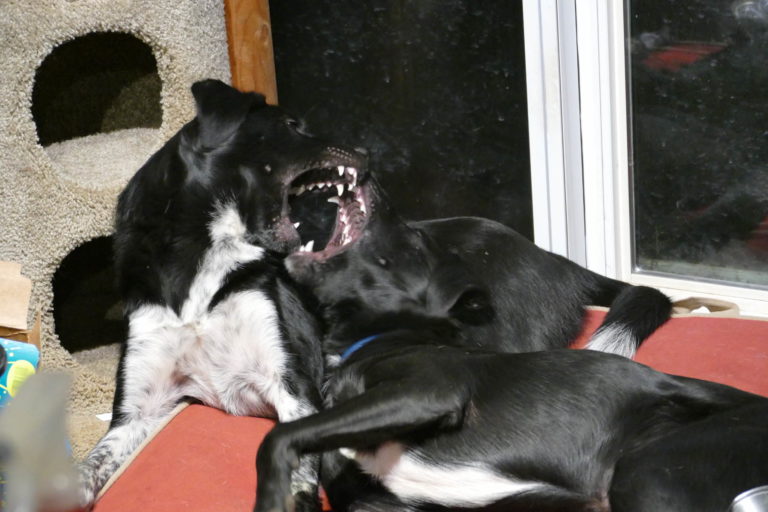 Kitchen dog bed
November 6, 2019
BooBoo and CooCoo ca Choo, wrestling with all fangs deployed. They make the most amazing sounds, high pitched squeals and low growls at the same time. Watching the action, you would expect much bloodshed from the amount of open gaping maw lined with white fangs, but not so much.
All three dogs, Alice and the two twins will lay together and gnaw on each other, making those horrible noises. But still, no bloodshed, just joyous squealing and growling. All the dogs are neutered, but CooCoo still wants to mount Alice, who doesn't care for any of that action at all, so much whirling and snarling.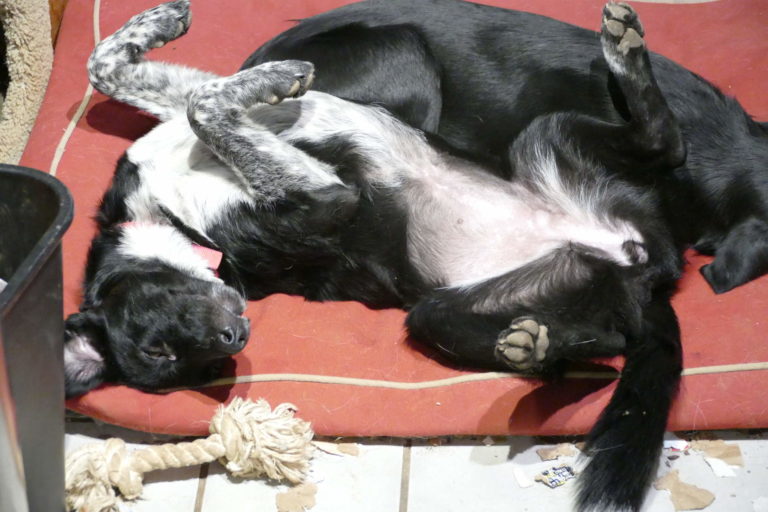 Kitchen Dog Bed
November 11, 2019
Here you get a good look at BooBoo's speckled front end, much like a Heeler hound people tell us. And CooCoo keeping sissy warm. Shiny coats on these puppies. They are adorable, and have just learned that they can jump up onto the people bed.
Now we need to teach them that they also need an invitation, not the easiest thing to communicate to very affectionate lovable puppies.
Thank Ceiling Dog we have taught them NOT to eat the shoes. It's OK for them to carry a show around and to sleep with them, just don't chew them up!!! That only took a couple of days, actually. They are really smart for farmyard dogs who were never inside until they came home to us. Have never messed inside, a miracle!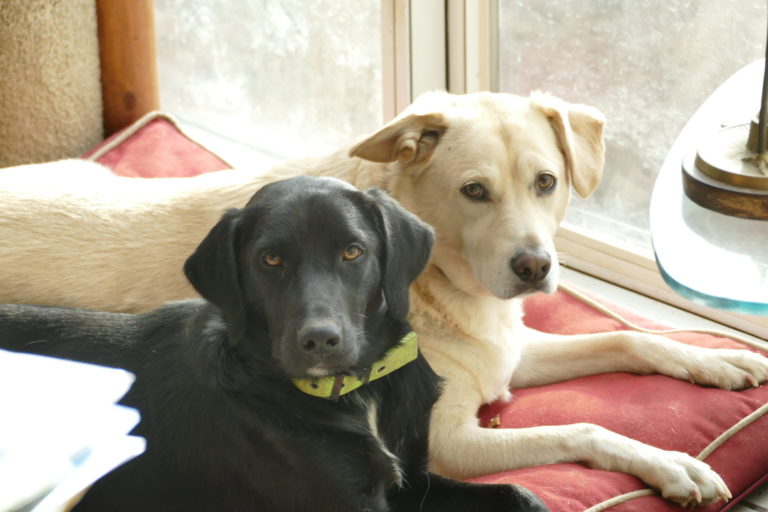 Kitchen Dog Bed
November 13, 2019
CooCoo and Alice, black and white, they have formed their pack, Alice is in charge, kinda, what sweet puppies they all are.
After 60+ years of living with dogs, I was amazed at how smart the two black twins are. Tell them once or twice, they have got it down. Alice was pretty much the same. She came from the big shelter in town, was 9 months old, had never been out of grass when I took her for the required first walk out back of the shelter.
Happy taught her how to climb and jump on the boulders, how to catch chipmunks, how to be a country dog. Of course, having been born and raised on a goat dairy farm, the twins didn't need as much country dog training as Alice did. Alice came with a little pink rhinestone collar, was no doubt obtained as a tiny puppy for a little girl in an apartment, and then wound up in a crate, way too big for a city apartment.
But now she is a country dog… all three of them are.