In a completely predictable series of events, immediately after rattling the cup to defray server costs last night, the website immediately began shitting the bed and we had probably a dozen short outages over the last 20 hours. Rest assured, we are working on a solution.
It's not the cloudflare configuration or not enough space or anything like this, and nothing that throwing money at can fix. The problem is basically (and will always be) this- WordPress was not designed to have an archive of eleventy billion comments, so some of the coding messes with this website but leaves virtually every other WP website untouched. You've heard, no doubt, of the different meanings of the phrase "the exception that proves the rule," well, we are ALWAYS going to be the exception.
In this case, there is a query that involves going through every single comment (again, for the god damned recent comments thing that you all love so much and I have NEVER used), and it just blows up the site. Here's a picture: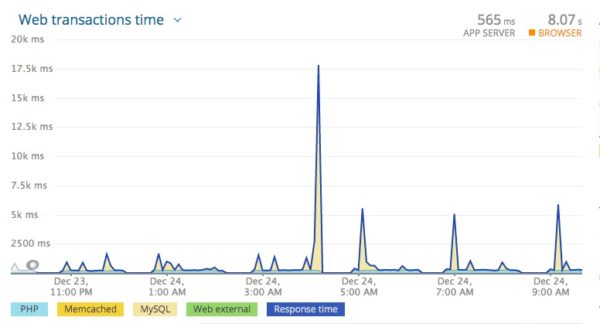 Basically, that query needs to be rewritten, but it can not be rewritten solely for this website, it is going to need to involve the WP developers, and it has to be done in a way that won't jack up the millions of other websites that use WP but DON'T have our unique situation. So we are working on it. Basically, the recent comments may disappear temporarily so we can confirm that that is in fact the case.
To continue the grotesque metaphor, we have gone through five sets of sheets and are now putting a plastic cover on the mattress and handing out adult diapers until we can get some immodium or get to a doctor.
The End.