The Pets of Balloon Juice 2020 Calendar is now available.
Cafe Press
$25.00
Order Pets of Balloon Juice 2020 Calendars at this link
or click on Our Store at the top of the site and choose the 2020 calendar on the left.
(But please read instructions located below the cover picture before you order…)
If your previous calendar order was cancelled, you will need to place an order again.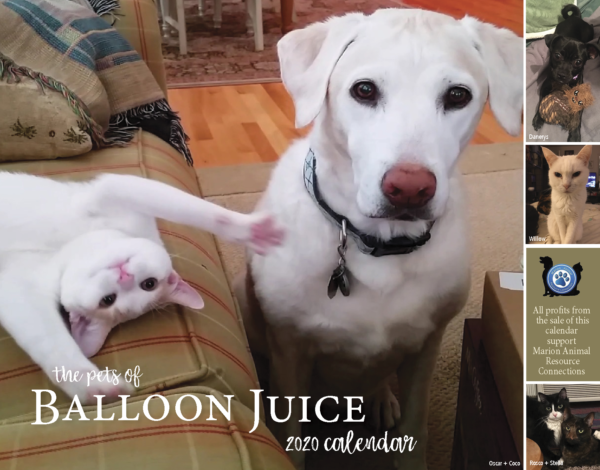 BEFORE YOU ORDER
Q. Can I check the calendar online before it's printed, to make sure my pets are all before I place my order?
A. Yes, and you should!
Q. How do I check the calendar before I order?
A. The zoom feature does not work well on the calendar in the Balloon Juice Shop.  So if you hadn't checked for your pets when the other link was available, please send email to WaterGirl with the names of y0ur pets, and she can check the calendar for them.  Or you can list your pets in a calendar thread and WaterGirl will check on those, as well.
Q.  What if my pet doesn't have their name on the photo?
A.  Some people did not include pet names.  If your pet is in the calendar with no name, please contact us ASAP before you place your order.  To contact us, please let us know about the problem in the comments of the most recent calendar thread AND send email to watergirl at balloon-juice.com (in the usual format for email addresses).
Q.  What if I can't find my pets in the photos after I review the calendar online?
A.  We can let you know what page your pets are on.
Q:  What if there's a problem?
A:  If you discover a problem, please notify us at the earliest possible moment.  If there was an error on Beth's part, she can add your pets or fix naming issues.  As long as you haven't placed your order yet, errors can be corrected for your copy and all subsequent copies.
Pets of Balloon Juice 2020 Calendar  (calendar announcement post)
The 2020 version of the Pets of Balloon Juice calendar is available!

Beth took John's idea of including an In Memoriam component this year and made the calendar something truly special.

We have memories of General Stuck, efgoldman, Schlemezel, greennotGreen, and Scotian.

There's even a picture of Charlie, along with the comment where the General first announced his new companion.  Check out January online, and I think you'll be hooked.  Who knows, you might even find a fuckem from efgoldman, if you look hard enough.

Some of you will even find your own nym somewhere in the calendar, in conversation with some of the beloved jackals who have gone on ahead.

You can find the link to order the calendar – and all the ordering details – in the blue box, upper right, just underneath the balloon guy.

If you're like me and you didn't get your pet photos in (curses!) I think you're still gonna want to have this calendar.  I'm getting one for myself, for sure.

I am also ordering calendars for Wolvesvalley, satby, Something Fabulous, Maze Dancer, Albatrossity, and Anne Laurie – as a small token of my thanks to each of you for your contributions to the new site. You all know what you did.  (So send me your addresses so I can order your calendars.)

Beth really outdid herself with this one, and kudos to John for such a lovely idea.