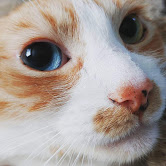 There will be updates, but I wanted to get this up before the weekend. From commentor Origuy:
A friend asked me to help find a home for this orange tabby named Bowie. His family is moving from the San Francisco Bay Area to Austin and cannot take him with them. It looks like he's comfortable with dogs.

I'll pass along the info and we can work out how to get him rehomed.
If you have suggestions, or know anyone who might be interested, leave a comment below, or contact me at annelaurie (at) balloon-juice (dot) com…