WereBear is back with an update on Bud and Lou and to answer your burning cat questions.
=================================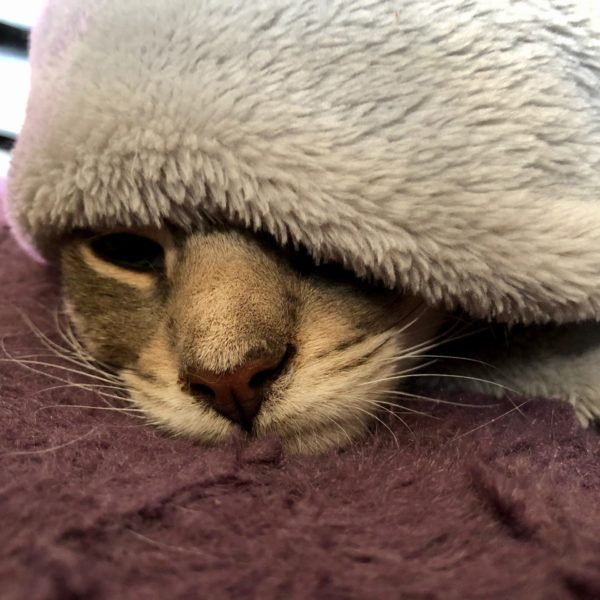 Bud undercover
New year, new discoveries. Like them or not, we all need to keep developing by acting on our continuing realizations. This goes for cats, too.
I shook up the household by adopting pair-bonded kittens. It didn't take them long to charm most other beings. Still, even though fall has turned into winter, we still have two Isolationist Cats who refuse to enter Kitten Country.
And that's okay. As I shared in a recent post:
The kitten brain is like a butterfly house. Beautiful to look at, always in motion.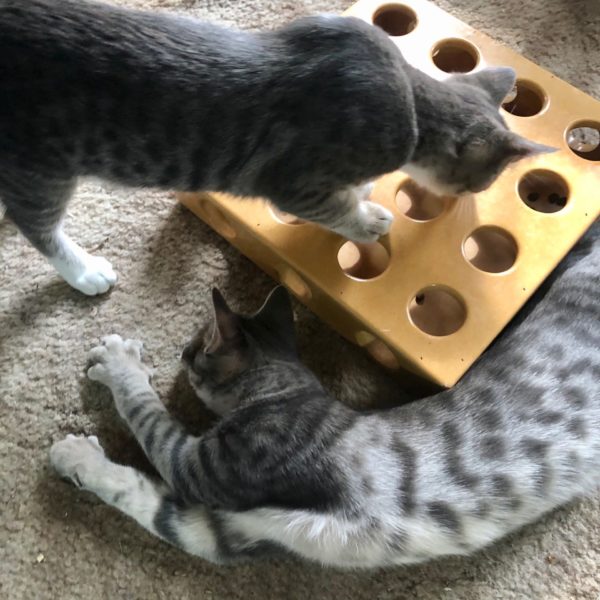 Lou and Bud with a puzzlebox
Kittens can be disconcerting to cats who are happiest with a sense of orderly scheduling. But there's also another element, a psychological one. Just as intense contact with children reminds us of our own childhoods, so it is with cats.
The two Isolationist Cats had a rocky beginning, as rescues often do. Olwyn adjusted readily to baby Mithrandir, whose Gamma meekness and ability to self-play kept him unobtrusive.
Bud and Lou are the opposite. They approach other cats and invite play. They will flank with mirror moves like an Impossible Mission Force. They are Alphas, so their friendship is bold and assertive. This makes shy cats like Mithrandir feel pressured. It makes bossy cats like Olwyn feel one-upped.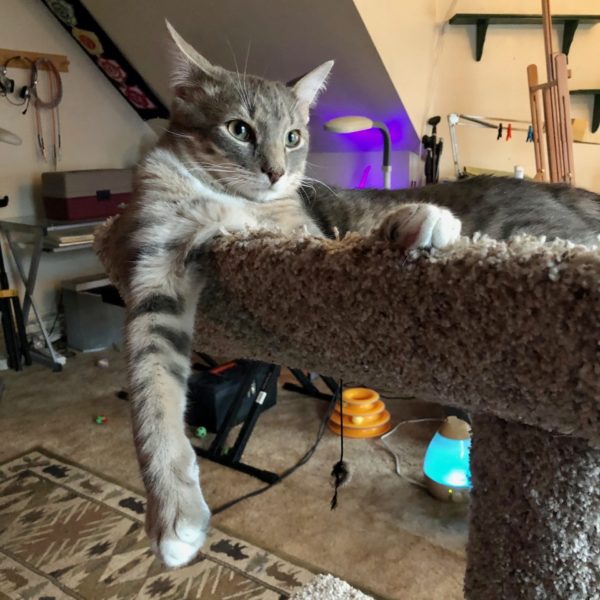 Lou enjoying his kingdom
So, while Mithrandir will come to the door and ring the temple bells for entry, he has yet to come in. Olwyn is happy spending time in the bedroom with Mr WayofCats, who is still recovering from a serious setback from a year ago.
I've often seen how a well-adjusted cat will seem to regress when presented with a kitten. I decided it was more than uncertainty about this new little being. I think it's also about what the little being helps them remember about their own kittenhood.
While RJ was held as evidence in an abuse case, it hasn't affected his big muffiny heart, or his social outlook. He adores kittens, and giving him two at once has put him on a kitten-wrangling career high.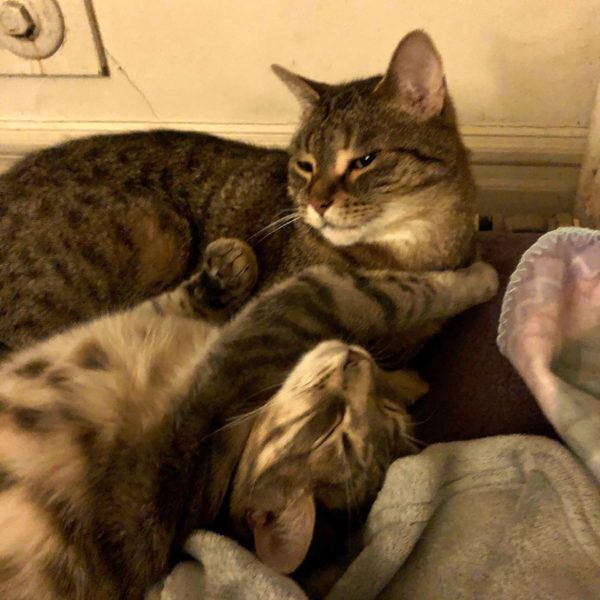 Tristan getting some adoration
On the other hand, Olwyn is a tortoiseshell cat with abundant Tortitude. She maintains she was never really a kitten, and arrived ready for World Domination. While Mithy's feral caution and Gamma shyness keeps him unready to make a decision: and cross a threshold.
At three weeks old, Tristan had several bad hours after his abandoned mother abandoned him. (Three weeks later she abandoned his sister, who also got a home.) But since then, he's been Prince of the City.
His main problem with the kittens was about being invited to play when he hadn't studied them yet. We replaced an aging cat tree with a new one, just for him. He can sit on it and watch the kittens work all their toys and race up and down their own cat tree.
Once he had a strategy, he thawed. Now, they gazelle-leap over him on the regular. If he doesn't feel like playing, he has places to go. Though when I told him I saw him playing with the kittens, I got a press release pointing out they were chasing him, and he was letting them.
Which doesn't necessarily mean he is actually playing with them. They are, after all, clueless beanheads. My frequent reminders that "they have no sense" soothes Tristan. They are supposed to be puzzling, and after all, he likes puzzles.
As I told him, Bud and Lou will be delightful sidekicks who want to play Cat Tree Games. I got them for him.
That's my story, and I'm sticking to it.
Discover the Way of Cats:  BLOG  My book: Way of Cats: How to use their instincts to train, understand, and love them   Get the latest kitten pics on Twitter.
=================================
In my cat world, after a year and 2 months, Gabe seems to have finally decided to become his own cat. He demands his place on the bed now, which is often sprawled (how is he sooo long?) from my hip to my shoulders, with a paw touching my cheek. This has sparked a bit of jealously with Zander, who will now take that spot when available. I let that go on for a few minutes with each and then send them on their way because it's impossible to sleep like that. They are still best friends. Emma tolerates him and Gabe has stopped trying to win her over and is satisfied to know she won't kill him in his sleep.
The cutest thing, I believe he has a crush on Scout. I often find him lying next to her on the bed (brave, because Danes are not known for their spatial awareness) and wherever she is, he is close by.
I have a few BJ pet pix to post this week, and I'm happy to post yours. Send them my way.
How are everyone else's critters doing?
Respite open thread