The federal platform, Healthcare.gov released their final open enrollment numbers late last week.
Approximately 8.3 million people selected or were automatically re-enrolled in plans using the HealthCare.gov platform during the 2020 open enrollment period. …
Charles Gaba has a good summary of the meaning behind these numbers:
As a result, HC.gov ends the 2020 Open Enrollment Period down just 1.5% from last year…and it's actually just 0.5% when you take into account Nevada splitting off onto their own state-based exchange.

It's also worth noting that in the end, renewing enrollees dropped by 2.2% year over year (139,000 people), but new enrollees actually increased by 0.7% (14,000 people).
I was wrong.
I had thought that enrollment would decline due to pricing pressures. I expected declines in ACA enrollment for two mechanical reasons. First, Nevada transitioned off of Healthcare.gov to their own, state based marketplace for the 2020 open enrollment period. Secondly, several more states have expanded Medicaid or are in their second open enrollment period where on-marketplace enrollment declines are still expected.
I had thought pricing would matter more as the spreads compressed:
In 2019, the median premium spread between the benchmark and the least expensive bronze plan was $164 for a single 40-year-old. In 2020, this difference decreased to $148. For the same 40-year-old, the median premium spread from the least expensive silver plan to the benchmark decreased from $27 in 2019 to $14 in 2020.

The reduced silver spread, while small in dollars, may have a profound impact. At incomes up to 200 percent of poverty, the value of CSR—a free added benefit—exceeds the value of most bronze and gold plan discounts generated by silver loading. …Those discounts appear to have boosted enrollment, offsetting negative factors such as repeal of the individual mandate penalty and reduced federal spending on advertising and outreach. While enrollment at 200–400 percent of poverty has increased slightly from 2017 to 2019 (less than 1 percent), enrollment at 100–200 percent of poverty has fallen 10 percent in the same period.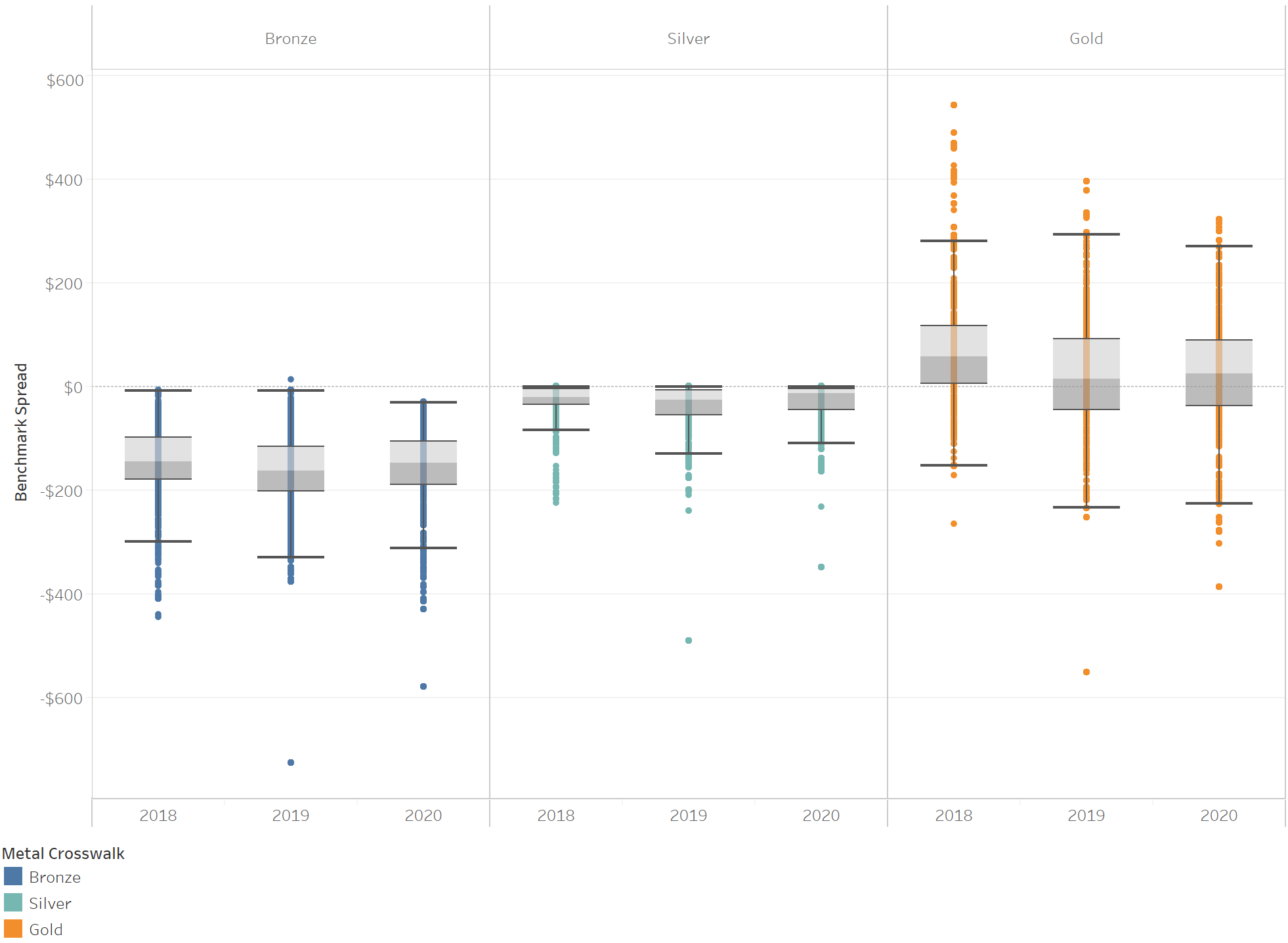 I'm curious as to what is going on in the market as I thought the pricing environment was slightly worse in 2020 than it was in 2019 and the number of advertised outs was higher. I'm not sure what is going on.