I've written several posts about Black PSYOPs, which are attempts to launder misinformation, disinformation, and agitprop through legitimate sources to influence people's, groups', and governments' attitudes and actions. I've specifically focused on attempts by Republican elected and appointed officials, as well as the President's surrogates, to launder the debunked, factually inaccurate, lie that Vice President Biden knuckled the Ukrainian prosecutor back in 2014 and 2015 in order to protect his son Hunter Biden. The truth is that Vice President Biden, representing the official policy of the United States and working with US allies in Britain, the EU, and the IMF sought to force out a corrupt prosecutor who was covering up and slow walking investigations into corruption in the post-Maidan Ukraine.
Moreover, as I've repeatedly covered since September, the assertion that Hunter Biden did anything wrong is actually Russian created agitprop that was first put forward in Russian state backed news media in May 2014. It emerged because it was being reported at the time that Vice President Biden was considering running for president in 2016 and Putin was looking to dirty him up should he emerge as the Democratic nominee. It is the same reason that one of Secretary Kerry's, who was also being reported in 2014 as considering another run for the presidency, step-sons was mentioned in the reporting by RIA-Novosti.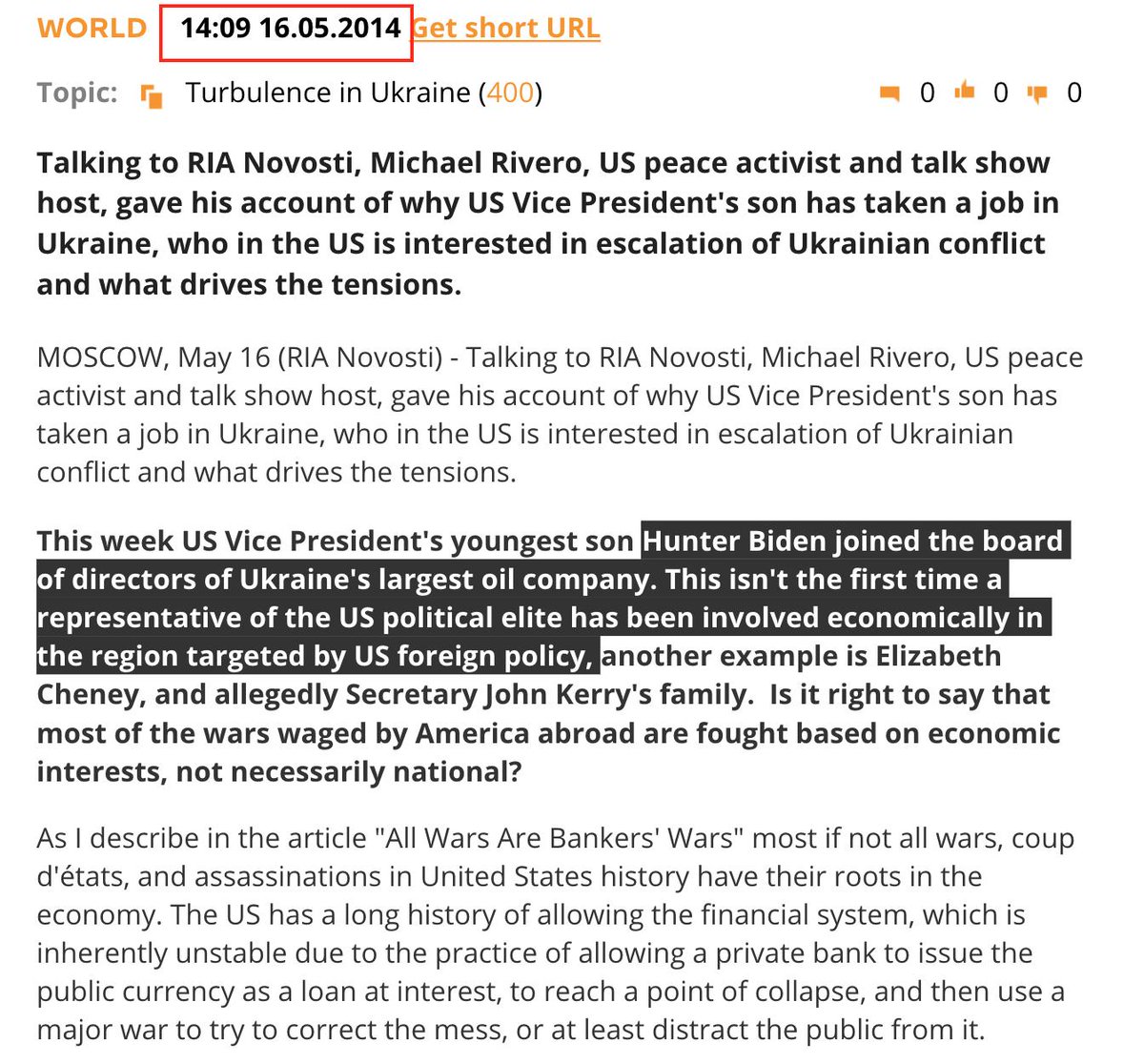 The New York Times is reporting that the GRU, Russian military intelligence, appears to have now hacked Burisma, which is the Ukrainian natural gas company that employed Hunter Biden.
The GRU attacks appear to be running parallel to an analog effort by Russian spies to dig up information that could embarrass the Bidens. Russian spies are trying to penetrate Burisma and working sources in the Ukrainian government in search of emails, financial records.

— Nicole Perlroth (@nicoleperlroth) January 13, 2020
With President Trump facing an impeachment trial over his efforts to pressure Ukraine to investigate former Vice President Joseph R. Biden Jr. and his son Hunter Biden, Russian military hackers have been boring into the Ukrainian gas company at the center of the affair, according to security experts.

The hacking attempts against Burisma, the Ukrainian gas company on whose board Hunter Biden served, began in early November, as talk of the Bidens, Ukraine and impeachment was dominating the news in the United States.

It is not yet clear what the hackers found, or precisely what they were searching for. But the experts say the timing and scale of the attacks suggest that the Russians could be searching for potentially embarrassing material on the Bidens — the same kind of information that Mr. Trump wanted from Ukraine when he pressed for an investigation of the Bidens and Burisma, setting off a chain of events that led to his impeachment.

The Russian tactics are strikingly similar to what American intelligence agencies say was Russia's hacking of emails from Hillary Clinton's campaign chairman and the Democratic National Committee during the 2016 presidential campaign. In that case, once they had the emails, the Russians used trolls to spread and spin the material, and built an echo chamber to widen its effect.

Then, as now, the Russian hackers from a military intelligence unit known formerly as the G.R.U., and to private researchers by the alias "Fancy Bear," used so-called phishing emails that appear designed to steal usernames and passwords, according to Area 1, the Silicon Valley security firm that detected the hacking. In this instance, the hackers set up fake websites that mimicked sign-in pages of Burisma subsidiaries, and have been blasting Burisma employees with emails meant to look like they are coming from inside the company.

The hackers fooled some of them into handing over their login credentials, and managed to get inside one of Burisma's servers, Area 1 said.

"The attacks were successful," said Oren Falkowitz, a co-founder of Area 1, who previously served at the National Security Agency. Mr. Falkowitz's firm maintains a network of sensors on web servers around the globe — many known to be used by state-sponsored hackers — which gives the firm a front-row seat to phishing attacks, and allows them to block attacks on their customers.

"The timing of the Russian campaign mirrors the G.R.U. hacks we saw in 2016 against the D.N.C. and John Podesta," the Clinton campaign chairman, Mr. Falkowitz said. "Once again, they are stealing email credentials, in what we can only assume is a repeat of Russian interference in the last election."
The purpose of this hacking is not just to get access to emails and other documents, remove them, and either leak them through third parties to gullible members of the US news media who will be all to happy to publish them in a repeat of 2016 or to credulous surrogates of the President like his personal attorney Rudy Giuliani. The purpose of hacking into these systems is also to be able to adjust actual emails and documents, as well as plant false ones, that can then be removed, leaked, and laundered through the news media with the real emails and documents as part of the ongoing Black PSYOP campaign. If there's nothing actually incriminating in Burisma's employees' or board of directors member's emails or the company's documents about Hunter Biden, then the GRU will be happy to fabricate them (agitprop), embed them with the real information, and then ensure that all of that information – real and fabricated – makes its way to the information laundries of the US news media so it can be weaponized against Vice President Biden and on behalf of the President. They did this with the Clinton campaign and DNC emails in 2016 and they'll do it again here too.
And the GRU's, as well as other hostile state actors and, most likely, those of some partners who have a preference in the outcome of the 2020 elections efforts will not be confined to Vice President Biden. I guarantee that they have operations ready to go for any of the leading Democratic candidates contesting for the Democratic nomination. Some of these efforts will be easier than others. Attempts will be made to get to files, documents, and emails from Senator Warren's time doing legal consulting. And you'll see hacks attempting to bring to light that she got unfair treatment by falsely claiming to be Native American or lying about when she was pregnant. Four decades of speeches and public access show episodes and writings from Senator Sanders will be released in toto (the most controversial ones) or barbered and adjusted for maximum influence effect to make fairly banal left of center statements seem nefarious. Documents, emails, and records from Senator Klobuchar's time as a local prosecutor will be combed through. And attempts will be made to get into McKinsey's systems, as well as those of South Bend, Indiana looking for anything that can be used against Mayor Buttigieg. And if nothing really damaging can be found on any of these candidates, then it will be manufactured and that will be weaponized. Remember, part of what led FBI Director Comey to usurp the authority of the Attorney General in 2016, including not even just recommending that then Deputy Attorney General Sally Yates take the lead regarding Secretary Clinton's email investigation, was a false memo fabricated by the GRU, which they allowed US intelligence to collect. When even the most senior professionals with extensive experience can be manipulated to make terrible professional errors through agitprop, imagine what it is going to do to the Ken Vogels and Mike Allens of the world, let alone Rudy Giuliani, Jeanine Pirro, Seant Hannity, and Lou Dobbs? All of whom are just salivating for someone to hand them this type of information gift wrapped and ready to go regardless of who is providing it and whether or not it is accurate or even germane to the election.
As I wrote way back in March 2019, the 2020 elections are an information war. And that information war is wrapped within an undeclared interstate war between Russia and the US. And that is the reality that every Democratic campaign, up and down the ballot from municipal special districts to those seeking the presidency, America's Intelligence Community, the National Security Directorate's at the DOJ and FBI, and the news media, especially those covering politics, need to understand and prepare for. After the 2016 election and what has now been well documented as happening since as far back as 2014, there is no good excuse for refusing to learn from the past 5 and 1/2 years, for campaigns and the new media to not have counter-influence operations in place and operating, and for Americans not to be informed and realize that we are at war. The 2020 election is not just taking place while that war is ongoing; the 2020 election is actually one theater of operations in that war.
Aux armes, citoyens!
Open thread!