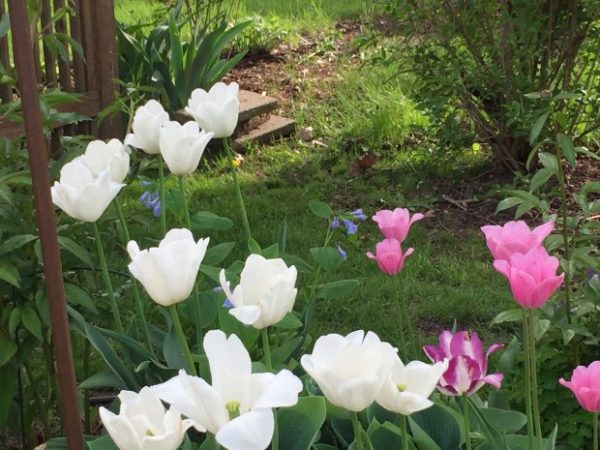 Thanks to WaterGirl (again) for a winter mood-brightener:
At my house, there are happy tulips everywhere you look in the spring!

These solid pink ones are my favorites, and the white ones really make everything else pop. The white ones are sensational at dusk, when they seem to jump out at you.

I can look up the name of the double tulips if anyone wants to know what they are. I just love them, even though they don't really look like tulips.

I get all my bulbs from Colorblends, which satby turned me on to several years ago.
***********
I'm trying a tulip experiment myself this year — I planted a bunch of double-tiered Angelique bulbs in a 20″ bowl planter, along with some little blue scilla for contrast. Both of us have really enjoyed the 'spring roses' (as the Spousal Unit dubbed them) when I've tried them before. But they're effectively annuals in our yard, so I'm going to see if the bulbs survive the winter under conditions where I can just move the pot when they're done flowering, and use the space for annuals.
Reminder: If you have garden pics that you never had the chance to send me last summer, this would be the *perfect* time to share them!
What's going on in your garden (planning), this week?