Order Pets of Balloon Juice 2020 Calendars at this link
or
Click on Our Store at the top of the site and choose the 2020 calendar on the left.
If your previous calendar order was cancelled, you will need to place an order again.
Why were many of the weekend orders cancelled?  The answer from Cafe Press went something like this:  we're not sure, broken image… mumble mumble, no we don't know why… mumble mumble, or how that happened, and no, no one actually fixed anything…  mumble mumble, but orders seem to be going through okay now so mumble mumble it should be fine now.
That didn't inspire confidence, and in the end, Beth recreated the calendar on the Balloon Juice store on Cafe Press.
If you hadn't already checked the calendar for your pets and pet names, please send email to WaterGirl and include the names of your pets, or share that information in the thread below.  Either way, I can check for you and let you know.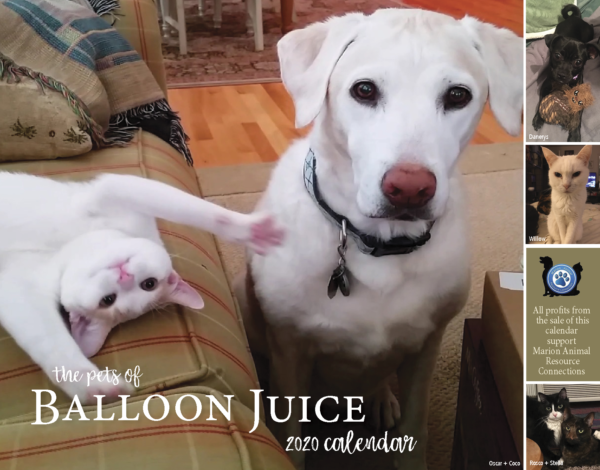 It's a really special calendar this year, with the inclusion of an In Memoriam feature, honoring jackals who have gone on before us.  You can read more about that at the link to the original announcement on Saturday.
Link to the original Pets of Balloon Juice 2020  announcement from Saturday.
Update: First 40 comments were from earlier today, before it got buried.
Update 2: 10:00 pm.  Someone asked for a direct link to MARC: