In every one of the Black PSYOP posts I've done, I've referenced Paula Chertok's reporting that the earliest mention of Vice President Biden having a potential ethical and/or legal problem was Russian agitprop first reported in Russian state backed media RIA Novosti. I have also referenced in several of these earlier posts that Secretary Kerry's step-son was also referenced.*  As I've explained in these previous posts this was done to begin to dirty up Vice President Biden and Secretary Kerry who were both reportedly considering running for president in 2016.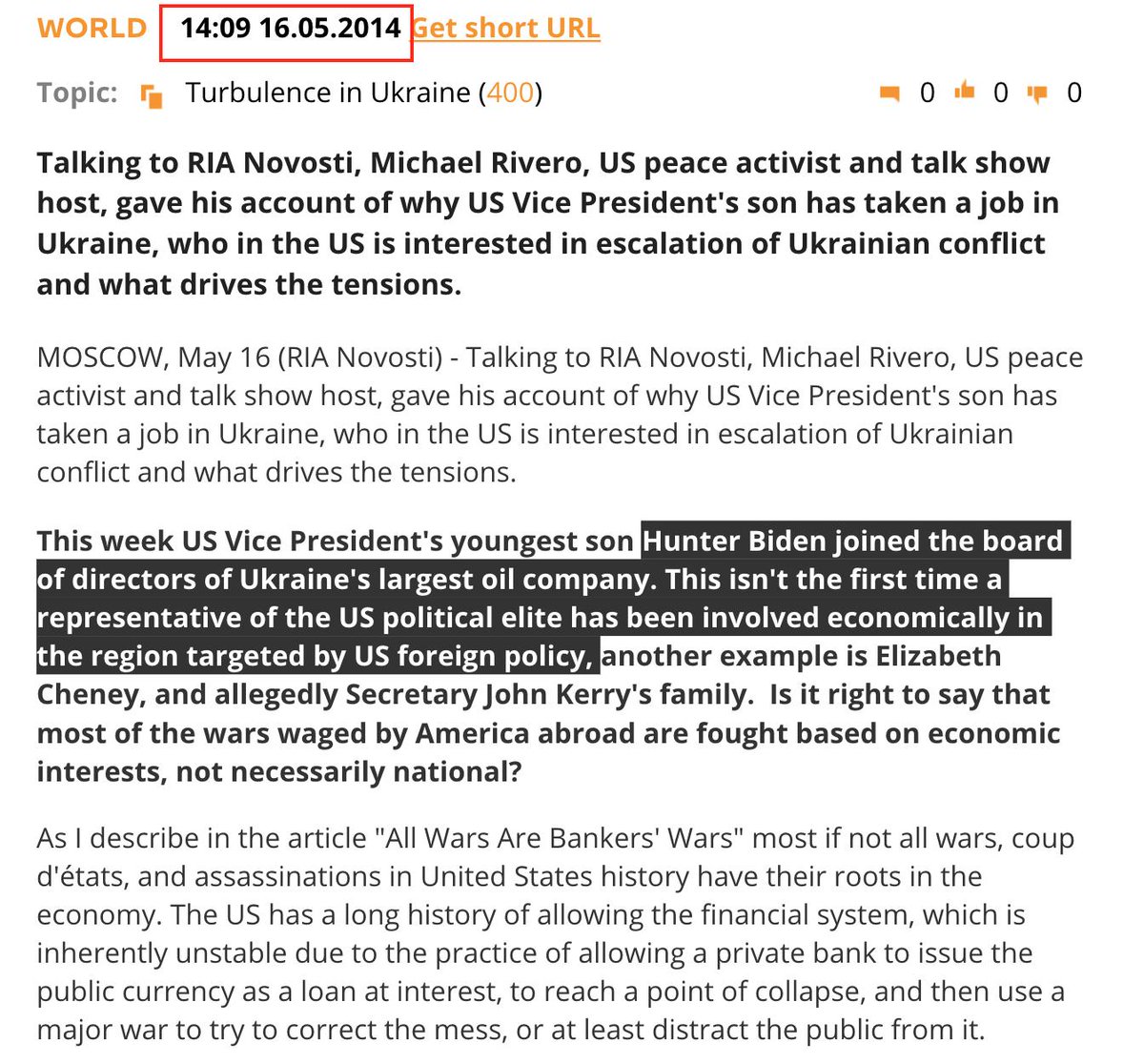 On Saturday I explained that the President's defense team would try to launder the debunked Russian conspiracy theories about Ukraine, not Russia, interfering in the 2016 election and doing so to frame Russia and the President for doing so, as well as the agitprop that Vice President did something illegal in regard to Ukraine in an attempt to cover up for the fact that his son had a sinecure. This is what the Republican members of the House Permanent Select Committee on Intelligence and the House Judiciary Committee were using the impeachment hearings to perpetuate the Black PSYOP of laundering Russian conspiracy theories, misinformation, and agitprop through each committees' hearings and into the mainstream news reporting.
Today former Florida Attorney General Pam Bondi, a member of the President's defense team, laundered this Russian agitprop from 2014 through the Senate and into the news. And you can see that this is a direct transmission of the agitprop cited above because Bondi suddenly introduces a new player into her narrative: Secretary Kerry's stepson Chris Heinz. The video below is queued up to start at the 5:25 mark just before she introduces the agitprop.
For those that don't want to watch the audio-visual extravaganza that is Pam Bondi, here's the transcript:
Here's how Hunter Biden came to join Burisma's board in 2014: He was brought on the board by Devin Archer, his business partner. Devin Archer was college roommates with Chris Heinz, stepson of Secretary of State John Kerry. All three men, Hunter Biden, Devin Archer, and Chris Heinz had all started an investment firm together. Public records show that April 16th, 2014, Devin Archer meets with Vice President Biden at the White House. Just two days later, on April 18th, 2014, is when Hunter Biden quietly joins Burisma, according to public reporting. Remember this is just one month after the United Kingdom Serious Fraud Office opened a money laundering case into Burisma, Hunter Biden joins the board.
Now compare this with the RIA Novosti reporting above.
As of right now the PBS Newshour and other mainstream broadcast and cable news stations have either the full video of Bondi's time at the podium or clips of it up on their digital and social media feeds. That's the first step of the information laundry for the Black PSYOP. The second step has already occurred, if you keyword search "Pam Bondi John Kerry's stepson" you get results from conservative to far right digital "news" sources. The first page of returns includes The Daily Wire, Breitbart, Towhnall, The Epoch Times, Daily Gaming World, and GLOCKTalk, which is a firearm's forum and the thread is full of inaccurate conspiracy theories like this one:

Those returns also include mainstream reporting, such as this article from Newsweek. But it won't be long until the right wing digital news and social media ecosystem push this from the fringes to Fox News. Once there this five year old Russian agitprop, intended to be part of potential active measures campaigns against either Vice President Biden or Secretary Kerry in 2016 will get broadcast to a much wider audience. And just in time for the Iowa caucuses and the New Hampshire primary both Vice President Biden and one of his most senior surrogates, Secretary Kerry, will be dirtied up. Just the way Vladimir Putin wanted back in April 2014. Which is why Bondi did it. To get results like this:
ERNST: "IA caucuses are this next Monday evening. And I'm really interested to see how this discussion today informs and influences the Iowa caucus voters, those Demcaucus goers. Will they be supporting VP Biden at this point?"

H/T @JaxAlemany pic.twitter.com/tYYkSPuIDY

— Alan He (@alanhe) January 28, 2020
Open thread!
* I really don't understand why Elizabeth Cheney was included in the agitprop that was initially placed in RIA Novosti. There was reporting in 2015 that Bill Kristol was floating VP Cheney's name for a potential 2016 run. And VP Cheney did suggest that he thought VP Biden should run in 2016. But neither of those makes any sense as to why Russia's misinformation and agitprop campaign would include his daughter in what was clearly a placed piece of agitprop in 2014 to dirty up potential 2016 Democratic candidates.