I'm not a big car guy. I buy a car, I drive it into the ground, I buy another car. Lather, rinse, repeat. My current daily driver is a 2004 Honda CR-V, a car so dull it has its own ironic song and music video. It has 80K miles, and I think I drive it too much.
Right now it is snowing, and I will go out whenever I feel like it, because of AWD and Blizzak snow tires. I buy AWD cars and put snow tires on in the winter because of this: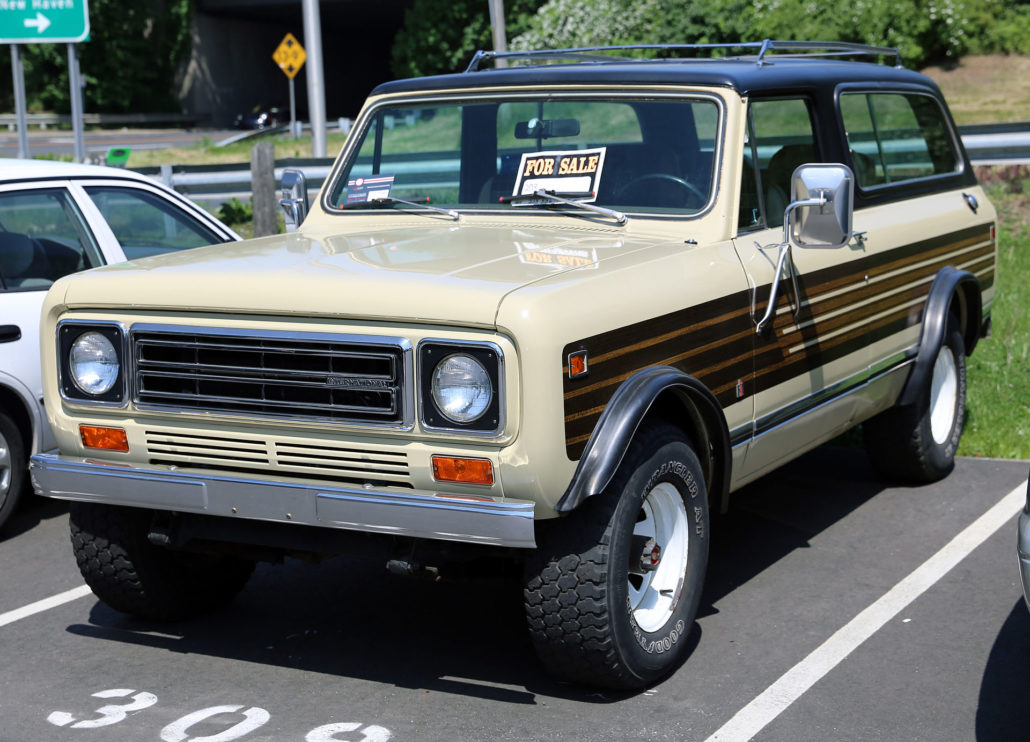 A red version of this 4WD vehicle was the first car I ever drove. It was my dad's, and it had one purpose: to get him to the hospital no matter how much snow was on the ground. A secondary purpose was having something to display his McGovern/Daschle/etc. stickers on. I don't know if it's possible for an American male to care less about cars than he did.
The Scout II was a handful to drive. It was overpowered (V-8), had touchy brakes, was prone to roll over, and it had a disconcerting habit of turning cookies on ice if you weren't extremely careful. My brother and a carload of his friends found this out the hard way on an icy bridge outside of town. They were inches from death–after a 360, that Scout ended halfway up the new solid concrete guard rail on that bridge. Another few inches, and they'd have been in icy water. Nobody was injured, but the car was totaled.
After that accident, my dad did the only sensible thing – he went out and bought a new Scout II. This one was green. It was in that car that I had a near brush with death on an icy four lane road on the edge of town late one night, when I hit the brakes to slow down for a turn, and the Scout did a 360 in the middle of the road. Luckily, no cars were coming, and there was no damage except to my underwear.
When it snowed and the old man wasn't on call, we'd take that thing out and pull people out of ditches, and just generally fuck around busting through drifts. If you haven't driven with 4WD or AWD in the snow, or on crappy back roads, it makes what can be a white knuckle experience a lot easier and a lot of fun. We also liked to take the Scout when we had dates because it had a front bench seat. For teenagers, cars are freedom, and driving a car that gave you the freedom to go more-or-less anywhere was a feeling that I don't think I'll ever forget.
This whole reminiscence was triggered by an article in an overlanding mag about a company that rehabs Scouts. The Scout (and a bigger version, the Traveler Travelall) were produced by International Harvester between 1961 and 1980 (1953-1975 for the Travelall). Mechanically, they were kind of a piece of shit. The guy in the article doing the rehab basically gets rid of everything but the body, which makes sense to me, given all the work that we had to do on those cars. But that was par for the course for pretty much all domestic cars at the time. Luckily, the invisible hand of the free market has created a rising tide for all car manufacturers, and US cars don't fall apart after a couple of years anymore.
Anyway, I thought it might be fun to reminisce about your first car. I need to go to the grocery store now, and I hope the roads haven't been plowed.