So, another election has taken place in the last day or so: Ireland's.
The big news is that Sinn Fein has kicked ass.
Sinn Féin candidates all over the country won huge victories, with many elected on the first count with huge surpluses, catapulting the party into the front rank of Irish politics and making it a contender for government. Fine Gael seems certain to suffer losses, while Fianna Fáil looks set to be the largest party in the new Dáil, analysts were projecting last night.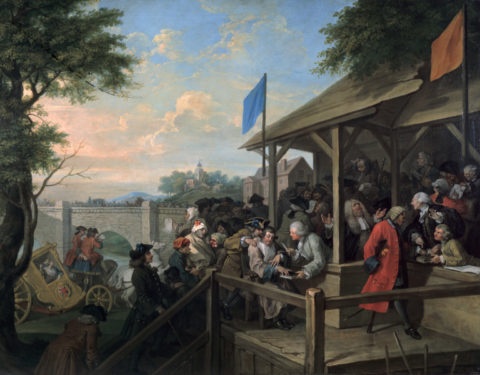 Given that no party will have a majority, or anything close to it, all kinds of maneuvers–and fuckery–remain on the table.  See, e.g., this problem facing the Sinn Fein leadership:
The election has brought the party to a position of unprecedented power in the Republic. Mary Lou McDonald must now decide what she wants to do with that newfound power. She says she wants to go into government; it remains to be seen how earnestly she wishes to pursue that objective.

Sinn Féin wants power to advance its agenda of economic reform and Irish unity. But it will be acutely conscious of the experience of the Labour Party, the beneficiary of past surges in support – also among voters seeking a change – which entered government with Fine Gael and Fianna Fáil and suffered decimation at the subsequent elections.
I know f**k all about Irish politics and even less about its electoral system, which clearly has its amusements. As in, it seems, as if I'm reading this right, that Sinn Fein will gain fewer seats than it could have because of the way they built their election list. Via the BBC:
Sinn Féin ran 42 candidates across the 39 multi-seat constituencies, about half that of both Fine Gael and Fianna Fáil, which will have a knock-on effect on the number of seats it can secure in the 160-seat Dáil (Irish parliament) where 80 seats are needed for a majority.
So here's the bleg: I'm sure that in the commentariat there are many who know the territory, and at least some who have been avidly following the day's events.  Beyond my prediction that Boris Johnson and his immediate predecessors at No. 10 will be remembered as the catalysts for a united Ireland, what the hell's going on?
Over to y'all…
Image: William Hogarth, The Humours of an Election III: the Polling, 1754-5.*
*Yeah. I know I'm using an English artist on the occasion of an Irish election–but Hogarth rocks. An equal opportunity satirist.