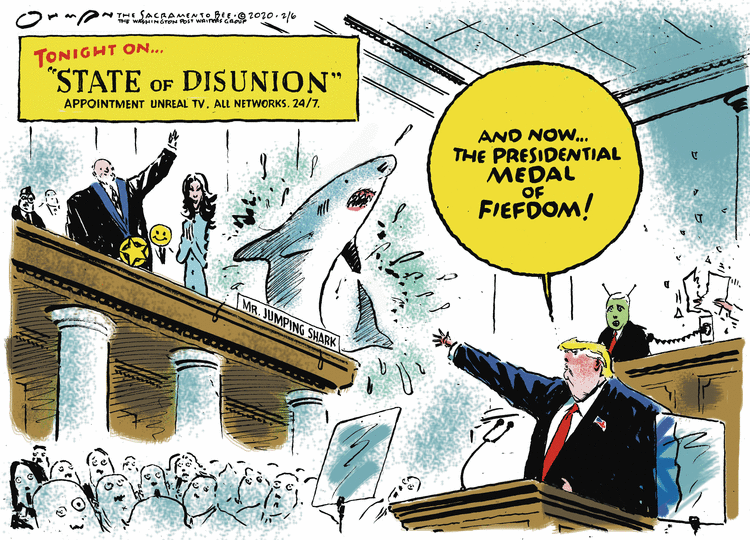 Of course it was a load of manure — that's the best the beast is capable of producing. More shame on the gutless GOP sacks in suits who, to protect their own sinecures, not only voted the horse as their leader, but insisted it was the finest orator and firmest patriot since Tailgunner Joe McCarthy dined alone (with his DTs).
A lot of punditry has once again switched into 2016 mode, in which every transgressive act, and every freakish moment, is treated as revolutionary political theater, and not the shabby burlesque it truly is. https://t.co/ZRtwjlCdEF

— Charles P. Pierce (@CharlesPPierce) February 5, 2020
Commentary, at this point, would be superfluous… El Caudillo del Mar-a-Lago delivered his State of the Union address, one of the few constitutional responsibilities of his office that he hasn't ignored. Which is not to say he hasn't degraded it, too. On Tuesday night, he turned it into a cheesy spectacle that belonged in, say, a casino sinking into bankruptcy in Atlantic City.

He bestowed the Presidential Medal Of Freedom on Rush Limbaugh, hanging it on that rancid bag of old sins, right there in the House chamber. He arranged a surprise family reunion for a soldier home from deployment, right there in the House chamber. He told an African-American schoolgirl that he, personally, was going to see to it that she can go to a good school. He congratulated another child on not having been aborted, and promised that he, personally, would see to it that nobody was. These Dear-Leader-Grants-a-Wish moments are straight out of a dog-eared playbook used by various members of the Kim family in North Korea. Weaponized sentimentality is a powerful tool in authoritarian hands.

The speech itself was the usual farrago of lies and bigotry…

This is a lying, criminal president*, aided and abetted by a political party that lost its mind long before it lost its way, and that now swallows poisonous pablumlike this:

If forcing American taxpayers to provide unlimited free health care to illegal aliens sounds fair to you, then stand with the radical left. But if you believe that we should defend American patients and American seniors, then stand with me and pass legislation to prohibit free government health care for illegal aliens.

It's morning in American carnage.
The State of the Union is hurting because of the occupant of the White House, who consistently demonstrates contempt for the American people, contempt for Congress & contempt for our constitution. I cannot in good conscience attend tonight's sham #SOTU ? https://t.co/DTwG3Y7dK3 pic.twitter.com/Hres8eAFkK

— Congresswoman Ayanna Pressley (@RepPressley) February 4, 2020
"Bullying people on Twitter doesn't fix bridges. It burns them. Our energy should be used to solve problems," Michigan Gov. Gretchen Whitmer says in Democratic response to President Trump's #SOTU speech. https://t.co/bulmjJOCUb pic.twitter.com/vFN3q17evK

— ABC News (@ABC) February 5, 2020
Actually the only Democratic response needed. https://t.co/sNtvNn8Kdn

— Elie Mystal (@ElieNYC) February 5, 2020
A reminder of how this started https://t.co/UvUzCdCgoX

— Julia Ioffe (@juliaioffe) February 5, 2020
Don't be distracted.

He did it once. And he will continue to cheat in the elections.

He abused his power once. And he's planning on doing it again.

For Trump and Republicans in Washington, it's #StateOfTheCoverup. #SOTU

— Nancy Pelosi (@TeamPelosi) February 5, 2020
And it turns out even a lot of the rubes low-info voters weren't buying what the Oval Office Occupant was 'saying'…
Nielsen says Trump's ratings for the State of the Union were down 20% from last year and well below the numbers in 2017 and 2018. https://t.co/8FKPwWetOj

— Josh Dawsey (@jdawsey1) February 6, 2020
Pelosi is estimated to be responsible for roughly 80 million dollars in DCCC fundraising in 2018 alone. Part of the reason she's in charge is because she pays everyone's bills. https://t.co/Y033Vf3AIk

— Iowasca Tripper (@agraybee) February 5, 2020
1) Pelosi does some glib meme-y thing that some people politely applaud on Twitter
2) Republicans absolutely lose their shit
3) Twitter leftists absolutely lose *their* shit
4) Some ham-faced Midwestern white guy runs for the Speakership in 2020, loses badly
5) Rinse, repeat

— dn (@dnnation) February 5, 2020