The Center for Medicare and Medicaid Services released their draft actuarial value calculator a few weeks ago.  This calculator is how insurers determine which metal tier (bronze, silver, gold, platinum) a plan can be placed in.  The calculator refers to a series of reference tables that are derived from national experience and pricing levels to estimate how much a particular benefit configuration.  Benefit designs are constrained by the allowable maximum out of pocket limit.
In 2021, the estimated allowable out of pocket limit is $8,700. This limit is calcualted by taking the previous year limit and adding the percentage of premium growth of a set of index premiums.  If premiums go up by 5% then the allowable out of pocket limit goes up by 5%.
A plan with an $8,700 deductible and an $8,700 out of pocket limit will have an actuarial value of 61.06% which means, on average, the insurer will pay 61.06% of the entire pool's allowed, essential health benefit claims while patients in the form of cost sharing will pay 39% of the claims.
In 2014, the minimum plan had an actuarial value of just below 58%.
As trends continue, insurers won't be able to build standard (58-62% AV) Bronze plans by 2024.  They won't be able to build Expanded Bronze plans by the time my daughter graduates from college.
Why is this?
The marginal value of another $100 of added deductible declines fairly rapidly.  To hold AV constant, maximum out of pocket limits have to increase significantly faster than premium increases.  We looked at this on Balloon-Juice in 2018: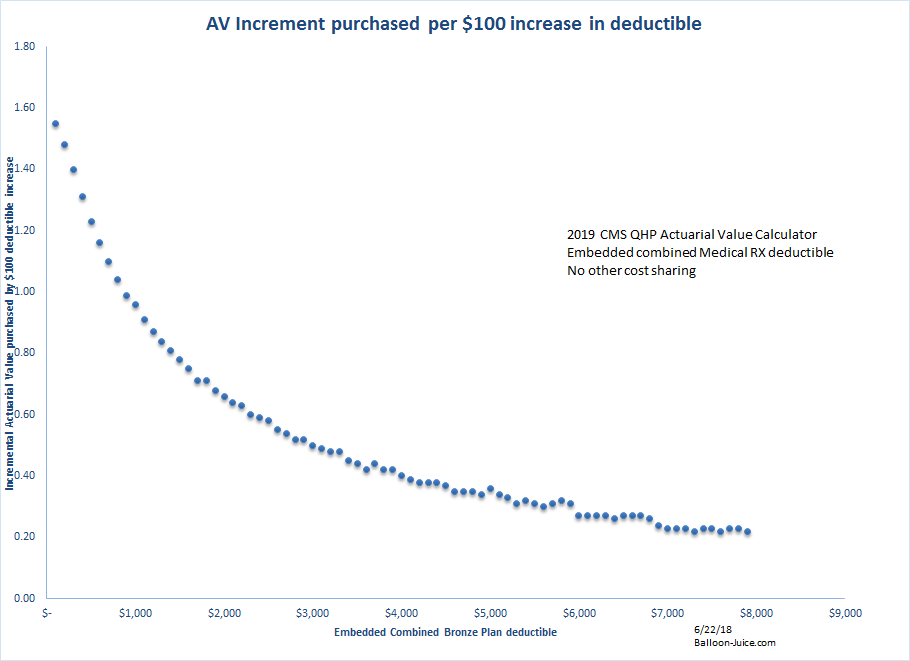 health care costs are so skewed to the right. Half of the population barely touches the system so the first $100 of deductible captures most of their health care spending and the first $500 of deductible is almost entirely their annual spend. The declining marginal purchase of AV per $100 spent on deductible is real and big.

By the time the deductible is going from $3,000 to $3,100, very few people are actually running up charges to that level. It buys half a point of actuarial value for this jump. By the time the last $100 is added to deductible for the skinniest plan possible with a $7,900 out of pocket maximum, the AV bought is .22 points…
Why does this matter?
Subsidized buyers care about the spread between their preferred plan(s) and the benchmark. A Silver plan under current rules can have a 66% AV. As the minimum Bronze creeps upwards in actuarial value, the spread becomes tighter and tighter. The vast majority of individual health expenditure profiles will make people fundamentally indifferent on cost sharing between a 59% Bronze and a 62% Bronze from the same insurer with the same network. The difference then would be the net premium which is a function of premium spreads and premium spreads are a function (holding everything else constant) of the actuarial value spreads.
The incremental buyer on the ACA exchanges is someone who is flipping a coin to get insured or not insured and the decision is health insurance or paying off a credit card a little faster. The incremental buyer is relatively healthy and they are not buying on the basis of plan characteristics beyond net to them premium. As a minimum Bronze increases in actuarial value, the probability of an incremental buyer seeing a zero-premium plan decreases. This will knock down enrollment and increase the average risk and therefore average non-subsidized premium.
The end of the Bronze age is not a 2021 problem, but Congress and regulatory entities need to start thinking about how they want to deal with this when it becomes a 2023 or 2024 problem. One of the most straightforward solutions is to rejigger the out of pocket maximum limits to correspond to a targeted minimum actuarial value so that low end Bronze could again be a 58% AV plan with perhaps an $11,000 out of pocket limit.