Now: USDOJ won't pursue charges against Andrew McCabe. Letter from prosecutors: https://t.co/Rt7c1SZVnj Statement from McCabe's lawyers @mrbromwich and David Schertler: pic.twitter.com/L1QclMUdTq

— Mike Scarcella (@MikeScarcella) February 14, 2020
Here's the letter from the DOJ to Deputy Director McCabe's attorneys:
As we know from both his statements and tweets this week, as well as AG Barr's kayfabe interview last night and the subsequent reporting about how the President views the DOJ, we can expect that he's not going to take this well. I have updated the Presidential Daily Temperament Advisory System accordingly. Please take all appropriate precautions!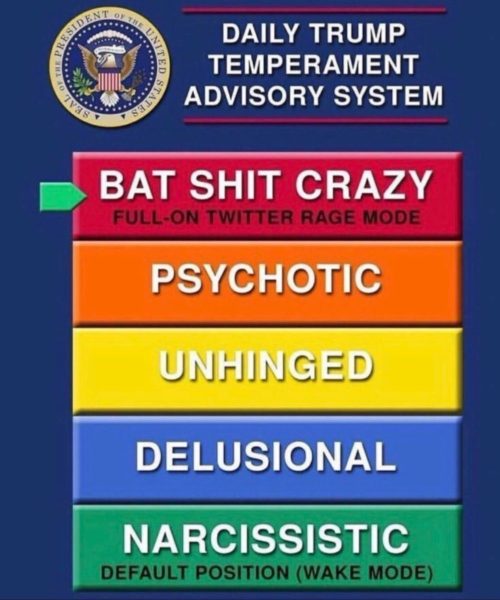 Update at 1:20 PM EDT
It has just been reported that AG Barr has appointed an outside counsel to review LTG Flynn's case.
More political inference at DOJ. https://t.co/hf9rpginj7

— Susan Hennessey (@Susan_Hennessey) February 14, 2020
Attorney General William P. Barr has assigned an outside prosecutor to scrutinize the criminal case against President Trump's former national security adviser Michael T. Flynn, according to people familiar with the matter.

The review is highly unusual and could trigger more accusations of political interference by top Justice Department officials into the work of career prosecutors.

Mr. Barr has also installed a handful of outside prosecutors to broadly review the handling of other politically sensitive national-security cases in the U.S. attorney's office in Washington, the people said. The team includes at least one prosecutor from the office of the United States attorney in St. Louis, Jeff Jensen, who is handling the Flynn matter, as well as prosecutors from the office of the deputy attorney general, Jeffrey A. Rosen.

Over the past two weeks, the outside prosecutors have begun grilling line prosecutors in the Washington office about various cases — some public, some not — including investigative steps, prosecutorial actions and why they took them, according to the people. They spoke on condition of anonymity to discuss the sensitive internal deliberations.

The Justice Department declined to comment.
Open thread!