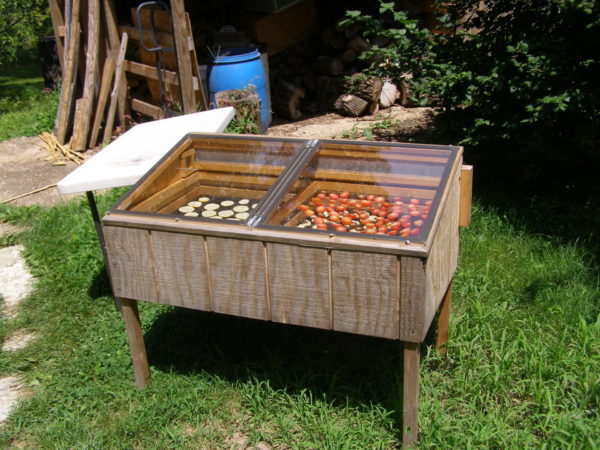 Thanks to the multi-talented, irreplaceable Ozark Hillbilly:
I bought The Solar Food Dryer some years back, and built my own. It's an informative book and I recommend it. The book shows many different types but I built the one in the book and can't imagine ever needing more than that.

The dimensions are 31″ wide x 26″ deep x 16″ tall (in back), 10 1/2″ tall in front. The legs are 24″ tall w/ dolly wheels on 2 at one end and a handle at the other for ease of dragging. For the glass I used a couple of old storm windows I got off a window replacement job. One can get them cheap. (caution: do NOT use solar glass)


In the Vented pic, one sees that there are two doors. The upper door is for ventilation and is screened to keep critters out. The lower door is where the trays slide in and out.


The only time I ever close the vent door is when it is 70 degrees or cooler. On those days the 2 side hole vents are all that is necessary to vent moisture.


The screen for the two food trays is food grade polypropylene and they sure are proud of it. It cost me $20 for a single 32×84 roll from Sunworks. One can get it for a cheaper by the foot price as long as it's a 250′ roll (or something like that). If I ever decide to try and sell these at a farmers market I would buy it that way, but until then…
I have dried everything from apple slices to zucchini chips to cherry and grape tomatoes to chili peppers. This pic shows a batch of paprikas going in…


and Finis shows them coming out two October weeks later.


Three notes: The OnTheRack pic also shows a piece of heavy gauge sheet metal painted flat black below the food trays. It is the "heat absorber plate" and it has an upward bend at the front with a 2″ gap between it and the front panel. It gets very hot. Do not touch.

Secondly, the dryer is also wired with receptacles for two 200-watt incandescent bulbs. I live at 37 1/2 degrees latitude and have only used them once. I suspect the only time one would have need of them is if they had a week of cloudy days.

Lastly, in more northern climes I think shimming up the back legs would help it receive more sun.

Oh yeah, I almost forgot, The dryer needs to face south.

I added in the PrettyOne pic just 'cuz.
***********
My waiting-for-spring project, so far, started with ordering sweet peas from Select Seeds. We were both really pleased with last year's collection; this year they're offering *two* different collections, so I ordered one of each. The only problem now is that we have so little full-sun space… and sweet peas require trellises. The Spousal Unit wants the plants 'right by the front steps, where I can smell them every morning', but we've already got two big permanent pots of alpine strawberries on either side of the steps (so he'll remember to check for ripe ones), and the spaces between those pots and the house on either side are already crowded with Zepherine Drohin roses, early daffodils, and self-seeding geraniums. So I'm going to experiment with trellised pots, but I don't want to block my view from the front door of the two raised beds, either.
I even ordered a couple of seed packets this year: sweet alyssum and nasturtiums that I'm going to try starting outdoors in pots. Plus morning-glory seeds for the Spousal Unit to try in the Aeropot kit I haven't gotten around to using, because it has to go on the lowest (cat-inaccessible) level of this four-level house, and he goes down there to his mancave a lot more often than I do to the laundry room. Used to be white alyssum and blue morning glories were available at all the local garden shops, but for some reason they've become impossible to find, so we'll see if we can grow our own!
What's going on in your garden (planning), this week? Any projects in the works?