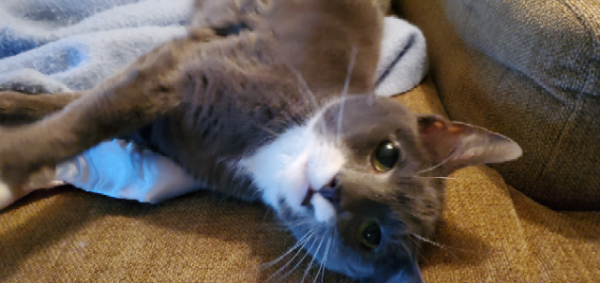 From long-time lurker Deb S:
Hello Juicers. I'm a long-time lurker, from the days when B-J was on the Dkos blog-roll and John was still a republican.

My mom is in home hospice in Manhattan on the Upper East Side, and neither my brother nor I can take Shakespeare, her part Russian Blue mix. He is the best cat to ever own her. Typical Russian Blue personality, his goal in life is to be on a person. Vocal and loving, if he's complaining either his food dish is empty or you need to SIT DOWN THIS MINUTE so he can jump into your lap. The picture is of him homing in on my lap like a heat-seeking missile.

My mom got Shakespeare about 10 years ago from a rescue connected with her vet's office, after losing her prior cat to old age. He is at least 13, and maybe older.

He has a tilt to his head and is a bit asymmetrical, we think he might have been hit by a car or suffered some other traumatic injury before my mom got him. And he has a nervous habit of over-grooming and pulling out his own fur that has gotten worse as my mom's condition worsened and she could no longer give him the attention he was used to.

He needs a lot of love and would probably do best with another shut-in, or a family with one or more older children who can dote on him and give him the affection he craves. He loved visits from the children who used to live next door. I don't know how he would do with other pets but safest would be a home with none.

I will take him to the vet and get him caught up on his vaccinations before he is re-homed.
Steeplejack would probably attest — for someone who works from home, a senior cat can be the perfect pet.
If you're interested, or know someone who might be, leave a comment or contact me via the link in the blogroll.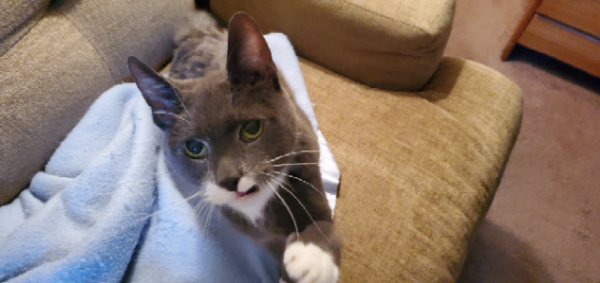 Deb S:It's hard to get a good picture – if he's awake and you're near him he's heading for your lap. In this pic he's reaching for my hand because I'm not petting him as I should be.