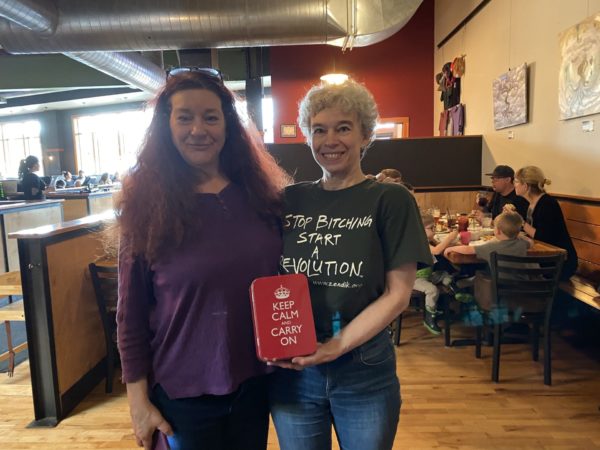 From party-planner and GOTV goddess CaseyL:
The Seattle GOTV Meetup yesterday went very well. H E showed up with a green balloon (Yay, H E !) and I had made a table sign, so people could and did find us easily.

Attending were:
H E Wolf
CaseyL
thalarctosMaritimus plus one (lurker)
Opiejeanne and Mr. Opiejeanne

Not a bad turnout, for a meetup where we'd be putting people to work!

There was of course a lot of social chatter, and then we got down to business. Thanks to the tips suggested by PostcardsToVoters, plus H E's amazing organizational skills and motivational talk, we got 18 postcards done and mailed – and sent folks home with postcards and stamps and information on how to sign up at the site to get addresses.

I should also say that Elliott Bay Brewery was very friendly and helpful, letting us into an area not usually open until later in the day so we could push tables together, set up our impressive piles of Stuff, and put up the table sign AND the balloon!

We didn't get many photos, as we were more focused on socializing/working, but here is what we do have.


It was fun, it was productive, and we're gonna do it again!