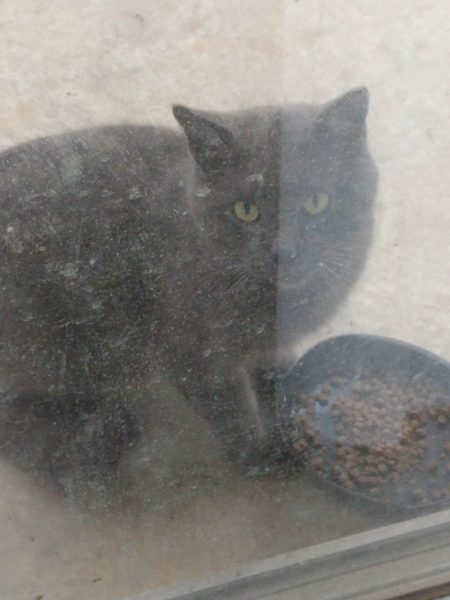 From "mostly lurker" Big R:
I am currently in the process of rescuing a stray cat that has taken to coming around my apartment. I would rather he go to a home where we know he will be loved, but will take him to a reputable rescue if needed.

If the jackals can crowd-fund to pay for caring for him until he's socialized and for transport, I'll do a BJ rescue (and do the driving myself). If nobody's interested or we can't raise the scratch, I'll find him a place at a good rescue. Either way, I'll keep feeding him and trying to gain his trust until I have his destination sorted out…

With those preliminaries said, meet Strayertes. Available to a good home upon request and approval of BJ staff. He's located in West Alabama (I'm in Tuscaloosa.)

ETA: This whole thing just became newly urgent. He came inside, so I really need to move him along before my current cats kill him.
If you have any suggestions, for re-homing or fostering or trustworthy shelters in the area, leave a comment. If you want to donate towards Strayerte's vet checkup / transport, email me; I'll send you Big R's PayPal addy. (Any leftover funds will be donated to the West Alabama Humane Society.)
And, since I know you're all curious… Shakespeare *may* have a new home waiting; the prospective adopter has contacted Deb S. I'll update as things develop.