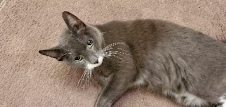 Commentor Luciamia has offered Shakespeare a home — but she doesn't have transport. Update from Deb S:
My mom has only a week or two to live, Luciamia is in Baltimore… If a volunteer can make the trip, that will make my life easier. I can pay expenses. I also got medication to calm him during the trip that I can administer in advance…

I'm trying to run back home to Maine for a day to get one of my own cats boarded, the one who vanishes and can't be found to be pilled. By the time I get home she'll have been off her meds for over a week. I would like to send Shakespeare on his way first. We need to keep him locked away from my mother because she's on oxygen and we can't risk him disturbing anything, I'll feel better knowing he's out of the apartment before I leave.
Anyone got some spare time this weekend? Big ask, I know. Best would be if people could do shifts, swapping Shakespeare off at service stops between NYC and Baltimore.
I don't know if public transit would be possible, if someone were willing to ride down & back with his crate under the seat. Does Amtrak permit pets? Is there an intercity bus route that would work?
Other city-to-city pet transport services under short notice? (I'd donate towards costs here… )
Anybody wants to volunteer, or has information that would help, leave a comment below. Or contact me via email and I'll forward your message to Deb.