Note for the day:
The first Playing to Win went up yesterday.  For now, I'm thinking maybe we'll try a M-W-F schedule for these posts.  But perhaps a weekend post would be better for some of you?  If you are interested in these posts, feel free to share your thoughts on frequency and times.  I found it inspiring yesterday to see what everyone is doing.  But this is for you guys, so please speak up about what you want and what works for you.
*****
A couple of our jackals requested a daily political "action" thread, so how about if we try it for a bit and see how that goes?  If you guys think it's useful, we can keep it up, and if it ends up being more "seemed like a good idea at the time," then we can let it go.
The goal is a poll-free, spin-free, prognostication-free, media-free, what's-wrong-with-the-other-candidate-free-zone – a political thread where the focus is on ACTION:  What can be done to help our candidates, and what are we doing to help them, every day?
The hope is that this will help provide inspiration, and encourage action, as an alternative to anger, frustration and despair.
Everyone is free to chime in about what they are doing for their their preferred candidate.  What actions are we taking at Balloon Juice, individually or collectively, to help candidates we believe in?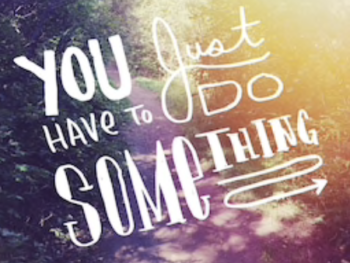 What might you like to do, if you weren't stuck on not quite knowing how to go from thinking about doing something to actually doing something?
·  Making calls?
·  Canvassing?
·  Writing postcards?
·  Texting for your candidate?
·  Donating?
·  Registering people to vote?
·  Can you bring food and drinks to campaign offices in your area?
·  Are you an election judge?
·  A poll watcher?
·  Can you put together a bullet list of what you like about YOUR preferred candidate?
·  Are you available to go to a battleground state to work on a campaign, but can't afford transportation?
·  Do you have frequent flyer miles that could buy that person a ticket to a battleground state?
·  If you live in a battleground state, could you host a volunteer who could stay at your house?
·  Do you have a great informational article about YOUR preferred candidate?  Share it!
·  If you have campaign connections, can you connect interested jackals with that campaign?
·  Are you an organizer of a postcard-writing campaign who could help other BJ peeps get started?
What else are you doing?
Tell us what actions you've taken today, whether it's calling or donating or canvassing or writing postcards or talking to someone about your candidate, or anything else that's on that list.  Or even something that isn't!
Forget the other candidates.  Tell us what you LIKE about your candidate.
Share your worries or concerns about canvassing or other activities.  What's holding you back?
If Playing to Win appeals to you, what else would you want to see in this space?