The Washington Post has reported that both Senator Sanders and the President have both been briefed that Vladimir Putin is interfering on both their behalf in the 2020 election:
U.S. officials have told Sen. Bernie Sanders that Russia is attempting to help his presidential campaign as part of an effort to interfere with the Democratic contest, according to people familiar with the matter.

President Trump and lawmakers on Capitol Hill have also been informed about the Russian assistance to the Vermont senator, according to people familiar with the matter, who spoke on condition of anonymity to discuss sensitive intelligence.

It is not clear what form that Russian assistance has taken. U.S. prosecutors found a Russian effort in 2016 to use social media to boost Sanders campaign against Hillary Clinton, part of a broader effort to hurt Clinton, sow dissension in the American electorate and ultimately help elect Donald Trump.
Senator Sanders both gave The Washington Post an appropriate response, but had his campaign issue it as a formal and official one as well.
"I don't care, frankly, who Putin wants to be president," Sanders said in a statement to The Washington Post. "My message to Putin is clear: stay out of American elections, and as president I will make sure that you do.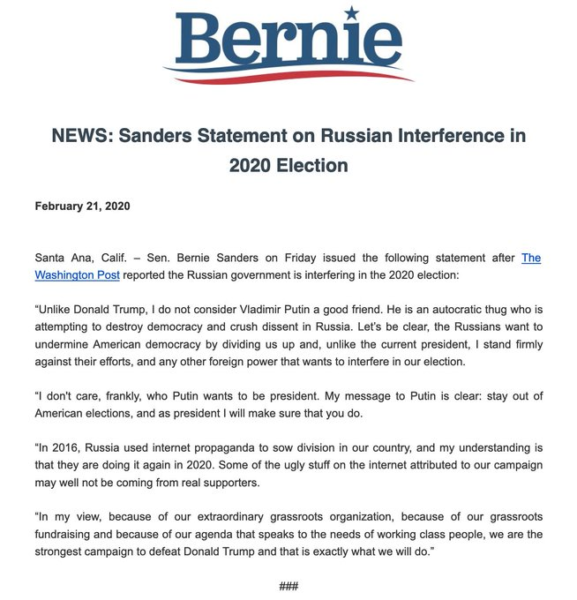 Unfortunately Senator Sanders was briefed on this information a month ago!
Sanders tells reporters he learned about Russian interference in his campaign about a month ago.

But asked why it came out now, Sanders points to the fact that the NV caucuses are a day away. And adds sarcastically, "Washington Post? Good friends."

— Abby D. Phillip (@abbydphillip) February 21, 2020
That's a problem. Despite the briefing being classified there are ways to get ahead of these things and getting the information out, because eventually the information is going to leak out anyway. This information did, indeed, leak out. And it would not surprise me if the President didn't leak it to try to distract from the reporting about the briefing he and the House Permanent Select Committee on Intelligence received about Putin's ongoing election interference. The specific problem here is that Senator Sanders knew, the President knew, and Vladimir Putin knew. The rest of us, however, did not know. We may have surmised based on what we know happened in 2016, but we did not know. And that means for the past month the President and Vladimir Putin have had leverage over Senator Sanders. I'm not suggesting that Senator Sanders is an agent of either one's influence, but by sitting on the information for a month it provided both of them leverage that they could have used against him.
If there is one overarching lesson that we should all take away from what Putin did in 2016 and has been doing since 2016 is that when senior officials, or those seeking high office, refuse to be forthcoming about their activities, actions, and interests (personal, professional, business), it provides the other people that know about these activities, actions, and interests leverage over them. The problem in 2016 wasn't that the President, as a candidate, was trying to do business in Russia. The problem was he kept lying about it over and over and over all while Putin and several of those around Putin knew the truth. Which provided Putin with leverage over the President. The same dynamic was also at play when Senator Sanders and his supporters demanded to see transcripts of Secretary Clinton's speeches during the 2016 campaign because they wanted to know what she may or may not have said or promised to those who were paying her to give those talks. There was no indication she promised anyone anything, But the argument then was that it provided the interests paying for her to give a speech leverage on her above and beyond the speaker's fee and expenses she was paid.
I know, you know, we all know that Senator Sanders is not a witting or unwitting asset of Putin's. We know that Putin doesn't actually want him to be president, Putin just wants him or his supporters to create chaos by ripping the Democratic Party apart* in order to achieve the strategic effect that Putin does want: having the President reelected to a second term. Because that strategic effect creates even more chaos, which increases the likelihood that Putin achieves his overarching strategic objective: weakening the US and with it the US created and backed post WW II international order; leaving Putin free to operate with impunity. Loose lips may sink ships, but in this case being forthcoming is the way to ensure operational security and dispel questions and doubts.
Open thread.
* I do not actually know what will happen if Senator Sanders wins the Democratic nomination for president. I would like to believe that we are all mature enough and realistic enough to recognize the threat to the Republic overrides our individual political preferences in a potential Democratic candidate. I would like to say I was sure this would be the case, but I cannot.