I've been keeping a naturalist diary. I go out with the cats almost every day, and now I know their likely actions well enough that, along with the leashes attached to their harnesses, I can fairly easily catch them if they decide to do something foolish or get to somewhere I can't.
My yard is not extraordinarily large, but it sits on top of a little hill and has at least three microclimate zones. I've got some flowerbeds, but a lot of native plants growing where they care to. I also distributed half a pound of wildflower seed and additional native grass seed last fall. The geology is interesting – Santa Fe formation is the composite of a changing lake that was here when the Jemez volcano stopped up the Rio Grande.
So there's lots to see, and being out with the cats gives me time to look. I come in and sit down at my computer and write up what I've seen in the yard.
I knew that a bobcat has come to the yard – I saw it one delightful day – but I didn't realize how frequently. The snow has been good for tracks, and today there were some in the soil. Keeping the diary helped me to realize how often it comes. I think it comes to the yard about twice or three times a week, mostly at night. Here are a couple of the better tracks. The one in the red soil is on a slope, and the soft soil gave way to the cat's weight.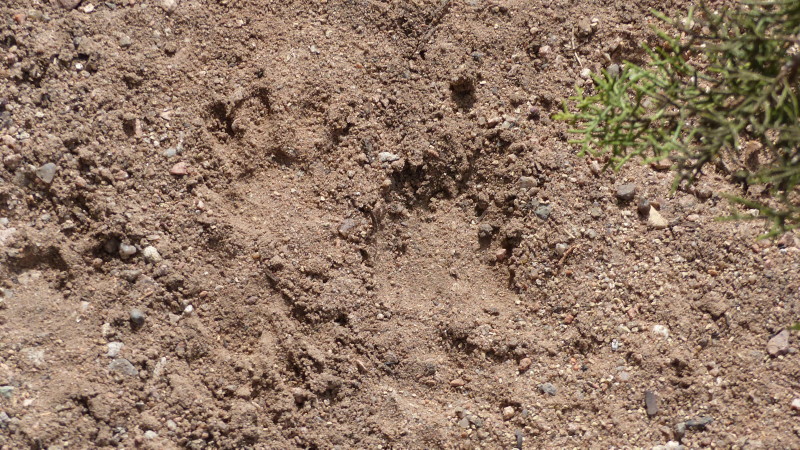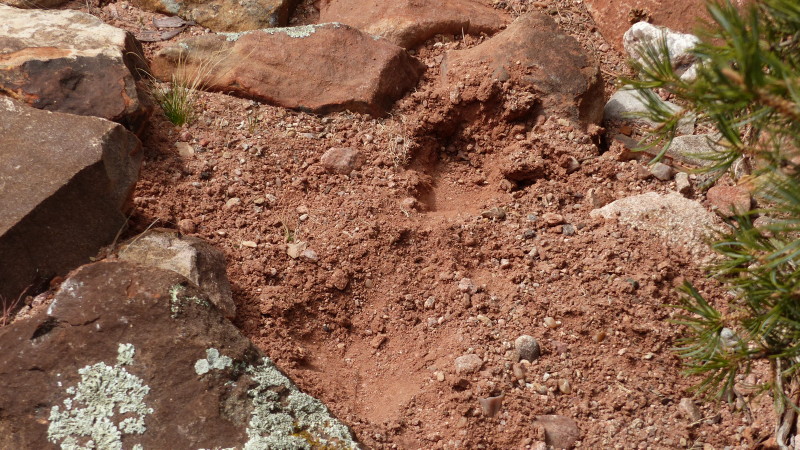 I don't know about you, but I am really tired of hashing out the Nevada primary. Are you writing, painting, doing crafts, fixing up your house? No-politics open thread!