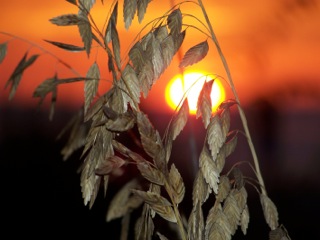 Thank you, commentor Cope:
Here is a group of close up pictures of pretty flowers/plants from our back yard, Sanibel island and the Chalice Well near Glastonbury. Again, my personal knowledge of the floral world is scant indeed so any misidentifications are mine and mine alone.

At the top, sea oats against the setting sun on Sanibel Island. Yes, not really a flower but one of the few plants I actually can identify.


Second, a flowering Sago palm in our yard. It's not technically a palm and this one died some years ago after infestation by some kind of white gunk. If I had left it in the ground, it might have pulled through but I didn't.


Thirdly, the flower of a bottlebrush plant. It too thrived for many years in our yard but it isn't there any more and, honest officer, I don't know where it went.


Staying in our own backyard, this is the sexy part of some kind of bromeliad that took over our side yard for some years until they were deemed a nuisance and relocated to the yard of appreciative neighbor.


Last and most exotic is a pink flower from the Chalice Well at the foot of Glastonbury Tor in far off England. Mrs. cope was there some years ago and brought back hundreds and hundreds of pictures. This is one of the prettiest but I have no idea what it is.
***********
I think that last photo is a poppy?
Still no snow cover around here, but I've been so busy on this political stuff all week, I haven't made any progress on the disgusting dumpsite that is our front yard. I don't want to start clearing the beds, for fear of inducing six weeks of subzero temps, but if I were a more prudent person I could get a head start cleaning up the hardscape, at least…
What's going on in your garden (planning) this week?