We thought it might be really interesting to have a guest post series about military life, brought to us by Leto and Avalune.  The idea came about after an exchange a few weeks ago between Leto, Avalune, and another commenter.  We suggested the guest posts, and they graciously agreed!
They plan to wow us with as many unintelligible military acronyms as they can promised to keep these threads as jargon free as possible.
Over the course of several weeks, we'll introduce the series and cover deployments, moving, working for the military, and military family life.  In the next post, we'll get the perspective of the person being deployed, and the following week we'll cover the same topic from the perspective of the spouse who was not.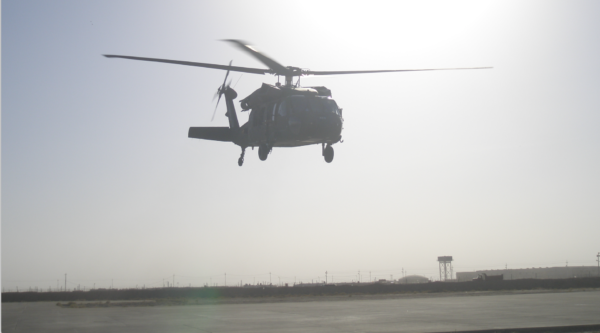 So… we'll have two perspectives on each topic, plus this introduction, for a total of 7 posts – unless folks are wildly interested in some other military-related topic that gets raised in one of the posts.  But we can't go on for too much longer than that, because Leto and Avalune are scheduled to do a one-week bike tour in Maine in May.  Can you believe it?
We are planning on Saturday afternoons, so both Avalune and Leto can participate; it can be a real-time conversation for anyone who is interested.  But we also want to make this as accessible to as many people as possible, so we'll pick a set time on Wednesday evenings when they can be around for a second real-time conversation on the post from the previous Saturday, for folks who find that time more convenient.
If the series sounds interesting, mark your calendars for Saturday, March 7 for Leto's perspective on deployment, followed by Avalune's perspective on March 14.  (Or the corresponding Wednesday dates.)
Military Life: Two Perspectives is listed in the sidebar under Featuring – and in the hamburger on mobile – to make the series easy to find.
Let's use this thread to share your input on the kinds of things you would like to hear about in the upcoming posts, anything about military life that you have always wondered about, and any thoughts you might have about the upcoming series.
But first, a few words directly from Leto and Avalune.
Leto
One of the things that we discuss in the military, at least my friends and I did, was the mil/civilian divide. Specifically that unlike the WW2/Vietnam generations it seems like most civilians don't really know/understand the military outside of the jingoistic sport-ball "appreciation" tributes, high-profile action-military movies, or "military discounts" at various stores. I hope that we can pull back the curtain on some of these things. Also understand that my experiences will have a distinct blue tint as I am a life-long Air Force member. And yes that does mean 5-star hotel experiences, champagne/caviar, and nothing but the softest toilet paper known to man.
Avalune
A lot of military-life stories available for general public consumption fall into one of two categories: either "I put on fancy panties and shaved my legs in preparation for marital bliss upon his triumphant return," or "everything is crap." I'd like to discuss the less talked-about facets of reunions, why moving isn't always a dirty word, and what it's like to be a patriot when patriotism is weaponized.
*****
Take it away, guys.  Help make this what you want.  (Let's make this a politics-free thread.)