Not THAT one: I mean the competition for the  dumbest fucking tweet in the history of blue check marks: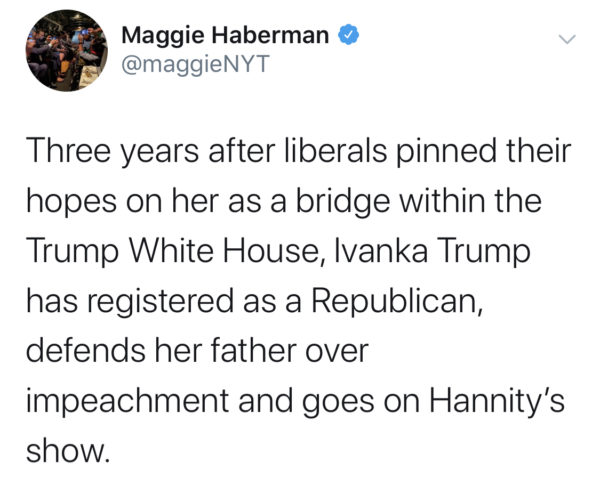 What the goddamn fucking hell? As if any "liberal" outside Haberman's mama's PR shop target audience "persona" flipbook ever thought Ivanka Trump was anything other than a vapid shart-stain on the seat of her odious wretch of a father's ill-fitting golf pants.
She registered as a Republican NOW because she was too stupid to realize she had to change her registration in time to vote for Velveeta Voldemort during the 2016 primary.
And of fucking course she defends Trump on impeachment and goes on Sean Hannity; the entire pack of ravening grift-mavens has moved on from ripping off contractors and defrauding consumers because they managed to sink their sharp and greedy claws into the US Treasury and aren't eager to have that or their lucrative foreign government shake-down action foreclosed.
Funny how the country's mightiest metropolitan daily manages to employ such a credulous hack, unable to spot crude cons that wouldn't get past an elementary school paper. Why it's almost as if…
Anyhoo. Christ on a crumpet. This makes me want to subscribe just so I can cancel the NYT again.