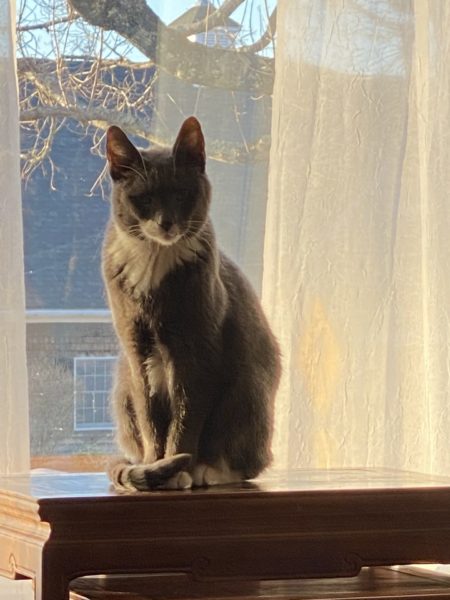 Happy news, for a respite. Update from Deb S:
Just wanted the jackalariat to know what finally happened. It was an all-day drive back home after the vet kindly squeezed us in first thing Thursday morning. They treated him more aggressively and gave me more medications, and him a tranquilizer, and off we went.

He tolerated the drive pretty well and I locked him in the bathroom away from my three cats as soon as I got home. Friday was a day for tears and decompressing. My male cat REALLY was not happy to have Shakespeare in the house and sat outside the bathroom door hissing and growling, while poor Shakespeare cried and cried for attention.

At 7:30 Saturday morning I posted to a local swap-and-sell group on FB, and three hours later he was in his new home right down the road from me and close enough to visit. Turns out a couple in my town that rescues senior pets had lost their 17 year old cat a few days earlier, and they had room in their home and their hearts for a new cat. I am so relieved to have him happy in a new home! Thanks to everyone who tried to re-home him from NYC, I never would have believed I'd find a new place for him so quickly here. Here's a picture of him happily ruling his new roost.
So, sometimes FaceBook is a force for good. Thanks for the update, Deb, and best wishes to you both!