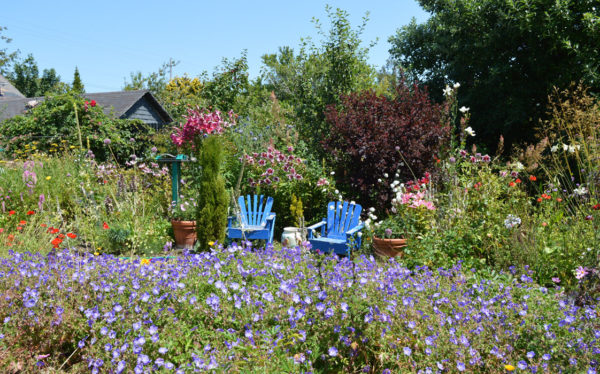 Such a treasury, it's gonna take two posts to do it justice. Many thanks to commentor Mike in Oly:
Given it is the time of year when everyone is itching for spring to start but it is just taking its sweet time I thought I'd send you some pretty pictures of flowers and sunshine for the Sunday garden chat.

A selection of photos I took at my dear friend's garden in Ilwaco, WA. She and her partner tend their small garden just blocks from the port of Ilwaco, in a very interesting microclimate. The flat landscape required mounding for the flowerbeds in order to deal with excess water from the Pacific Northwest rains, and the cool damp climate limits the plants that can thrive here.

We visited in late July, at the height of summer in Washington. It was a warm sunny day and every corner of the garden was decadent with the exuberance of life. The gardeners' hard work had paid off with beautiful beds overflowing with blooms in delightful combinations of colors and textures. And the fragrance wafting from mass plantings of lilies! It was truly magical.

We were accompanied on our visit by garden cat Scooter, who supervises all garden activities.
************
Sign of spring here just north of Boston — the first yellow blooms on the most protected daffodil clumps, next to the south-facing front door & heat-leaking basement window. It's been such an abnormally snowless winter, the flowers actually look more beaten-down & tattered than in past years when they were ice-coated while in bud, but at least they're blooming!
What's going on in your garden (planning), this week?