On the Road is a weekday feature spotlighting reader photo submissions.
From the exotic to the familiar, whether you're traveling or in your own backyard, we would love to see the world through your eyes.
Good morning everyone,
We have a treat today – wahoo!
Have a good and safe weekend, see you Monday.
Following up on Alain's visit to the Udvar-Hazy Center, I thought I'd post some photos from our visit to this museum in Pensacola. We've been taking Snowbird Florida trips for six years now, and last year our destination was the Panhandle.
I'm an aviation buff, WWII piston planes especially. Every person we talked to around Pensacola said we had to visit this museum. They were right – there were more planes than I've ever seen in one place, from WWI to modern times … including a few I built as models as a kid.
There were WWI planes, Korean war jets, and a bunch of piston engine aircraft I'd never seen before that were designed too late for WWII and obsolete for Korea.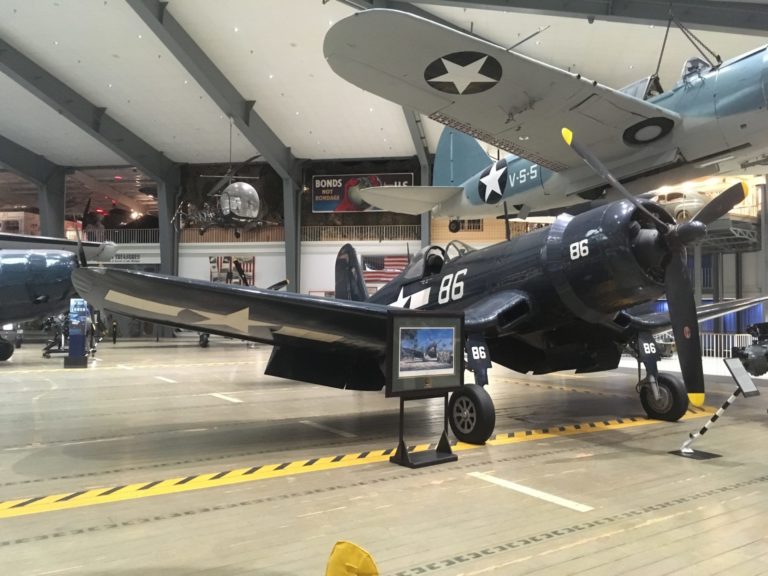 Pensacola, FL
February 22, 2019
F4U Corsair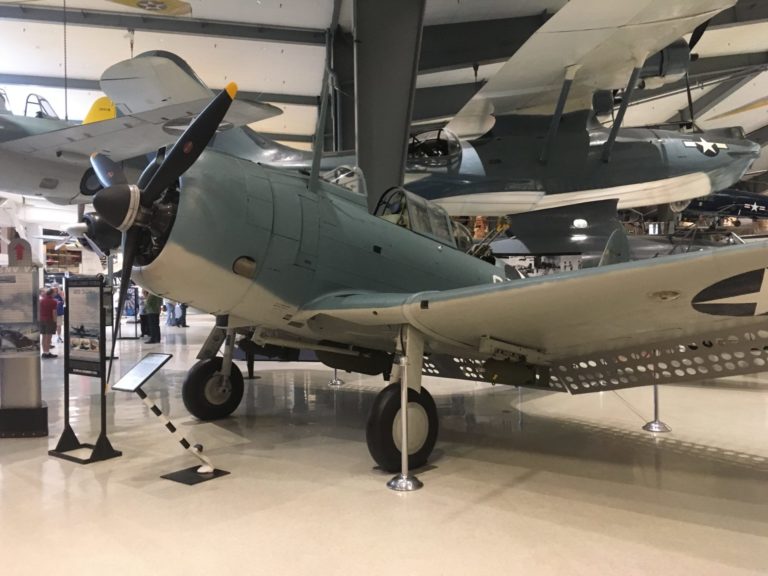 Pensacola, FL
February 22, 2019
SBD Dauntless. This is one of the planes that were recovered from the bottom of Lake Michigan, where the Navy had established its carrier qualifications unit in Chicago, safe from German submarines. Every Navy pilot had to complete eight takeoffs and landings on a converted lake steamer. Planes that crashed or ditched sank to the bottom. 50 years later they started to be brought back up.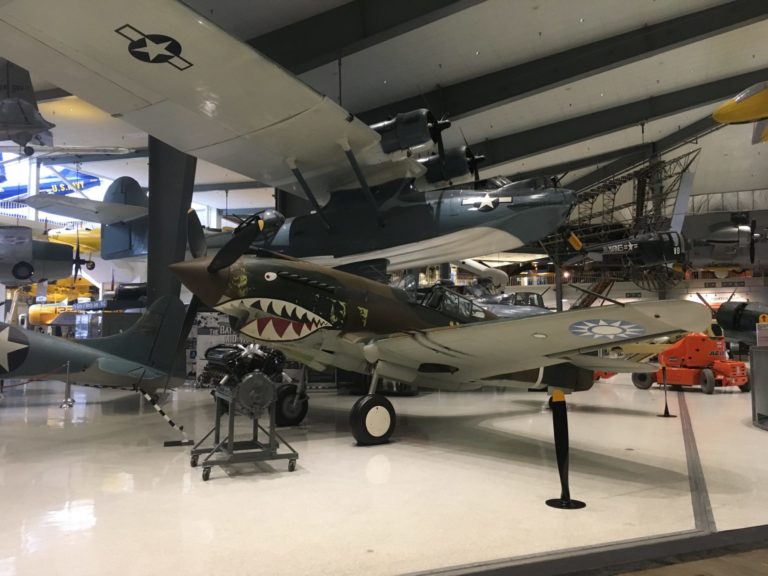 Pensacola, FL
February 22, 2019
P-40 Tomahawk, painted in Flying Tiger colors.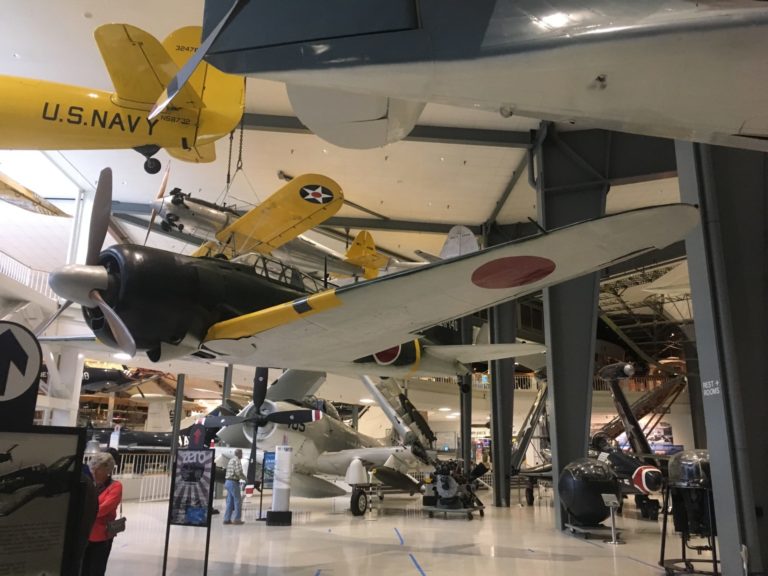 Pensacola, FL
February 22, 2019
Japanese Zero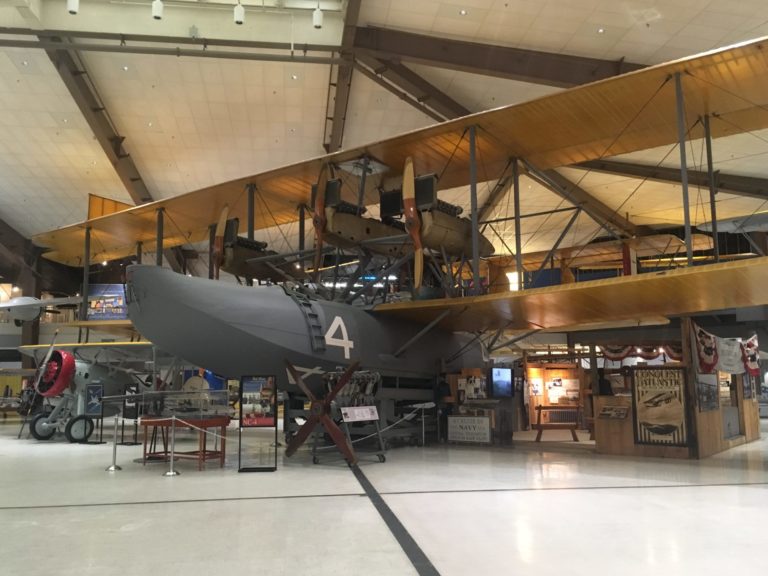 Pensacola, FL
February 22, 2019
NC4, the first plane to fly the Atlantic in 1919. This was one of the WW1 era planes. There was also a Fokker D7, Nieuport 28, and a Sopwith Camel.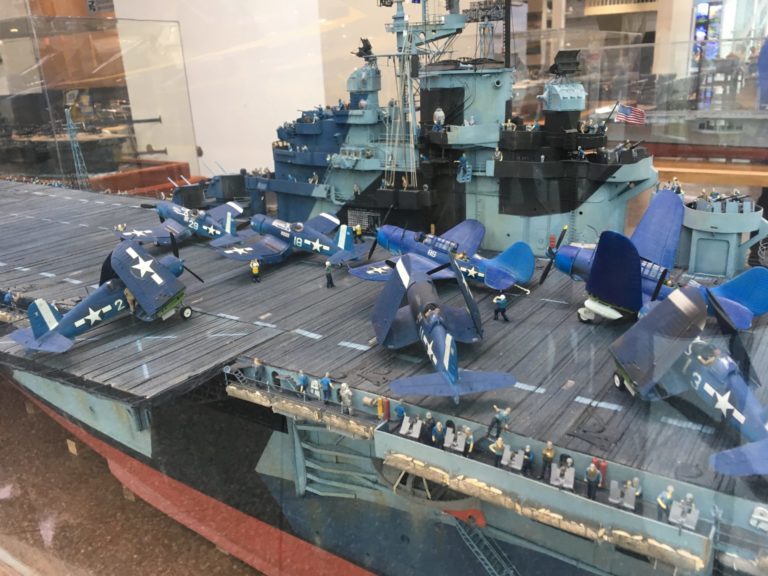 Pensacola, FL
February 22, 2019
There were at least a dozen carrier models, some of which had incredible detail, which several guys (I'm going to assume it's guys) put in thousands of hours making. This is the Intrepid, which is now a museum in the Hudson on the west side of NYC. It's also worth a visit.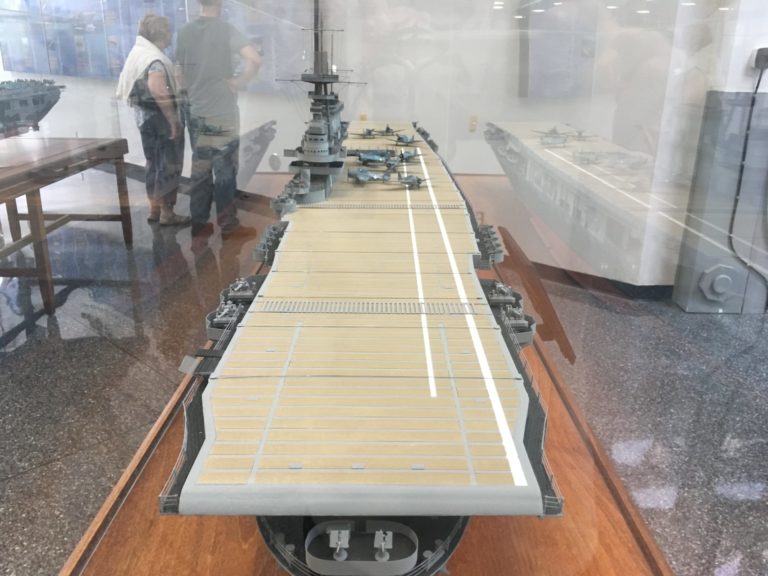 Pensacola, FL
February 22, 2019
This is the model of the Hornet. Along with its other accomplishments, it was probably most famous for launching the Doolittle Raid of 16 Army B-25s on Japan in April 1942. The model shows a few Grumman F4F Navy fighters. The stripes are where the B-25 pilots had to keep their wheels so that the inboard wing wouldn't hit the island of the carrier — even though they were medium bombers they were huge in comparison.