On the Road is a weekday feature spotlighting reader photo submissions.
From the exotic to the familiar, whether you're traveling or in your own backyard, we would love to see the world through your eyes.
Good morning everyone,
Let's get this week started well!
These were taken in February and March this spring, yes spring started last Feb when the first Wood Frog eggs were laid in our newly rebuilt tiny pond right outside the front door. These are the earliest frogs to wake up from winter hibernation around here, and are really shy, so I have no photos of them so far. They're medium sized, brown and when stretched out floating on the pond surface about 4 or 5 inches long.

I'm sure multiple frogs laid these eggs over several nights, and there is one more egg mass that sank deeper into the pond, which is nearly 18 inches deep in the center. Those eggs will hatch later on since it's colder down there. There are also some ferns and flowers in this set of photos.

All photos this time taken with a Panasonic Lumix FZ-1000 camera with a fixed Leica Vario-Elmarit 9.1-146 mm lens, 35 mm equivilent is 25-400mm so pretty long effectively.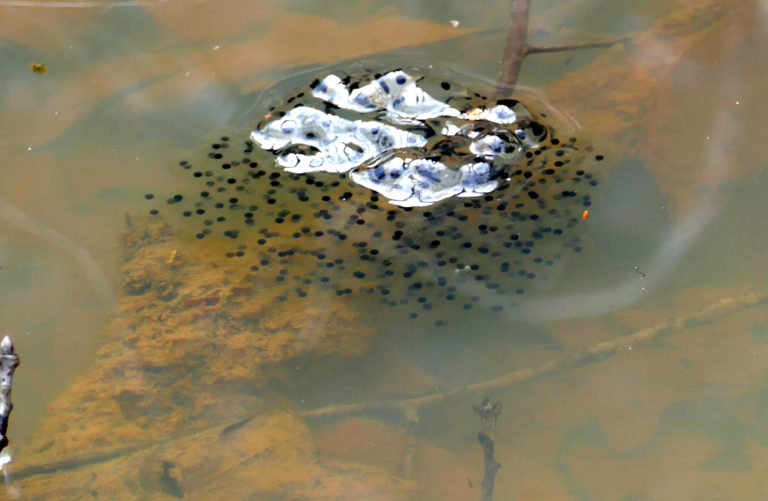 Outside the front door in SW WVa
February 2, 2020
This is the first frog egg mass laid in the newly rebuilt pond of last August. We were thrilled to hear the Wood Frogs chirping and splishing in the pond back in early February, it wasn't until we heard that music again after years without that we realized how much we missed the frogs and toads outside the front door.
When the weather is good (not too cold, not too hot, not too many bugs) we leave the front door open to hear the froggy action while surfing the innertubes and snarking on Balloon Juice. There is a second egg mass deeper in the water, and I think they have all hatched as there appear to be hundreds of tiny tadpoles swimming near the surface of the pond in the sunshine.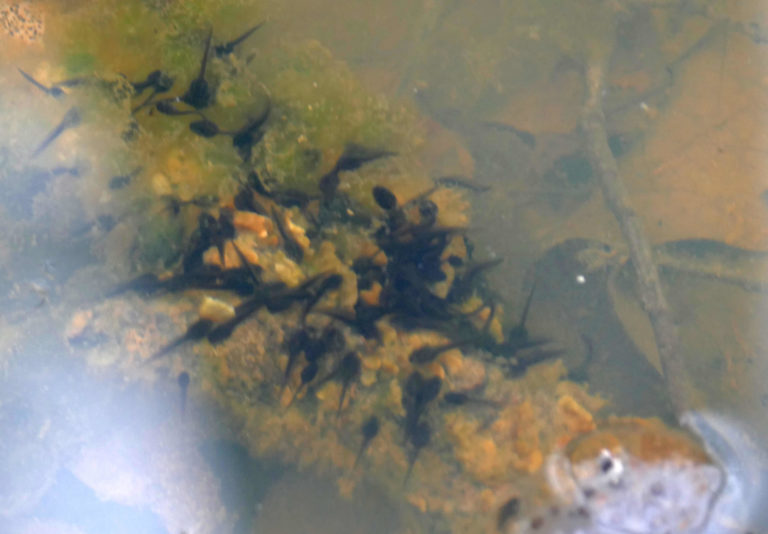 SAme pond, different date 6 weeks later on
March 25, 2020
This is the egg mass seen above as the tadpoles eat and thrash their way out of the eggs. By the next day they are spread out across the pond, which is maybe 8×12 feet, or 10×14 something like that.
Right now the chorus frogs and tree frogs (aka spring peepers) are the big sounds in the pond, as the woods frogs scampered off into the woods after they laid their eggs. Chorus frogs make a sound like drawing your thumbnail along a small comb, r-r-r-ribt, kind of.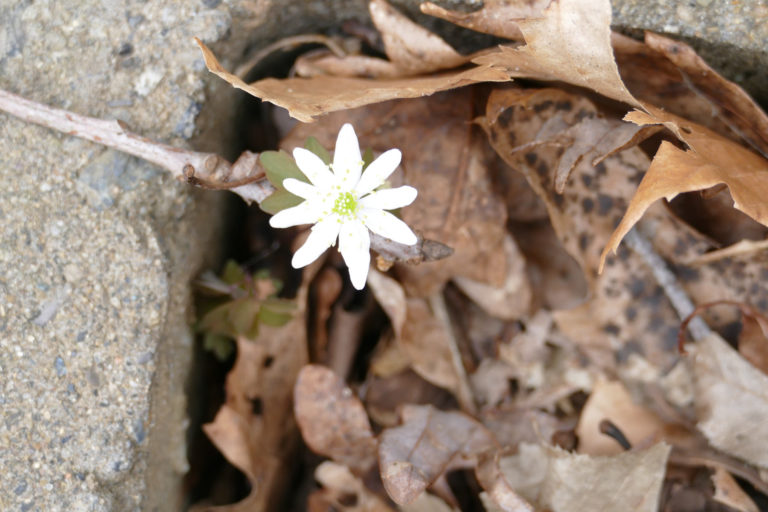 Just past the pond out the path...
March 25, 2020
A single wood anemone flower, not quite the size of a quarter. We have lots of these in spring all over the forest floor. Pretty in every case.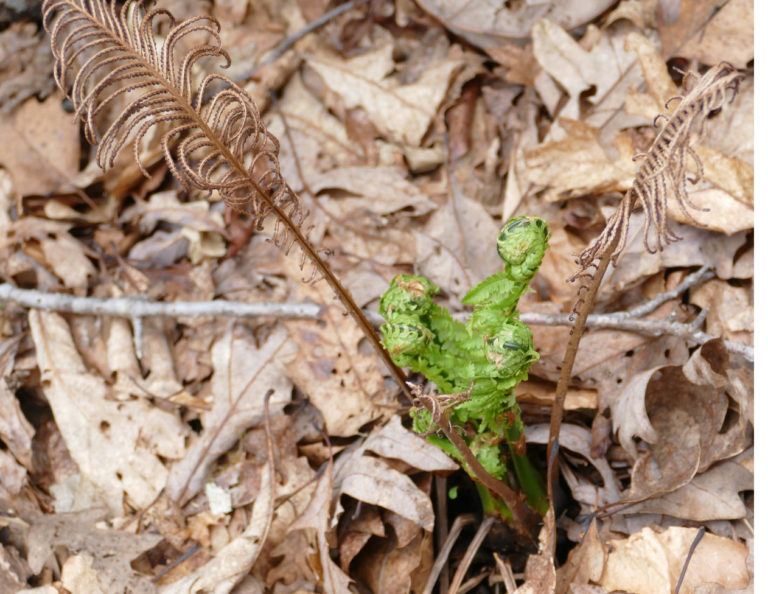 Just below the pond by the stone steps up to the front door
March 25, 2020
The fiddle heads of a sprouting ostrich fern. The two stiff brown branches were shoots that came up last fall, spore-carrying reproductive branches. Our power just dropped out, heavy winds last night and today, so probably a tree blew down onto the power lines.
Ostrich ferns are native to Eastern America, but these were planted with plants from a nursery in town. They evidently can get to be several feet across, but given our poor topsoil these guys are planted in, that will take a while. Under the little bit of topsoil I carried up, it's essentially clay subsoil, so poor in nutrition.
We've planted autumn ferns between the house and the stone steps and ostrich and Japanese painted ferns on the other side of the steps, which have a lot of moss on the outer edges of the steps.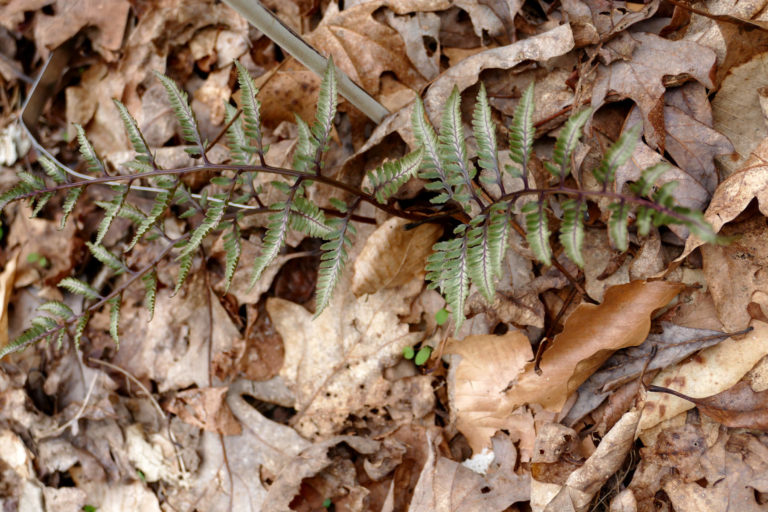 Next to the Ostrich fern by the stone steps out front
March 25, 2020
First spring fronds of the Japanese Painted ferns in the bed with the Ostrich ferns. They're pretty fragile, but tend to sprout more fronds when the original fronds are damaged. We have these pretty ferns in several shady spots out front usually with other plants or ferns.
I'm hoping we don't get down near freezing, both of these ferns, the Ostrich and Japanese Painted ferns, are really sensitive to freezing, unlike the Autumn Ferns which stay out all winter and will start putting out new fronds pretty early. The Autumn Fern fiddleheads are really like a fiddle, being brownish bronze in color.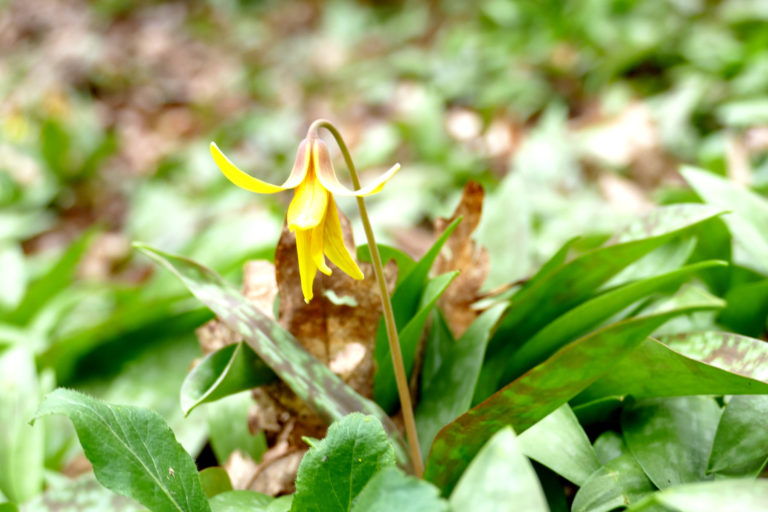 In front of one of the big boulders in front of the house
March 25, 2020
These yellow Dog-Tooth Violets, hundreds of them, started out with 4 or 6 tiny roots that came in tiny plastic bags with a pinch of peat moss in there to protect the roots. I planted them in front of one of the handy boulders, they all came up, and spread with runners to become a 8 foot wide patch of hundreds of these spotted leaves.
After the leaves all come up, a few brightly colored yellow flowers will sprout up 3 or 4 inches as you can see. Then in a couple more weeks, the leaves will wither and you won't see any sign of these pretties until next spring. I plan to take several shovels full from this patch to try to start several more patches around in the woods, so wish us luck with that.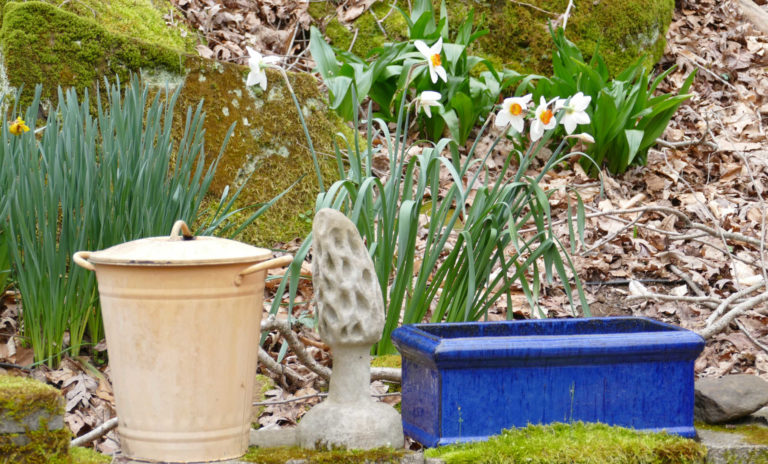 Just above the parking spot out front.
March 25, 2020
In the foreground are some pots not in use and a nice concrete sculpture of the wonderful Morel mushroom, AKA locally as Molly Moochers. These mushrooms are plentiful in the woods, especially around old orchards or forest giants long gone. They live underground in symboisis with root systems, and put up these odd hollow spore bearing reproductive bodies.
This is a big morel, but one spring visiting friends up in Athens OH at a big potluck picnic one of the guests, about 4 or 6 years old, found a morel perhaps bigger than this… if it hadn't been typically hollow, she wouldn't have been able to carry the little forest giant 'shroom. They took it home, probably for breakfast sliced into an omlete.
Behind the pots and mushroom are some fancy daffodils in bloom, and behind the fancy daffydills are fall crocuses. Their green leaves will die off pretty soon, and then come fall pink flowers will come up, all alone, with nothing but the leaf litter around. Soon there will be a lot of trillium and maidenhair ferns along and above that wall.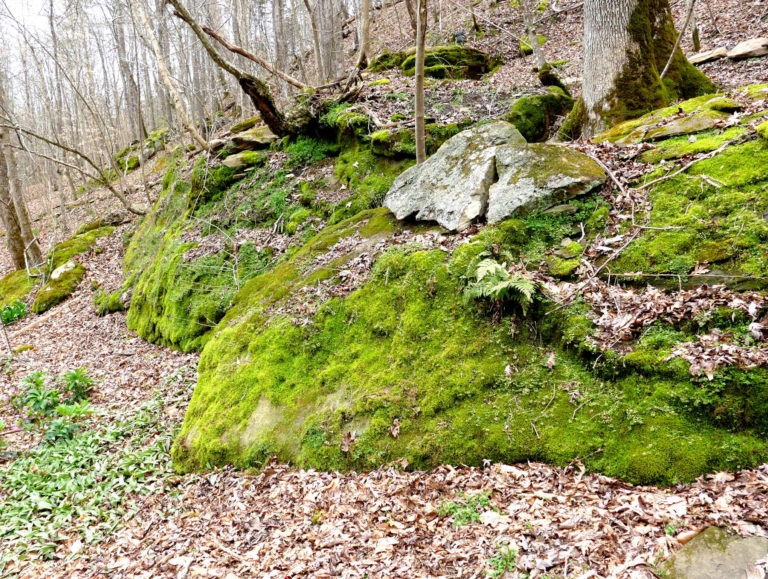 A wide shot of the front yard.
March 25, 2020
This is the most mossy green set of boulders out front. If you look at the middle of the left edge you can see the fall crocus foliage, and below the nearest boulder is the patch of dog-tooth violets. The maidenhair ferns will come up in front of the more distant boulder, along with various native trillium I've planted.
Nearly all these plants are native, we've just acquired them and planted them in the woods around the house.
Another great thing we have coming up is ramps, the wild leeks of the mountains. Every spring people will drive into the mountains, dig wild ramps, bundle them with rubber bands, fill several coolers with those bundles, and sell them on wide spots on the roadsides. I buy several bundles, eat a mess or two, and plant the rest around the woods near the house.
I'll even dig two of three messes of ramps from our own patches to cook with potatoe lattkes, or an omelet with bacon, etc. They're good minced in butter for mashed potatoes, also too. Pics of wild ramps next time, they're up already, but still quite small green blades just thrusting up through the leaf litter.
Hope you all enjoy seeing a small slice of spring erupting in the Appalachian hills. I always enjoy the maple trees blooming, tiny pontillistic bits of scarlet tree tops in the forest, to spice up the more regular dozens of variations of green on the early buds and leaves
Be careful, take care, keep in touch, everyone!