It really isn't 2016 anymore:
WASHINGTON (AP) — Bernie Sanders endorsed Joe Biden's presidential candidacy on Monday as he made a joint online appearance with the former vice president.

"I am asking all Americans, I'm asking every Democrat, I'm asking every independent, I'm asking a lot of Republicans to come together in this campaign to support your candidacy, which I endorse," Sanders said.

"We've got to make Trump a one-term president," Sanders added. "I will do all that I can to make that happen."
Sanders dropped out of the race for the Democratic nomination last week.

"We don't have a choice, we're going to have to come together," Sanders said, "to work our way out of this crisis."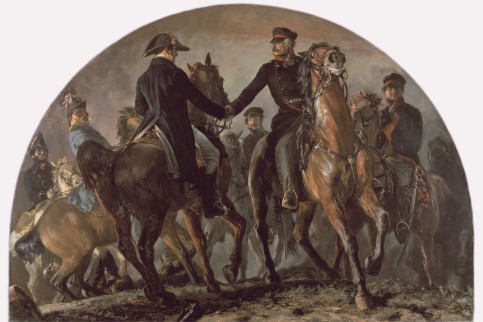 I've had my moments of Bernie (and especially -bro) F&L. But credit to the man. He didn't waste time on this go around, and he clearly understands what's at stake.
The running commentary on the livestream he did (is doing?) with Biden was…predictable: the dead enders still hitting their marks (nothing Biden can say will ever be enough; nothing Sanders says is persuasive). But fuck'em*.
They're irrelevant at this point.
This is what matters: Trump is killing Americans by word and deed, and will continue to do so until he's carted out the Oval.
All hands on deck. It's lead, follow or get the hell out of the way time.  Kudos, sincerely, to Senator Bernie Sanders, for recognizing this urgency, and choosing to both lead and follow.
*Miss you still, e.f. goldman.
Image: Adolph von Menzel, Wellington and Blücher in the Battle of Waterloo, 1858