A number of you all indicated you loved the stories Alain would tell in his posts and his comments. And before I go any farther, I was in touch with Carol today and what you all wrote in your comments to Cole's post, as well as mine last night and today really made her load a little lighter.
On the 6th I was texting with Alain – I had asked him about upgrading to a new 4k AppleTV as I've been running my old one and as a result was unable to watch my superhero cartoons and movies adapted from comic books in glorious 4K Dolbyvision – and I wanted his opinion on whether it was worth it. Yes, I asked a tech guy who was also a tech gear guy if I should upgrade my tech. Silly me!
After establishing that I should upgrade, which I have done (hence the HDMI cable references yesterday), he asked if I wanted some sourdough starter. Before we go any further, while I love sourdough bread, I don't eat very much of it because I don't do well with refined carbohydrates and refined sugar. So I largely avoid bread and all the other things I love that are made of refined carbohydrates and include refined sugar. He lulled me in on the sourdough by asking about a candy store in Tallahassee and then segued into the sourdough. Here's what happened:
(ETA: When I first entered Alain's information into my phone, I entered it based on how it sounded when he pronounced his last name or how I thought it sounded, so Chamot wound up as Chailmont – don't judge, I'm tone deaf…)
Alain Chailmont: Look up Lofty Pursuits or Pd.net. Public displays of confection. I'm so jealous you can drive there.

Adam L Silverman: Ok

Alain Chailmont: Just amazing craft and addictive watching. Candy making.

(Adam here: at this point I'm looking up Lofty Pursuits to try to figure out where they are so I can determine how long it will take me to get there)

Adam L Silverman: Ok. That's a six hour drive depending on traffic. So I could drive there, but I could also drive to Atlanta

Alain Chailmont: Yeah. But it's a fuck closer for you than me! lol

Adam L Silverman: Yes, but…

Alain Chailmont: You won't be stopping by, I dig.

Adam L Silverman: Not any time soon. Also, statewide and county wide shelter in place order

Alain Chailmont: Neither will I. I don't expect business to take me to Tallahassee Which is why I ordered a week and a half ago from them. Can't wait to get my order.

Adam L Silverman: Gotcha. Enjoy! Time for me to walk the dogs!

Alain Chailmont: Careful of the ?

Adam L Silverman:

Alain Chailmont: I showed Carol that earlier, she figured some folk would finally listen because that's a relatable distance. Lol. Any interest in some Sourdough starter? My new batch is almost ready to dry and I'd be happy to send you a sample.

Adam L Silverman: Passover starts this week so no bread and I also can't tolerate refined carbohydrates, so I generally avoid bread. But I appreciate the offer. I'm sure TaMara would appreciate a batch!

Alain Chailmont: Just for thought – my primary usage is sourdough pancakes. When the starter is cultivated well, they are so complex. The fermented flour is usually easy on digestion for those with issues.

I'll send her one!

Adam L Silverman: Okay, send me one. I'll find a use for it

Alain Chailmont: Shall do. Hott Stuff Sourdough is my brand ? it'll await your efforts indefinitely as long as you keep it dry and in the dark.

Adam L Silverman: Not a problem. Thanks!
By now you've noticed that 1) I didn't actually want any sourdough starter, but…, 2) I threw both Passover and TaMara at him as a distraction, neither of which worked, and 3) when that didn't work I gave in. What you can't see in those texts is that I gave in because I could feel through the texts that I wasn't being a good friend. That the sourdough starter was important to him, so I'd take some and find a use for it because that would make him happy. And because it was an easy thing to do to make him happy. And it did make him happy.
Two days later, feeling the need to extract a bit of payment for knuckling on the sourdough starter, I had this conversation with Alain:
Adam L Silverman: You got Popehat in trouble

Wife: what's that
Me: nothing
Wife: it's something. What's in the jar?
Me: nothing, nothing, just an empty jar
Wife: what is that in there?
Me: meth. I have a meth habit
Wife: no you don't. It's — oh my god. Is that sourdough starter? really?
Me: NO I SWEAR, IT'S A JAR OF PORN

— TOTALAUTHORITYHat (@Popehat) April 8, 2020

Alain Chailmont: Haha lol

Adam L Silverman: Do we need to schedule an intervention?

Trying to bake some #bread during your #quarantine? San Francisco neighbors are sharing their treasured #sourdough starter by pinning them to telephone poles. See a map of where you can find a starter closest to you. –> https://t.co/vBhKde2dvM

— ABC7 News (@abc7newsbayarea) April 7, 2020

Alain Chailmont: I. Am. So. Cool. For once.

Adam L Silverman: Don't let it go to your head
The next day, while kibbitzing about Passover seders, or in my case the lack thereof, Alain returned to sourdough starter:
Alain Chailmont: My new batch dries tomorrow and so i begin shipping again Saturday lol

Adam L Silverman: Just so you know, you can't sell that stuff within 500 feet of a school or a playground!
And that's my Alain sourdough story. I didn't want any, I could feel through the texts on my phone that not wanting any was upsetting him, so I said I'd take some. I'm sure there's a packet en route in the mail, and I'm going to put it to damn good use in his memory!
By the way, Gretchen Koch an amazing graphic artist with a PhD in religion, she did this on the fly for Popehat: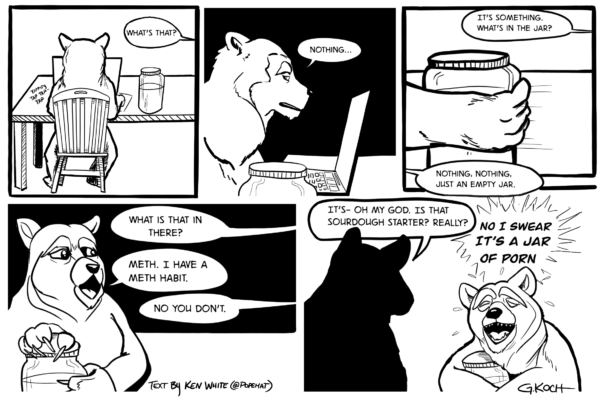 Open thread!
PS – I've got a baking/confecting post I'll put up tomorrow night. I made chocolate coated peanut butter truffles earlier sweetened only with agave. They're setting up right now in the fridge.