I've been uncharacteristically busy the last couple of weeks with a work project, but every day I take a break for lunch and listen to Cuomo's news conference. It's some of the best TV around, and like any good TV, it has a set pattern with enough variation to get the viewer hooked.
First, the pattern. Cuomo begins with the most important part right at the top: are we bending the curve? For the past few days the answer has been a definite "yes". After the daily chart, there's the death count, with a few somber words from Cuomo. There are usually a few words explaining why continuing New York PAUSE (our stay-at-home order) is critical to save lives.
After that, variation on a theme begins with the educational lecture of the day, the topic of which changes depending on what Cuomo thinks we need to know. Yesterday, as has been the pattern for the last couple of days, he talked about the massive test, trace and isolate program that New York is initiating. Bloomberg is going to help out, financially and by organizing it. We're going to mobilize 35,000 SUNY and CUNY students in medical fields to assist the few hundred tracers who are already in the field. It will be a massive effort that has never been tried before.
For the past couple of weeks, the educational lecture has included a discussion of testing, and lack thereof. New York's maximum capacity is 40,000 tests per day if we put the pedal to the metal and redline it, in Cuomo's words (he likes car metaphors). The capacity is limited by a supply chain that reaches to China. Cuomo consistently reminds us that only the federal government can really get testing going for the state.
Then comes Cuomo's opinion, clearly marked as such. This often consists of a little civics lecture, accompanied with a quote. Yesterday's was from The Decline and Fall of the Roman Empire, a fitting choice.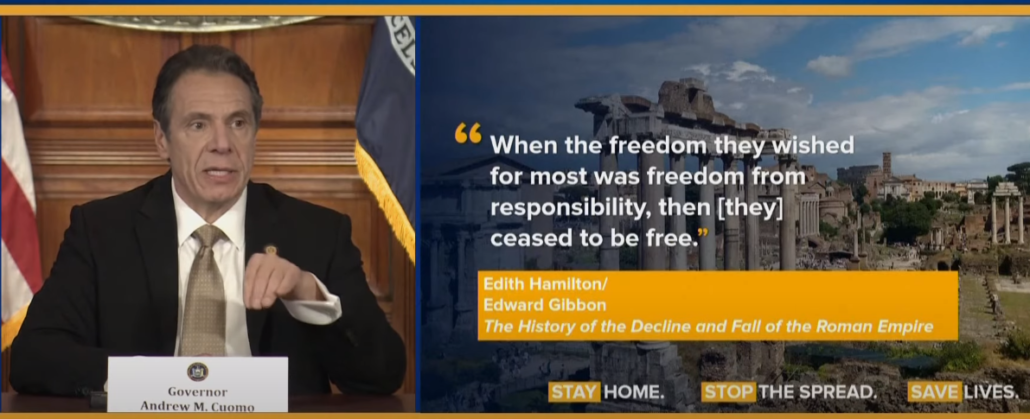 Cuomo's exhortations are a little less subtle than Gibbon's:

Finally, the questions from the reporters in the room, all of them socially distanced. This is where camera hog Cuomo has to give it up to the supporting cast on occasion. The two main players here are Dr. Howard Zucker, the commissioner of health, and Melissa DeRosa, the Secretary to the Governor. Both of them are ferociously competent.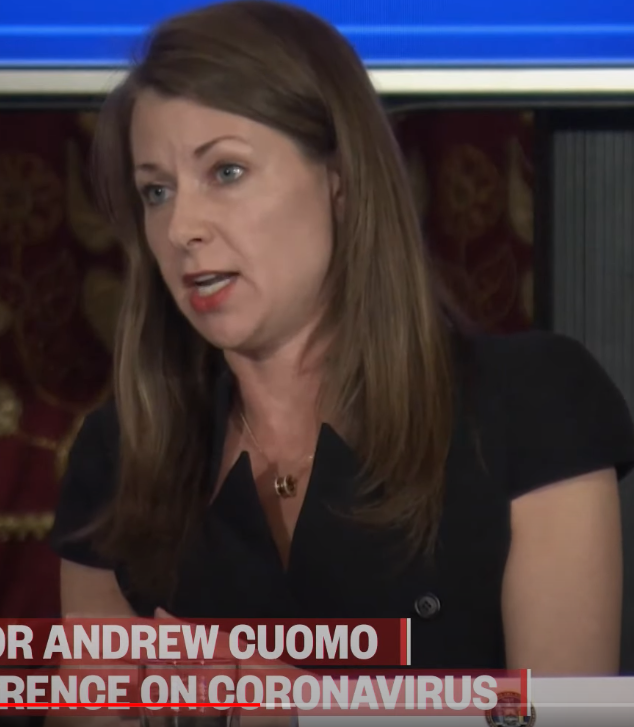 "Secretary to the Governor" is a bit of a deceptive title — it's the #2 position in New York State government, and Melissa is the first woman to hold that position in the state's history. Cuomo turns to her whenever some complicated piece of government machinery needs to be explained. Yesterday, it was the tracing program. I've watched probably a dozen press conferences where she's spoken, and I've never seen her ruffled or short on detail. By the way, she makes more money than Cuomo.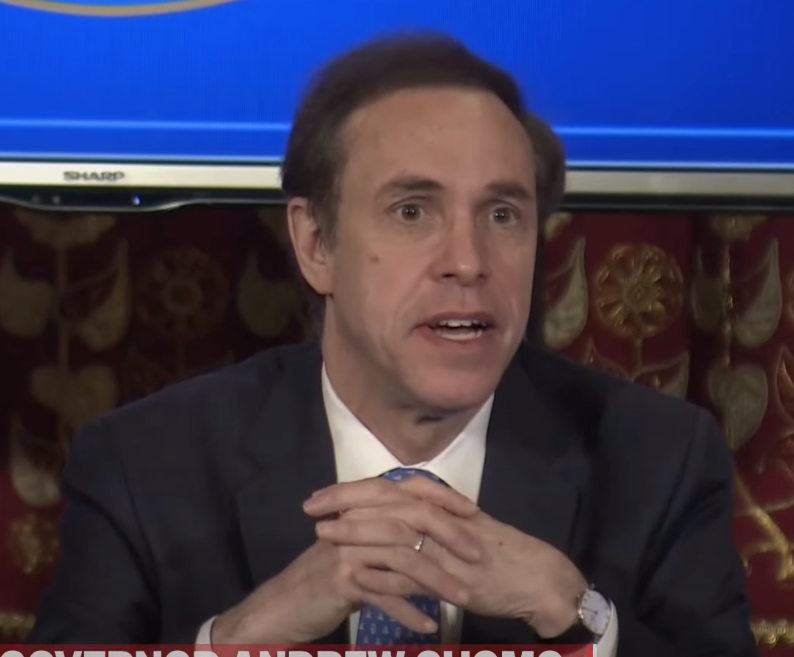 Howard has the good physician's capacity to explain complex biology in terms we can understand. Cuomo calls on him whenever there's a technical question – yesterday it was about monoclonal antibodies in the treatment of Covid. Cuomo also likes to give Howard a little shit on occasion. I've never seen him do that with Melissa.
After the initial excitement over trivia like Cuomo's nipple rings, we've all settled down for a long haul watching the Cuomo show, unfortunately. If anyone told me two months ago that I'd look forward to eating lunch and listening to almost an hour of Andrew Cuomo, I'd think they were crazy. But here we are.