I am still a relatively young man, but in my time I have witnessed a large amount of stupidity (much of it my own). But I am really at the end of being able to tolerate it. This virus has been the last straw for me, and I culling a lot of people I have known forever from my life. I just can't take any more of it.
The proximate cause of my losing it has been the "Yeah but Sweden" shit coming from my barely literate friends on facebook who have spent their entire lives setting out to prove that half an education is more dangerous than no education. "Sweden did nothing and look they are approaching her immunity."
First off, the United States isn't fucking Sweden. Sweden's population density is on par with West Virginia's, not NYC or Atlanta or virtual most of the urban and suburban areas of the United States. Second, there are far fewer at risk people in Sweden because THEY HAVE ACTUAL HEALTH CARE and are in general healthier. Third, in Sweden, if you get sick, you can stay home and not give it to everyone at fucking Ikea or whatever their equivalent of McDonalds is because they won't get fired for staying home when sick because they are not imbeciles. Sweden also is a mature socially conscious country, and if asked or advised to maintain distancing, they don't need fucking red x's on the ground, and they'll wear masks and wash their hands, and so forth.
So the United States isn't Sweden. But even if we were, Sweden's mortality rate has been fucking awful. WORSE THAN OURS. And there is no real reliable information about herd immunity in Sweden, and they're not close to it, anyway. So please just fuck off with the "but Sweden" crap.
At any rate, I was at my boiling point, so called up a guildmate to chat, and we both agreed that it is the aggressive, in your face stupidity that is so maddening. Just the refusal to do little things, like wear masks, or stay home when sick, or throw marches to demand the country re-open, or mock others for doing what they think they should. It's the deliberate, in-your-face assholishness that just drive me insane.
So we talked awhile, and I was tired of driving around checking things out, and I got home, came upstairs, loaded up the old web browser, and what do I find? As if on fucking cue, Vice President Jeebus Humper pulls this fucking stunt: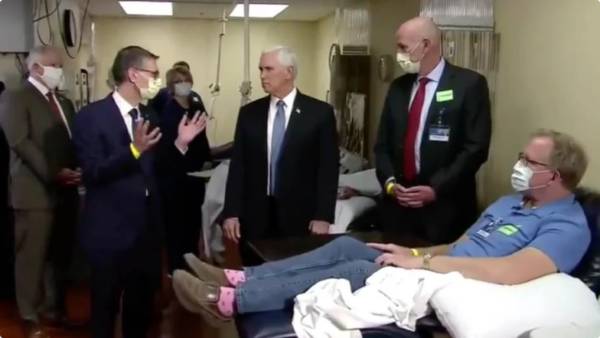 Vice President Mike Pence on Tuesday refused to wear a mask during his visit to Minnesota's Mayo Clinic, which requires all staff, patients, and visitors to wear a face covering while at the medical center. In a since-deleted tweet, the Mayo Clinic called out the veep, saying it "had informed @VP of the masking policy prior to his arrival today." But that apparently didn't stop Pence from visiting with staff and even a patient in a crowded hospital room without wearing a mask. "Part of our protocol for ensuring your safety is to require all patients, visitors and staff to wear a face covering or mask while at Mayo Clinic to guard against transmission of COVID-19," the hospital's website reads.
I fucking hate these people and anyone who gets in the way of replacing them in November can fuck right the fuck off.