I'm not writing to get into the specifics of the allegations made against Vice President Biden by Tara Reade. I will stipulate up front that I was approached about them at the beginning of the month by someone who was very concerned because of what Ms. Reade had written about Russia and Vladimir Putin and asked my professional opinion as someone with experience working on influence operations. At that point I was what allegations? I quickly got up to speed and then took a deep dive based on what was being reported at the beginning of the month – the allegations Ms. Reade is making against VP Biden, the allegations that others have made against Ms. Reade, the interviews she was doing and the reporting about the allegations, the stuff she wrote about Russia – and what has been subsequently reported. Based on that review, I have significant questions about her veracity and her objectives, which I reported back to the person who had reached out to me. Basically, I think there are a lot more questions raised by the interviews she's done, the corroborating witnesses that have come forward, and the motivations of the biggest names promoting this.
But let's leave that aside. What I want to focus on is what appears to be the endgame, the actual objective, of bringing the allegations. It is clearly not to seek justice through a prosecution. It's been almost 30 years and it is a she said/he said type of situation with no physical evidence, no solid accounting of day, date, and time, and no direct witnesses. Rather the endgame, the actual strategic objective, is something else. Specifically it is to manipulate the process, including the process of political and campaign reporters and reporting in the US, and that of the campaign itself to dirty up Vice President Biden with enough voters to drive down his positives, drive up his negatives, and ensure that the President is able to eke out another narrow reelection in the Electoral College despite the outcome of the popular vote.
The people pushing Ms. Reade's allegation are all invested in seeing Vice President Biden losing. Either being forced out as the Democratic nominee to be replaced by their own preference (Senator Sanders) or losing to the President in the general election. And whether they are dead ender supporters of Senator Sanders or alt-right supporters of the President, they all have their own reasons that don't always align, but their objective here do overlap. One of the key elements of what they are doing is manipulating process in order to purposefully misinform people about the actual process.
Shortly after Ms. Reade made her allegations, the Senate personnel office indicated they had no documentation indicating that she'd made a complaint of any sort against Vice President Biden back in 1993. This had led to a call for Vice President Biden to allow the University of Delaware, which is the official archive for his professional papers from his time in the US Senate; to waive the agreement that keeps that archive sealed until two years after he ceases to be a public figure so that investigative journalists can search for Ms. Reade's complaint in those archived documents. This is being done under a call for transparency from people who supported candidates who were the least transparent candidates in 2016 and again in 2020. That small inconsistency aside, there are two major problems here. The first is that these types of complaints would not have been forwarded to the person alleged to have committed the harassment or assault. They would have been kept with the Senate personnel office to protect Ms. Reade as the person making the allegation while any investigation was undertaken. So there will not be anything in Vice President Biden's senatorial archive to find. And this leads to the second problem, which we can see in this screen grab of a now deleted tweet from Katie Halper from this morning: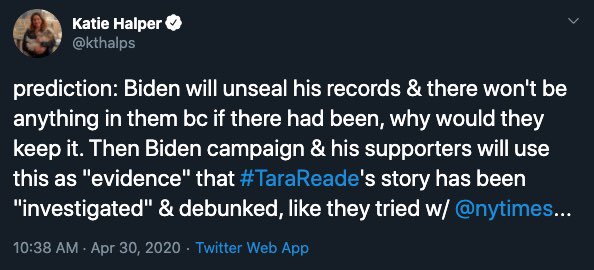 Notice the goalpost moving. Because the archive is currently still being curated and won't be complete until 2021 and because this type of document is highly unlikely to be there, even if Vice President Biden were to allow a search of the archive, when nothing is found it will be proof of a conspiracy to protect Vice President Biden and to claim that Ms. Reade's allegations don't hold up. Does anyone doubt for a minute that if there was anything on file at the Senate personnel office that would harm Vice President Biden's electoral chances against the President, that Senator McConnell would not have ensured it had been leaked to the news media already?
This is the same type of bad faith argument that is still being made that somehow the Democratic National Committee, which DOES NOT control how each state runs its primaries or caucuses, and which, to be honest, couldn't organize a one car funeral if you spotted the DNC the hearse, the driver, the deceased, the mourners, the pallbearers, the eulogist, and the grave diggers, has somehow been manipulating things to ensure that Vice President Biden would become the nominee, including forcing Senator Sanders to endorse him. These are the same people who promote the idea that the Democratic establishment, comprised of neo-liberal elites, somehow fixed all the primaries Vice President Biden won; rather than the reality of significant African American support and turnout. The point of these bad faith arguments are to both abuse the process by lying about what it actually is/how things actually work and to get these lies picked up by others who don't actually understand how American politics – from campaigns to governing/governance – works and therefore believe these conspiracy theories.
This goalpost moving is also tied to adjustments in those supporting Ms. Reade's allegation. Just as Katie Halper, who did the big interview with Ms. Reade in March that really got traction for the allegations against Vice President Biden, is now deleting tweets that give away her game, so too do deleted tweets by Nathan J Robinson, who is the Editor of Current Affairs, a major supporter of Senator Sanders, and Briahna Joy Gray's boss when the latter isn't working as Senator Sanders' campaign spokeswoman: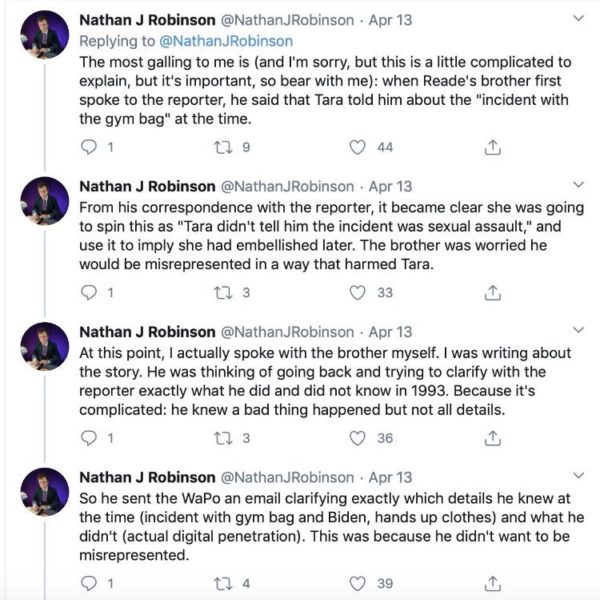 I'm not surprised that Robinson deleted these tweets given that he's revealed he helped Ms. Reade's brother adjust his recollection corroborating her allegations. Here too we have an attempt, seemingly successful, to manipulate the reporting process about what Ms. Reade's brother was actually told in 1993.
One final example: Ms. Reade's formal complaint filed with the Washington DC Metropolitan Police Department. The DC Metropolitan Police Department has moved the case to inactive status and closed their investigation after a little more than two weeks. This has been taken by Ms. Reade's supporters that the DC police are trying to cover up for Vice President Biden. Which followed on them pointing to her filing the formal complaint as evidence that her allegation against Vice President Biden meant that the assault actually happened in 1993. The reality is much simpler, Ms. Reade refused to name Vice President Biden in her complaint. By not doing so, the Metropolitan Police had little choice but to quickly complete their process and inactivate the investigation. But filing the formal complaint was itself an attempt to abuse the process. Filing the complaint was never intended to achieve some form of justice after all these years, but to abuse the process to harm Vice President Biden's electoral chances. Filing a false police report is itself a crime. By not naming Vice President Biden in her complaint, Ms. Reade cannot be accused of, nor charged with filing a false police report against him if it turns out she is making the allegation up because he is not actually named in the report. The report was a means to and end, but that end wasn't for Ms. Reade to get justice, it was to get all the major newspapers and the broadcast and cable networks to report that a formal criminal complaint alleging sexual assault and rape had been filed against Vice President Biden. The reality is that such a complaint was not filed against Vice President Biden. It was filed against "Subject-2".
Regardless of what happened between Vice President Biden and Ms. Reade in 1993, and, to be honest, there is almost no way for anyone to actually ever be sure what, if anything, happened other than Vice President Biden and Ms. Reade, the purposes of the allegation, how that allegation has been brought to light, and how those pushing the allegation the hardest indicates that the objective is not justice for Tara Reade. Rather, the objective is to abuse calls for transparency, abuse law enforcement process, manipulate the process of political and campaign reporters, and manipulate partisans who do not really understand how any of these processes work to dirty up Vice President Biden. Either to try to get him removed as the Democratic nominee or, should that fail, to ensure that his negatives are driven up among key constituencies so that it is possible for the President to once again lose the popular vote while eking out a narrow reelection victory through the Electoral College.
From beginning to end, this is an influence operation similar to the Uranium-1 allegations, the other allegations from the garbage faux investigative book Clinton Cash, allegations that there were nefarious promises to wealthy malefactors in Secretary Clinton's speech transcripts, and allegations about her emails from 2016. This influence operation relies on abusing calls for transparency and actual transparency to allow for fishing expeditions to find that one thing that would prove the allegations. And when that one thing is never found, because it never existed to begin with, the absence of evidence will be promoted as proof of both a coverup and a conspiracy to coverup. Ms. Reade's allegation does not appear to be a search for justice long overdue. Rather it has been weaponized for another purpose: to damage Vice President Biden's electoral chances. As someone who spends a lot of time thinking about influence operations for my professional work, what I would really like to know is who is really driving it and who is really funding it.
Open thread.