Last night ABC News' Sasha Pezenik reported by twitter thread on a new allegation against Vice President Biden. This reporting included the actual debunking of the claim, but Pezenik led with the bogus, fabricated allegation in the first couple of tweets before getting to the actual facts that conclusively demonstrated that the allegations were bogus in the subsequent tweets in the thread. Buried lede by twitter thread. Here's the factual debunking tweets: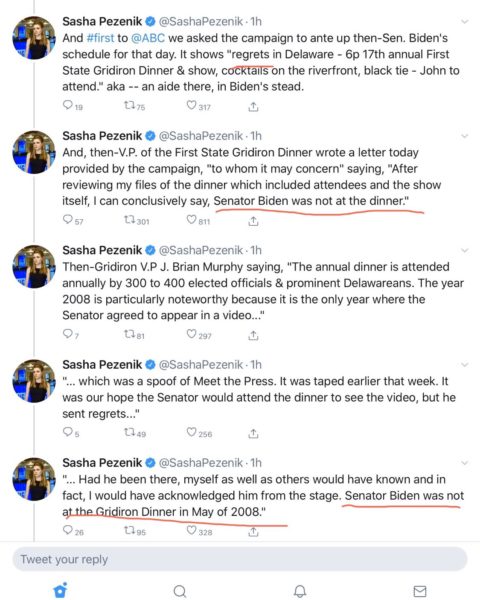 And here's what she has pinned to the top of her page now:
Last night I posted a tweet about Vice President Biden. The allegations in my tweet had not been vetted or put through the ABC News standards process. I have since removed the tweet and I apologize for posting it.

— Sasha Pezenik (@SashaPezenik) May 3, 2020
Leaving aside ABC news vetting and standards for reporting, the real problem was that she had the debunking in her reporting, she just buried it beneath a false, but new, scandalous accusation of Vice President Biden's being sexually inappropriate around and with women. The allegations were pushed to Pezenik by Christine O'Donnell, yes the "I am not a witch" Christine O'Donnell and it involved VP Biden and her niece. As Pezenik's own reporting, cut and pasted above demonstrates, IT NEVER HAPPENED!!!! O'Donnell is tap dancing on her Facebook page over this as fast as she can, but whatever she thought she was going to achieve for herself by promoting this, she hasn't.
What she has done, however, with a helpful assist of Pezenik, is get the allegation out there. And that's all that really matters in the influence operation against Vice President Biden. Tulsi Gabbard's former deputy policy coordinator amplified it, which brought it to the attention of Rich McHugh, who broke the story of Lynda LaCasse coming forward to provide corroboration for Tara Reade. Corroboration that now appears to have been coached by Reade.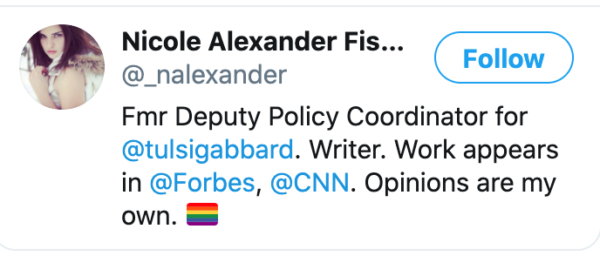 McHugh is also pushing for the University of Delaware archive of Vice President Biden's personal senatorial papers be opened and accessed immediately. Which, as I explained the other night, will not actually provide any clarity to any of these issues because any personnel documents would be filed with what is now the Senate personnel office because staffers in the House and the Senate officially work for the House or the Senate, not the representative or senator they work for day to day.
It was also, of course, picked up and flogged by Ryan Grim and others who have been pushing Tara Reade's constantly evolving and adapting allegations.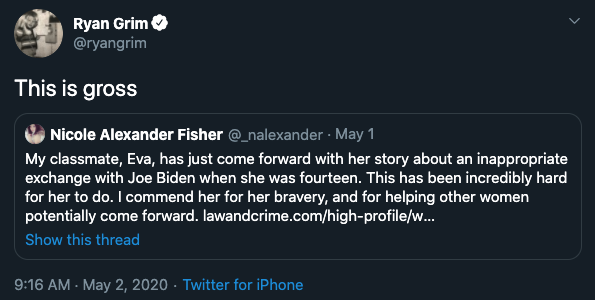 Allegations that have always been impossible to verify and substantiate because there is no time, day, and/or date to her allegations, nor was there ever an actual complaint filed.
What is really going on here, and it is going to accelerate and grow until or unless reporters, editors, and producers get their acts together, is a two pronged influence operation. The first part is to get misinformation about Vice President Biden out into the mainstream media as quickly as possible, Because once it is reported on, no matter how quick the debunking is, the misinformation will be seized on and promoted, while the debunking will, at best, get pointed to by people like me. Pezenik had a legit news story to break last night, but it wasn't the story she broke. She even had all the pieces to break the real news, which was "failed Delaware Republican Senate candidate Christine O'Donnell is attempting to smear Vice President Biden with a false allegation, which we were able to debunk with two phone calls. We are continuing our investigation in an attempt to learn why O'Donnell is doing this." That framing would have allowed Pezenik and ABC News to break the story last night. But that isn't what they did. O'Donnell and whoever put O'Donnell up to this knows that reporters have a sweet tooth for this type of thing. And they also know that if they can get the allegation out there through a legitimate news source, they will have laundered the misinformation successfully because almost no one they're trying to message to is going to pay attention to the debunking.
The second part of this influence operation is agitprop. It is to further the President's, the Republican Party's, the conservative movement's, Fox News's, prominent Republicans', conservatives', and their surrogates' argument that the real and legitimate news sources in the US are actually fake. That they cannot be trusted to report accurately or fairly. It is to create cognitive dissonance where the false and debunked in real time accusations against Vice President Biden are accepted as true, while at the same time the argument that the news media is lying to everyone and can't be trusted because they botched the story by reporting factually wrong information is reinforced. It is a have your cake and eat it too influence operation. It is also, exactly, what Putin has been trying to do within Russia, within the US, and around the world for well over a decade. It is the attempt to create the dynamic where because nothing is true anything and everything is possible.
Open thread!