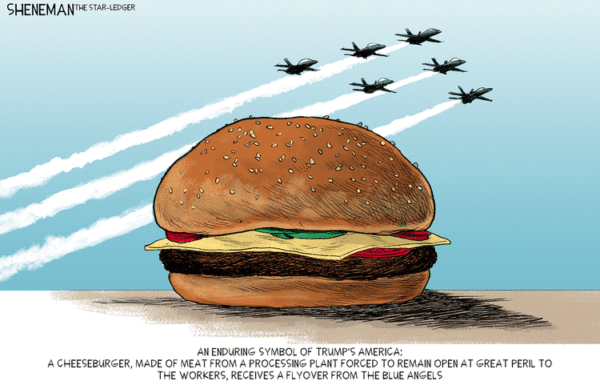 70 thousand Americans have died, and the President is calling the American people "warriors," and "winding down" the White House Coronavirus Task Force. Please vote.

— Brian Schatz (@brianschatz) May 5, 2020
He's a war president, for sure, if you assume his war is against at least 63% of the American public.
Succinct director of Harvard Global Health institute: "People who are dying of this virus are not dying to protect the American way of life. They're dying because their government has had a completely ineffective response to this infectious disease." https://t.co/fpwHRh3xo2

— Ronald Brownstein (@RonBrownstein) May 6, 2020
START THINKING OF YOURSELF AS A WARRIOR ORIN. https://t.co/5CnzkM4G2I

— Daniel W. Drezner (@dandrezner) May 6, 2020
"The people of our country should think of themselves as warriors. Our country has to open." https://t.co/GSgDqPKj42

— Schooley (@Rschooley) May 5, 2020
lionizing casualties is the oldest trick in the "we need to justify this war" book https://t.co/TKHyTasj6H

— Gerry Doyle (@mgerrydoyle) May 7, 2020
The implicit challenge of Trump as president is how much abasement and insult the country is willing to endure. It's all he has to offer, and all he has ever given to anyone, in any circumstance. Thousands of deaths a day won't give him pause for a minute. https://t.co/DWmxNMChm2

— David Roth (@david_j_roth) May 5, 2020
It would be my honor to serve my country in this glorious war by coughing to death because public health policies are boring and difficult to enact.

— David Roth (@david_j_roth) May 5, 2020
Trump is kind of the logical endpoint of decades of treating every challenge as a war. Bush used to say we could help the war effort by going out and shopping. This is the next level: shopping is war, but now we must lay down our own lives.

— Joseph Flynn (@ChinaJoeFlynn) May 5, 2020
Am I the only one who doesn't want to be a warrior to serve a guy who used a favor from his dad's podiatrist tenant to not be a warrior?

— Schooley (@Rschooley) May 5, 2020
some miss the dead, some miss the rallies https://t.co/lsswwWTTSG

— Josh Marshall (@joshtpm) May 3, 2020
Here is my fear: numbers are abstract, and most Americans have not personally experienced death due to the coronavirus. The pandemic is disproportionately devastating elderly in nursing homes, hourly workers in a handful of urban areas, immigrants in meat-packing plants…

— Michael Bayer (@mbayer1248) May 5, 2020
And eventually, it WILL begin to impact Americans in the suburbs and exurbs, beyond the meat-packing plant workers and prisons and nursing homes. People will start to lose loved ones, but by then, potentially hundreds of thousands of preventable deaths will have occurred…

— Michael Bayer (@mbayer1248) May 5, 2020
There's so much more that could be said, but I'll end with this—contemporary Americans have been inculcated to believe that our intrinsic exceptionalism combined with the correct application of military force can solve all the world's problems. Seal Team 6 can't defeat a virus.

— Michael Bayer (@mbayer1248) May 5, 2020
If I live through this I will never, not for a single moment, stop blaming the people who made it worse, starting with the president who suggested people poison themselves and the party — your party, @purduemitch — that stood by his side. pic.twitter.com/tzMnjzVUW2

— Jamison Foser (@jamisonfoser) May 5, 2020
Trump gives pep talk to essential workers before reopening. pic.twitter.com/5zjeRLr9je

— Josh Marshall (@joshtpm) May 5, 2020