When SARS-CoV2 and COVID-19 began to sweep across the globe, and became the focus in news coverage and reporting, the Black PSYOP that the President, his campaign, his elected Republican surrogates in the House and Senate, his other surrogates, and Fox News and the rest of the conservative and right wing news, digital, and social media had been pushing against Vice President Biden to excuse and justify the actions that the President was impeached for got shelved for a while. At least in terms of an attempt to promote it day to day. But now that the President has declared victory against SARS-CoV2  and COVID-19 in an attempt to reopen the US it has been reinvigorated in an attempt to change the subject.
Since Mother's Day on Sunday, the President has been tweeting and shouting about something he calls Obamagate. This isn't actually anything new. Back in 2017, in an attempt to divert attention from him, his campaign, and a number of his senior campaign staff and political appointees involvement with or connections to Russia, the President and his surrogates argued that President Obama had ordered the FBI to spy on his campaign. This included wildly inaccurate accusations, because the people making them didn't understand what they were talking about or were acting as if they did, that the Obama administration spying went beyond having the FBI wiretap the campaign headquarters in Trump Tower. Specifically that Assistant to the President-National Security Advisor (APNSA) Susan Rice asked the National Security Agency (NSA) to unmask the names of Trump campaign and transition officials as part of President Obama's and his co-conspirators nefarious plot to prevent the President from being elected. These accusations are back, but they still make no factual sense.
Acting Director of National Intelligence and Ambassador to Germany (previously a noted Internet troll and shitposter) Richard Grenell declassified and released three pages of unmasking requests made by Obama administration senior personnel between 30 NOV 2016 and 12 JAN 2017.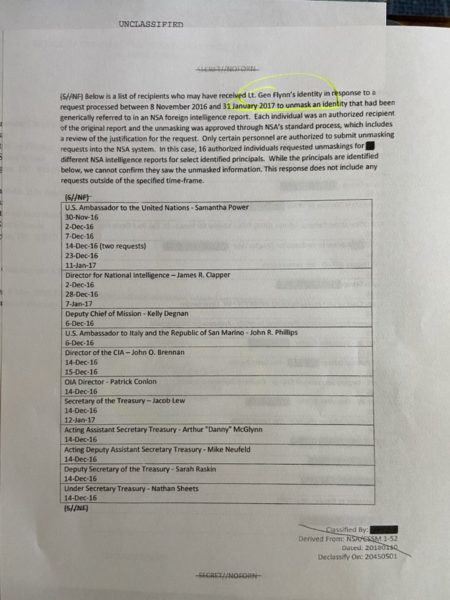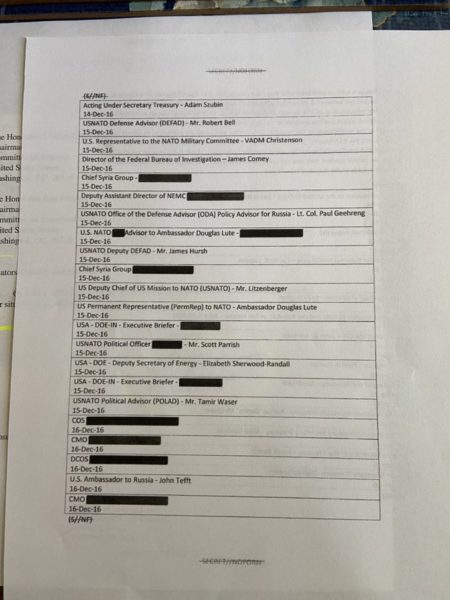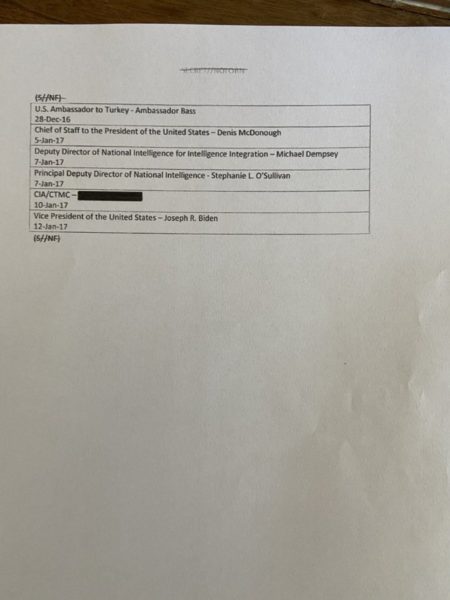 Despite the breathless reporting by tweet that "SCOOP @CBSNews  obtains @RichardGrenell notification to congress declassified "unmasking list" Flynn between late 2016 and January 2017 – Read 3 pages provided by NSA here", you'll notice the following statement at the top of the first document Grenell declassified (emphasis mine):
Each individual was an authorized recipient of the original report and the unmasking was approved through NSA's standard process, which includes a review of the justification for the request.
And:
In this case 16 authorized individuals requested unmaskings for REDACTED # of different NSA intelligence reports for select identified principles. While the principles are identified below, we cannot confirm they saw the unmasked information.
In short: everything was done in accordance with the law and regulations within normal channels.
But it goes beyond this, because the people requesting the unmasking, from APNSA Susan Rice to Ambassador to the UN Samantha Power to VP Biden had NO WAY TO KNOW WHO THE UNIDENTIFIED AMERICAN OR AMERICANS WHOSE NAMES WERE REDACTED IN THE INTELLIGENCE REPORTS THEY WERE READING ABOUT CONTACTS WITH RUSSIAN GOVERNMENT PERSONNEL, INCLUDING AMBASSADOR KISLYAK WHO WAS RUSSIA'S PRIMARY INTELLIGENCE HANDLER IN DC AS WELL AS RUSSIA's AMBASSADOR TO THE UN AND OFFICIALS OF OTHER GOVERNMENTS, WHEN THEY MADE THE UNMASKING REQUESTS! WHICH IS WHY THEY MADE THE REQUESTS BECAUSE WITHOUT KNOWING WHO WAS TALKING TO KISLYAK, OTHER RUSSIAN OFFICIALS, AND OFFICIALS FROM OTHER COUNTRIES IT WAS IMPOSSIBLE TO KNOW WHETHER WHAT HAD BEEN COLLECTED ON THE COMMUNICATIONS – THE TRANSCRIPTS OF THE COMMUNICATIONS – REALLY POSED POTENTIAL THREATS TO THE UNITED STATES THAT AMERICANS WERE INVOLVED IN!!!! It was NOT UNTIL any of these Obama administration officials got the unmasking reports from the National Security Agency that they would have known that LTG (ret) Flynn was the unidentified American citizen speaking with Russian Ambassador Kislyak, or any other official of a foreign government, Russian or otherwise, because that information was redacted in the original reports they were being briefed on. The whole point is to minimize the risk that any American citizen could have their privacy intruded upon by including their names if they are incidentally collected on because we are collecting on the foreign national that they are either speaking with or who mentions them in communication with a third party.
This reality, however, is not the point of what Grenell has done. Grenell's objective is to use the Office of the Director of National Intelligence and the Republican majority US Senate, as well as the President's twitter feed, Fox News, other presidential surrogates, and other news networks to launder the story that Vice President Biden was involved in the plot to both prevent the President's election and then to destroy his presidency. See!!!! His name is right there on the last line of page 3! Since the declassification of this information by Grenell, Senators Grassley and Johnson have publicly released the documentation and proceeded to act like they do not know and understand how unmasking works. They have been joined by Senator Paul who held a press conference about it this afternoon heavy on innuendo and accusation and very short on actual facts. And AG Barr has indicated that US Attorney John Durham will now include these unmasking requests in his review of the investigations into the Trump 2016 campaign and Russia.
What these gentlemen are obfuscating, or, perhaps, are really too ignorant and uninformed to understand, is that when these 16 officials, including VP Biden made these requests THEY DID NOT KNOW WHO "US INDIVIDUAL 1" was in the intelligence, which is why they asked for the unmasking. Simply, they had no way to know if it was LTG (ret) Flynn, Jared Kushner, Senator Grassley, Senator Johnson, any of the five other Republican senators and one Republican representative who spent Independence Day 2018 visiting Putin in Moscow, Senator Paul who hand carried a communique from the President to Putin in August 2018 (and don't get me started how far outside of normal and usual that was!!!), your great aunt Petunia, or the ever loving blue eyed Thing who was talking to officials of foreign governments, Russian or otherwise. All they knew is that a US citizen was in contact with senior officials of foreign governments, including the Russian ambassadors to the US and to the UN, and the discussions were about how Russia should respond to recent US actions against Russia, how Russia should vote in an upcoming UN Security Council vote the US had called about Israel, as well as other matters that have yet to be revealed and reported on*., but that based on the dates in the materials Grenell released, were collected and reported by the National Security Agency in late November and early December 2016, which was well before Flynn's calls with Ambassador Kislyak and Russia's ambassador to the UN. The US citizen in all of those calls was LTG (ret) Flynn. And then there were the reports that indicated an American citizen was discussing being paid to organize and facilitate the kidnapping legal US resident Fethullah Gulen and illegally extraditing and rendering him back to Turkey so that Erdogan could execute him. That was also LTG (ret) Flynn.
The objective here is the same objective that it has always been since I first started writing about, delineating, and explaining the Black PSYOP the President and his surrogates are undertaking back in October 2019:
Continue to dirty up VP Biden, which is an extension of the influence operation begun by Putin's state controlled media in May 2014 to dirty him up in case he ran in 2016, to drive down VP Biden's popularity to damage his chances of being elected president. This included getting Ukrainian President Zelensky to announce the opening of an investigation into Hunter Biden's business activities in Ukraine, as well as the attempts to get China to do something similar, which is all intended to promote the suggestion that Vice President Biden misused his position to enrich his son.
To get the US Federal charges dropped against Dmitro Firtash, so he could get back to Ukraine from his house arrest in Vienna and retake control of Ukraine's petroleum industry on behalf of Putin's objectives regarding Ukraine and the EU. This line of operation was how Lev Parnas and Igor Fruman got tied into the Rudy Giuliani's scheme to get dirt on VP Biden from Zelensky, as well as their connection to Victoria Toensing and Joseph DiGenova, who are both Firtash's attorneys and working with Giuliani.
The ultimate goal here was to find an excuse to lift Russian sanctions, which Putin desperately wants and the President has been hellbent to do, for reasons that make no domestic political, national security, and/or geopolitical sense, but make a lot of sense as a payoff. This is only possible if the Mueller investigation, the FBI's counterintelligence investigations into the 2016 Trump campaign and the Russians actions in that campaign, as well as the House Permanent Select Committee on Intelligence's and the Senate Select Committee on Intelligence's assessments and reports on Russian interference in 2016 could be obfuscated and undermined.
The drive to come up with a way to lift US sanctions on Russia and normalize relations ties everything together. Part of dirtying up VP Biden is the promotion of a bizarre and debunked conspiracy theory that it was not the Russians, on orders from Putin, interfering in the US 2016 election to elect Trump president; including failed and aborted attempts between the Russians and the President's campaign to actually work together. Rather the Democratic National Committee, Secretary Clinton, many of her senior campaign staff, President Obama, Vice President Biden, APNSA Rice, Ambassador Power, former DNI Clapper, former FBI Director Comey, former DCI Brennan, former FBI Director and future Special Counsel Mueller, former AG Lynch, a number of senior Obama and Biden national security staffers, and the Ukrainian government actually conspired with the mainstream news media to keep the President from being elected in 2016. And when that failed to destroy his presidency with the creation of a fake scandal – that Putin wanted Trump to be president because he was angry at Secretary Clinton from something she did in 2011, that Putin had Russia interfere in the 2016 presidential election, that Putin is still interfering in American politics, that senior officials in the Trump 2016 campaign, as well as senior outside surrogates, were attempting to make contact with Russian officials and proxies to facilitate Putin's influence operation to elect Trump president – in order to hide the truth, their crimes, and destroy the President and his administration. Because if the actual conspirators were the Obama administration, Secretary Clinton, her campaign, and the Ukrainians, then Russia is being punished for something it didn't do. If you believe that, I also have a bridge to sell you…
The last piece of this convoluted, conspiracy driven puzzle is the prosecution of LTG (ret) Flynn. Whatever Special Counsel Mueller's team had actually collected on LTG (ret) Flynn's was so damning and disturbing, that Judge Sullivan told him in open court at a sentencing hearing that he had "sold out his country" and all but accused him of committing treason! But in order for the Black PSYOP to work, LTG (ret) Flynn has to be an innocent, wrongly accused, and maliciously prosecuted patriot who loves the US and the President. This is why LTG (ret) Flynn fired his attorneys and replaced them with a conspiracist who used to be a legal contributor to Fox News. And it is why AG Barr has assigned two separate US Attorneys to look into it in order to undermine the FBI's Crossfire Hurricane counterintelligence investigation into the President's 2016 campaign, Special Counsel Mueller's investigation, and all the prosecutions, including Flynn's, that resulted from it.
And this is why Acting DNI Grenell declassified these unmasking requests, gave them to AG Barr, and then released them to Senators Grassley, Johnson, and Paul. To launder this information – information that clearly demonstrates that nothing illegal, untoward, or even unusual was done by anyone in the Obama administration through the DOJ and the US Senate  – to both dirty up VP Biden to damage his campaign and to facilitate the other parts of the Black PSYOP ultimately leading to the lifting of US sanctions against Russia and normalization of US relations with Russia. Which the President once again discussed with Putin last week in a phone call about "the hoax".
In May 2020, the President, AG Barr, Acting DNI Grenell, senior administration officials like Kellyanne Conway, a number of Republican senators, members of the Trump campaign, other surrogates for the President and his campaign, and a number of Fox News personalities are all actively promoting a Russian influence operation against the US targeting Americans to effect US politics and the outcome of the 2020 election. Someone should really be looking into this…
Open thread.
Update at 12:30 PM EDT
I've made some minor edits for clarity and added some links as in text citations. I also want to direct everyone to this twitter thread from Cheryl that she sent me late last night, which is applicable to the section with the *.
This deal needs a lot more attentionhttps://t.co/caNBzLjDNQhttps://t.co/3erluPGP3Lhttps://t.co/G3LSFrxhb4 https://t.co/OnRhMzmYK0

— Cheryl Rofer (@CherylRofer) May 13, 2020