One of the aspects of the decline of the right wing mind that we are going to have to deal with for decades to come is the choice to remain proudly and defiantly stupid while insisting that you know as much as the experts. I have seen several posts like this by anti-mask imbeciles that proudly demonstrate the point: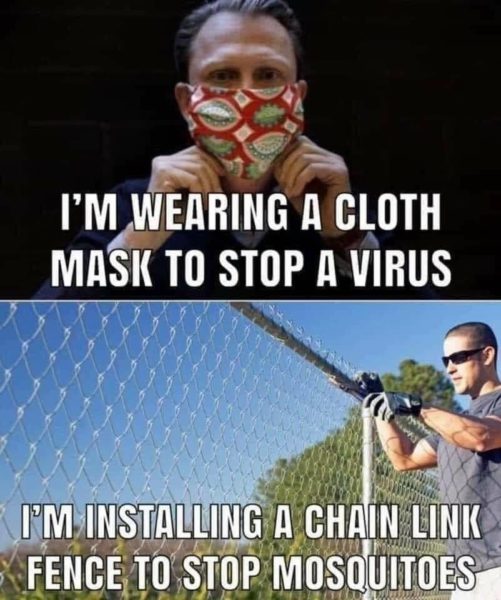 It's a microcosm of Republican thought the last few decades, and no different from arguing that the estate tax is actually a TAX ON YOU DYING and the other hundreds of similar arguments. It's absurd and stupid, but reiterated and elevated to the point of being the received view among true believers.
This one is particularly maddening- yes, a virus is smaller than a cloth mask. Everyone fucking knows this, including the mask maker, the people suggesting people wear masks, and, you know, the folks who designate masks as N-95, where the 95 stands for the 95 fucking percent of shit it will filter out. That means they know 5% gets through.
But like every right-wing argument, that misses the fucking point. The reason you wear masks is not for 100% certainty or protection, but because the virus is transmitted by being aerosolized when individuals speak, breath, yell, cough, sneeze, etc., and is carried through the air in droplets, where it can infect other people who inhale it, or if it gets in through their eyes, or it gets on their skin and they then get it into their eyes, mouth, nose, or it gets on a surface where it can stay for several days for someone to pick up that way. You wearing a mask reduces the chance that if you are carrying it, you are blasting out the plague every time you breathe, cough, talk, yell. It reduces the chance that you inhale it, because the droplets will get caught in the outside of your mask, and also why disposable masks are FUCKING SUPPOSED TO BE… DISPOSED OF.
To ignore the advice of the medical community, you have ignore everything above AND think that doctors for some reason have been running a long con since, well, fucking germ theory, and have been wearing masks forever just to one day get to this point, where, they could claim a false pandemic and force everyone to wear masks to IMPOSE THEIR WILL ON YOUR FREEDOMS.
This fucking pandemic might not kill us all, but right wing stupidity might.